Legumes Farcis : An Aller-Retour Niçoise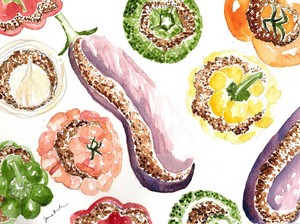 Routine completely flips itself on the head when starting over in France. Peanut butter, the humblest of American pastimes, gets an upgrade from domestic to imported. And a sandwich eaten on-the-go can get anything from a sincere "bon appetit" from a stranger to a snarl of disapproval on the street. But discovering new, French comfort food is like an expatriate embrace. And it is a welcome addition to the dinner table of anyone looking for a little mealtime inspiration. Legumes farcis, or stuffed vegetables, are a specialty of the sun-baked Cote D'Azur.  And as the summer harvest abundantly overloads the farmer's market, why not put a Niçoise spin on the season's best?
Instead of a proper honeymoon, my cash-strapped husband and I took a roadtrip down South to visit my new in-laws in Nice. I am still trying to justify the reasoning behind this one.  Nevertheless, we managed to sneek out of the house during the day to walk on the beach, dream big at the impeccible Cours Saleya flea market, and test out all the Niçoise specialties. Along with the hearty chickpea crepe socca and pissaladière, the caramelized onion and anchovy pizza gone French, I was instantly enamored by legumes farcis. Essentially the makings of a meatball, a fine mixture of ground meat, breadcrumbs, and aromatics is baked in local, sun-ripened Provençal vegetables until impossibly juicy.  Charmingly coined legumes de soleil, or sun vegetables, these can include anything from tomatoes, zucchini, eggplant, mushrooms, red peppers, and onions. Served hot out of the oven or direct from the refrigerator, they are deliciously easy and satisfying post-beach, post-swimming pool, or post-in-laws.
Although legumes farcis are rarely found on restaurant menus outside of the Cote D'azur, French butchers always have chair à saucisse on display. Basically a sausage without its casing, it is a porky mystery meat destined for legumes farcis. However, one part ground beef to one part ground pork or one part ground veal to one part chopped ham are suitable alternatives, minus the mystery. Be creative! With fruits et legumes at their height of diversity, why not experiement with a couple of round zucchini, Japanese eggplants, or a rainbow of heirloom tomatoes?  Served with white rice, another local staple of the South, that 7 euro jar of Skippy will become completely unjustifiable.
Legumes Farcis Nicois, Serves 6
Note: Choose vegetables of a similar size so they bake evenly.
6 small, round tomatoes
6 small onions
6 small zucchinis
6 small eggplants
¼ lb. ground beef
¼ lb ground pork
¼ cup grated parmesan cheese
2 cloves of garlic, chopped
Breadcrumbs
½ teaspoon herbes de provence
1 tablespoon chopped fresh parsley or basil
Olive oil
Salt & pepper
1. Preheat oven to 350° f/180° c
2. Slice the vegetables ¾ of the way lengthwise to create a reservoir for the filling and its hat.  Scoop out the flesh of the zucchini and eggplant, chop and reserve. Scoop out the seeds and the ribs of the pepper. Use a paring knife to carve out the center of the onions and tomatoes.
3. In a bowl, mix the beef, pork, reserved zucchini and eggplant, chopped garlic, parmesan cheese, and herbs.
4. Drizzle a baking dish with olive oil. Stuff the vegetables with the meat mixture and place in the baking dish. Sprinkle with breadcrumbs and olive oil.
5. Bake for 45 minutes. Add a hat to each vegetable and bake for another 45 minutes. Serve with white rice.
Jessie Kanelos is a recent American transplant to Paris. In addition to a background in costume for stage and film, having been thrown into the world's capital of gastronomy, she has recently crossed over to food styling.  She writes a Parisian expat food blog to document her adventures, observations, and recipes, which can be found at: thefrancofly.wordpress.com.  Jessie is also a talented illustrator whose work appears in this article.

Subscribe for
FREE

weekly newsletters.
BonjourParis has been a leading France travel and French lifestyle site since 1995.
Readers' Favorites: Top 100 Books, imports & more at our Amazon store
We update our daily selections, including the newest available with an Amazon.com pre-release discount of 30% or more. Find them by starting here at the back of the Travel section, then work backwards page by page in sections that interest you.
Current favorites, including bestselling Roger&Gallet unisex fragrance Extra Vieielle Jean-Marie Farina….please click on an image for details.
More in French food, French recipes, recipe
---
---