How to Make French Lasagna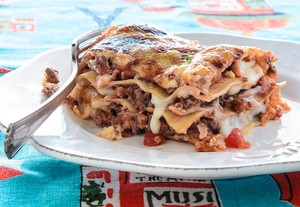 One of my favorite dining memories in France was on a trip I took with my mother years ago. We ducked into a little café that served the usual roster of French favorites—such as oeufs-mayo and pâté for starters, poulet-rôti and steak-frites for the main course, and crème caramel or glace for dessert.
But the special of the day was lasagnes maison: A house-made lasagna. I ordered it, and soon found myself swooning over the creamy layers of white sauce, the fluffy topping, and the savory meat filling.
The waiter, whom we had struck up a polite conversation with, was puzzled by my enthusiasm: "You don't have lasagna in America?," he asked.
"Of course," I answered. But usually we don't have the layers of béchamel."
"Well, then, what's the point?" he joked.
Italian-American lasagna often gets its lusciousness from layers of ricotta. French recipes, however, take a page from the Emilia-Romagna playbook, and use creamy layers of béchamel.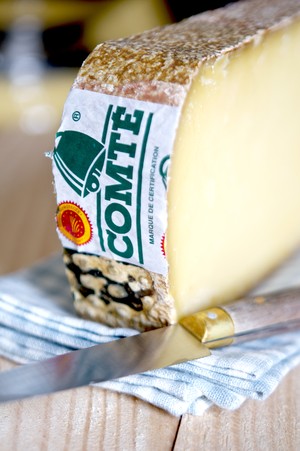 But what makes the lasagna distinctly French, rather than Italian, is the use of cheese. Italians would use primarily Parmigiano-Reggiano, and while French cooks might use a touch of that famed Italian cheese, they generally anchor the recipe with one of their hallmark alpine cheeses, such as Comté or French Emmental.
A French cook might use classic Italian seasonings of oregano and basil, the version I fell in love with in that little café so long ago called on herbes de Provence—a distinctive touch that, along with the choice of cheese, steered the dish definitely into French territory.
Here's my recipe. Enjoy!
Photo credits:
Lasagna photo by Richard Swearinger.
Comté cheese photo courtesy of CIGC/Comté Cheese Association
Lasagnes Maison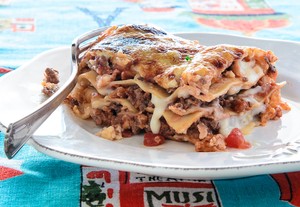 For the cheese, I prefer Comté, but if you can't find that cheese, a Gruyère from Switzerland would be my next choice (look for a cave-aged one if you can find it). You can also use Emmental, though the ones you find stateside will likely be Swiss.
Serves 4.
Béchamel/Fluffy Mornay Sauce
1/3      cup unsalted butter
1/3      cup flour
Salt and freshly ground pepper to taste
2 1/2  cups 2% or whole milk
1          large egg
1/2      cup shredded Comté, Gruyère, or Emmental cheese
Meat Sauce:
1/2      pound bulk Italian sausage or lean ground beef
1          small onion, chopped (about 1/2 cup)
2          garlic cloves, minced
1/2      teaspoon dried herbes de Provence, crushed
1/2      cup sweet vermouth
1          14.5-ounce can crushed tomatoes
To assemble:
6          sheets no-boil lasagna noodles
1 1/2  cups grated Comté, Gruyère, or Emmental cheese
1/4      cup grated Parmigiano-Reggiano cheese
1. Preheat the oven to 400°F.
Make the Béchamel Sauce: Melt the butter in a saucepan over medium heat. Whisk in the flour and salt and pepper to make a smooth paste. Cook and stir for 1 minute. Do not allow the flour mixture to brown. Gradually whisk in the milk. Cook, stirring, until thick and bubbly; cook and stir 2 minutes more.
Make the Fluffy Mornay Sauce: Remove 1 cup of the Béchamel Sauce to a bowl; let cool slightly about 3 minutes. Whisk in the 1/2 cup of the Comté cheese. Whisk in 1 egg until all is well blended. Set the Fluffy Mornay Sauce aside.
Make the Meat Sauce: Cook the meat and onion in a large skillet over medium-high heat, stirring to break up the meat into small pieces, until browned, 3 to 5 minutes. Drain off all of the fat from the pan. Add the garlic and herbes de Provence and cook until fragrant, about 30 seconds. Stir in the vermouth. Bring to a boil and boil until nearly evaporated, 1 to 2 minutes. Stir in the crushed tomatoes and bring to a boil. Cook at an active simmer until thickened, about 5 minutes.
To assemble: Spread 3/4 cup of the meat sauce in the bottom of an 8-inch square baking dish—you won't cover the entire surface, but that's okay. Top with 2 sheets of lasagna noodles, side by side. Top with one-third of the remaining meat sauce (spreading to cover the noodles as best you can). Top one one-half of the Béchamel sauce, pouring as evenly as you can; sprinkle with 3/4 cup of the cheese.
Repeat the layers once, using 2 more noodles, one-third more of the meat sauce, 3/4 cup more of the cheese, and the remaining béchamel
Finish by layering 2 more noodles, the final third of the meat sauce, and the entire Fluffy Mornay Sauce. Sprinkle this top layer with the Parmigiano-Reggiano cheese.
5. Bake, uncovered, until the lasagna is bubbly and the top is golden brown, 25 to 30 minutes, covering loosely with foil during the last 10 minutes if the top browns too much. Let stand for 15 minutes before cutting into four pieces to serve.
Wini Moranville is the author of The Bonne Femme Cookbook: Simple, Splendid Food That French Women Cook Every Day, and the co-author of The Braiser Cookbook. Follow Wini on Facebook at Chez Bonne Femme.
Leave a reply
Your email address will not be published. Required fields are marked *
Comments