Holiday Cocktails from France
Whenever I've dined in French homes, I've often been struck by how easygoing the pre-dinner cocktail hour is. While many American hosts feel the need to bring out fussy appetizers and a spread of fine cheeses—and stock the bar with all kinds of liquor and mixers—the French keep l'heure de l'apéro (roughly, the cocktail hour) startlingly simple.
As usual with all things culinary, the French have it right: When you serve a small, refreshing drink and a light nibble or two, everyone will head to the table lifted up by the cocktail but not weighed down by all those filling and random bites of this and that.
Follow that lead, and you'll have one less course to fret over this holiday season.
So, what's to drink?
The white wine/crème de cassis concoction known as Kir (rhymes with beer, but is much more dashing to drink) is the unofficial national French apéritif. Other apéritifs include wine-based beverages such as Dubonnet, Lillet, and others.
Cocktails made with spirits have long been a specialty of France's fancy hotel bars and seaside resorts, but these days, I'm seeing mixed drinks served more often in the French home.
What I rarely see, however, is the host chasing around serving a gin-and-tonic and a Chardonnay here and a whiskey sour and glass of Merlot there. When it comes to the pre-dinner cocktail, most guests all join together over the same drink.
At home in America, I've found that starting off an evening with one dashing cocktail gets everyone on the same festive footing. Of course, for nondrinkers, I have good-quality sodas, and I will offer everyone the option of a simple glass of white wine instead of my house cocktail (some guests simply don't drink spirits).
But, like my French hosts, I've stopped rushing around making a slew of different drinks. And everyone (including me) has just as much fun.
Because they call on Champagne (or sparkling wine) the French cocktails below are my choices for the holiday season.
And to Eat?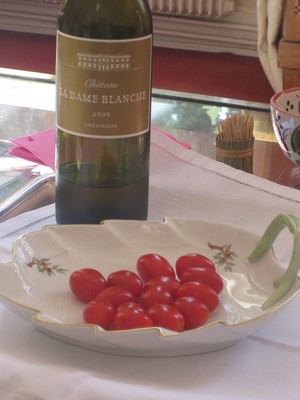 I'll never forget having lunch with a Bordelaise winemaker in her chateau. For the aperitif, she simply brought out a lovely white wine and as small dish of grape tomatoes. That may sound scant, but the fresh-from-the-garden tomatoes tasted brilliant with the Sauvignon blanc she was serving—it was an unforgettable pairing, and the tomatoes whet my appetite for—without diminishing—the gorgeous meal we would soon sit down to eat.
Another friend in France often simply sets out a slim, cured sausage on a cutting board with a knife, in "serve yourself" fashion. I've seen anything from snack crackers to potato chips and olives served with the first drink of the night. Very rarely have I seen anyone hassle with anything much more complex than that—their best efforts go to what gets served once we gather round the table for a meal.
In that vein, the Hummus-Tapenade Crackers recipe, below, is one of my favorite little "throw something together" appetizers. It taps into the spirit the easygoing attitude of the cocktail hour in general.
RECIPES
Kir with a Kick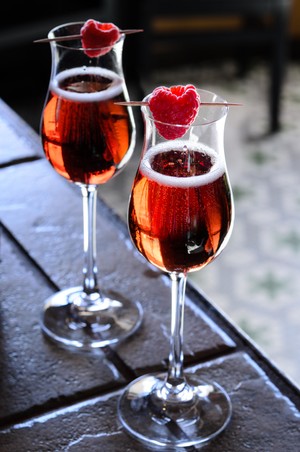 Here, Cognac adds virility to that most festive of apéritifs, the Kir Royale (made with crème de cassis and Champagne). It's an unmistakably merry way to get your holiday party going.
For each cocktail:
3/4 ounce Cognac
1/4 ounce crème de cassis or Chambord
Chilled Champagne or sparkling wine
1 raspberry (optional)
Pour the Cognac and the crème de cassis into a flute; fill the flute with Champagne. Garnish with a raspberry, if you like.
French 75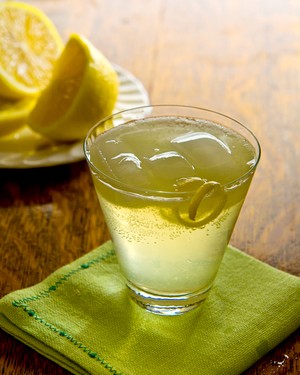 Cocktail lore says this drink was named after the 75-mm cannon used during World War I. Like a cannon, the drink packs quite the punch. It's a wonderfully refreshing and entirely uplifting sip.
For each cocktail:
1 ounce gin
1/2 ounce fresh lemon juice
1/2 teaspoon simple syrup
4 or 5 ice cubes, plus more for serving
Champagne or sparkling wine
1 lemon slice
In a cocktail shaker, combine the gin, lemon juice, and simple syrup. Add the ice cubes; cover and shake until very cold. Strain into an ice-filled Collins glass. Slowly fill the glass with champagne. Garnish with the lemon slice.
Hummus-Tapenade Crackers
1/2 cup homemade or purchased hummus
12 thin crackers
1/2 cup homemade or purchased tapenade
Fresh-snipped parsley or chives
Spread a thin layer of hummus over each cracker. Top with a small amount of tapenade. Sprinkle all with parsley or chives.
Photo 2 and 3 credits:  Richard Swearinger
Wini Moranville is the author of The Bonne Femme Cookbook: Simple, Splendid Food That French Women Cook Every Day. She has contributed to dozens of cookbooks, magazines, and newspapers, including Better Homes and Gardens, MasterChef Magazine, Country Home, Ultimate Italian Magazine, Relish, and the Chicago Tribune. She spends much of her summers France.
More in French 75, holiday, Holidays in France, Kir
---
---