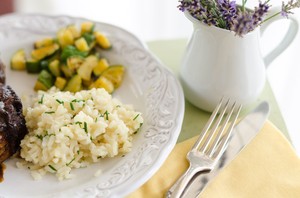 When it comes to French home cooking, you can find plenty of recipes for plats principals, such as Coq au Vin and Boeuf Bourguignon. But what do you serve alongside these classics? Here are three go-to recipes for three types of French main dishes.
1. For Braises and Pan-Sauced Dishes
When your main dish comes nicely sauced, you don't need (or want!) a side dish that's overly saucy. This dish is perfect; while the rice is moist and luscious, it's firm enough to be served on plate alongside anything that's well sauced—without melting into the sauce itself.
Comté Rice
(From The Braiser Cookbook
Makes 4 servings.
1 tablespoon butter
1/2 cup chopped onion
1 clove garlic, minced
2/3 cup uncooked Arborio rice
2 cups low-sodium chicken broth
Freshly ground black pepper to taste
1/4 cup Comté or Gruyère
2 tablespoons finely snipped fresh herbs, such as parsley, chives, and/or chervil
1. Melt the butter in a medium-size heavy saucepan over medium heat. Add the onion and cook, stirring, until tender but not brown, 4 to 5 minutes. Add the garlic and cook briefly until it releases its fragrance. Add the rice and cook, stirring, about 2 minutes more or until the rice is nicely coated with butter and just starting to cook, but not brown.
2. Stir in the chicken broth; season with pepper. Bring to a boil. Reduce the heat and simmer, covered, until the rice has absorbed most of the broth but is still somewhat soupy, about 20 minutes.
3. Remove the pan from the heat and let stand, covered, until the rice is thick and creamy rather than soupy, about 5 minutes. Stir in the cheese and the herbs. Serve immediately.
2. Perfect for Roasts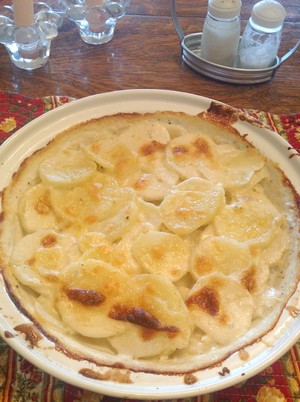 If you're serving a main dish of roasted poultry or meat that arrives to the table sans sauce, now's the time to serve something that's extra moist and luscious. This easy, everyday version of Gratin Dauphinoise (the French take on scalloped potatoes) fits the bill.
French Scalloped Potatoes
(From: The Bonne Femme Cookbook)
Makes 6 to 8 servings.
1 garlic clove, crushed
2 teaspoons unsalted butter, softened
2 pounds russet potatoes, peeled and thinly sliced
1 1/2 cups 2 percent or whole milk
1/2 cup heavy cream
1/2 teaspoon salt
1/4 teaspoon freshly ground black pepper
Freshly grated nutmeg
1/2 cup shredded Comté, Gruyère, or Emmental cheese (about 2 ounces)
1. Preheat the oven to 375°F. Rub the inside of a 2-quart baking dish all over with the garlic and discard the garlic. Coat the inside of the dish with the butter.
2. In a large saucepan, combine the potatoes, milk, cream, salt, pepper, and a few gratings of nutmeg. Bring to a simmer over medium heat. Simmer until the liquid thickens slightly, about 5 minutes, gently turning the potatoes once or twice with a slotted spoon. Spoon the potatoes evenly into the baking dish and pour the milk mixture over the potatoes. Sprinkle the cheese evenly over the top.
3. Bake until the cheese is golden and the potatoes are tender, 30 to 40 minutes. Let stand for 10 minutes before serving.
3. Great with Steaks: Pan-Fried Potatoes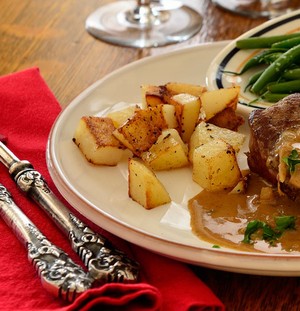 Pomme frites—true French fries—are the quintessential bistro accompaniment for steaks. But for the home cook, fries can be a hassle to make on busy weeknights. These crisp, pan-fried potatoes (pommes rissolés) are the next best thing; try them with a steak topped with a flavored butter or a luscious sauce au poivre.
Pan-Fried Potatoes / Pommes Rissolés
(From The Bonne Femme Cookbook)
Makes 4 servings.
3 tablespoons unsalted butter or extra-virgin olive oil, or a combination
3 to 4 large russet potatoes, cut into 3/4-inch dice (4 cups)
Salt and freshly ground black pepper to taste
Snipped fresh parsley (optional)
Melt the butter in a large nonstick skillet over medium heat; add the potatoes and cook, stirring occasionally, until browned, 20 to 25 minutes. Season with salt and pepper. If you like, sprinkle parsley over all. Serve immediately, as the potatoes start to soften upon standing too long.
Photos of Comté Rice and French Pan-Fried Potatoes by Richard Swearinger
Follow Wini Moranville on Facebook at Chez Bonne Femme, for a chance to win a signed copy of her book The Bonne Femme Cookbook: Simple, Splendid Food That French Women Cook Every Day. Visit her blog for details.
More in Comté Rice, French recipes, French side dish, pan-fried potatoes, potatoes, recipe, recipes, scalloped potatoes
---
---