A 30-Minute French Dinner for Two
If you're looking to spend some one-on-one time with your romantic partner, but too tapped out from holiday gifting to head to your favorite restaurant, consider this menu. It's inspired by the French women I've met — cooks who, like most of us, neither have all day to spend in the kitchen, nor unlimited resources to dine out — but love to eat well all the same.
The main dish calls on the quintessential French "sauté-deglaze-serve" way of cooking: You sauté the night's meat, deglaze the pan, then add some flavorings — in this case, brandy and mustard. Voilà — a chic plat principal that costs much less than dinner at a bistro, but is every bit as life-enhancing.
To make the menu into a meal. start with an Endive Salad with Walnuts and Blue Cheese — a good choice in winter, when tender spring-greens are but a memory. Serve the steak with fried potatoes, pureed potatoes, or a rice pilaf and a green vegetable that's looking good at the market.
For dessert, simply bring out some cheeses and preserves. Or, do what a French woman would do and simply pick something up from your best local pâtisserie.
What's to drink? For something to take you from pre-dinner nibbles through the cheese course, consider Mumm Napa Blanc de Noirs ($20). Made from Pinot Noir, it sparkles a light salmon-pink; it's a hefty enough to match these foods, festive enough for romance, and inexpensive enough for a special weeknight meal.
Endive Salad with Walnuts and Blue Cheese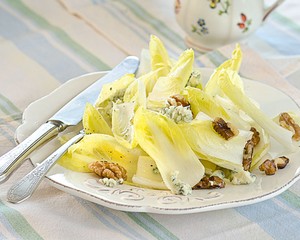 Makes 4 servings
1 1/2 tablespoons walnut oil or extra-virgin olive oil
2 teaspoons fresh lemon juice or white wine vinegar
Salt and freshly ground black pepper to taste
3 to 4 Belgian endives (1/2 pound)
1/4 cup walnut pieces, toasted
1/4 cup crumbed blue cheese
1. In a bowl, whisk together the walnut oil, lemon juice, and salt and pepper.
2. Trim the endive ends so that the leaves can separate; cut each endive in half and remove the tough core. Separate the leaves, rinse under cold water, and drain well. Thinly slice the leaves crosswise and add to the bowl of dressing, tossing to coat.
3. Add the walnuts and blue cheese and toss gently. Arrange the salad on four salad plates and serve.
Steak with Brandy and Mustard Sauce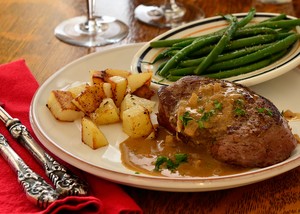 Serves 2
2 (6-ounce) top loin or tenderloin steaks (1 inch thick)
Salt and freshly ground black pepper to taste
2 tablespoons unsalted butter
1 large shallot, finely chopped (about 1/4 cup)
1/2 cup low-sodium beef broth
1/2 cup brandy
1 tablespoon Dijon mustard
1 teaspoon Worcestershire sauce
2 tablespoons snipped fresh parsley
1. Season both sides of the steaks with salt and pepper. In a skillet, melt 1 tablespoon of the butter over medium-high heat. Add the steaks and cook, turning as needed, to the desired doneness (10 to 12 minutes for medium-rare); reduce the heat as necessary if the meat browns too quickly. Transfer the steaks to a platter and cover with foil to keep warm.
2. Add the shallot to the skillet and sauté briefly, until translucent. Remove the pan from the heat and add the broth and the brandy, taking care not to let the liquid spatter. Return the pan to the heat and bring to a boil, stirring with a whisk to loosen any browned bits from the bottom of the pan. Boil until the liquid is reduced to 1/3 cup—this should take 2 to 3 minutes, depending on the heat and your pan size. Whisk in the mustard and Worcestershire sauce. Whisk in the remaining 1 tablespoon butter. Season the sauce with additional salt and pepper, if needed.
3. Arrange the steaks on two dinner plates, spoon the sauce over the steaks, sprinkle with the parsley, and serve.
Wini Moranville is the author of TThe Bonne Femme Cookbook: Simple, Splendid Food That French Women Cook Every Day, as well as The Braiser Cookbook, an ebook of 22 recipes created just for braising pans. Follow Wini Moranville on her blog or on Facebook at Chez Bonne Femme.
More in French recipes, recipes
---
---