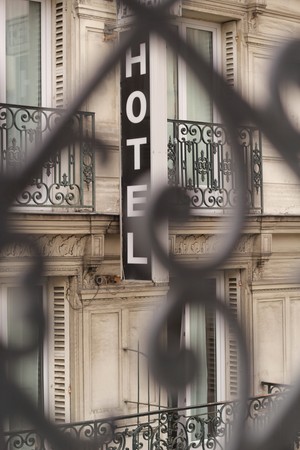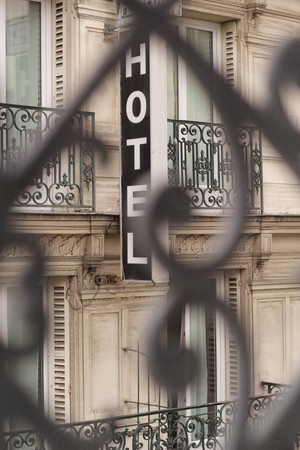 It's New Year's Eve and I am packing the contents of my house into boxes. As I scrub the walls and windows I decide that my new year's resolution will be 'no more student housing.' This year, I am moving to Paris and I am determined to live somewhere civilized, pristine, and peaceful.
With this in mind I begin searching the internet for cultivated options. I start with Craigslist Paris and click on just about everything under Logement. I then sign up for appartager.com and colocation.fr. Within moments I am unable to open my email account without an avalanche of nondescript offers tumbling from my inbox. But I still have a week to go before I am on French soil so I book a hostel for my first week in Paris. A ten bed dorm is not in perfect harmony with my new year's resolution but what's an extra week of compromise, I reason with myself.
A week later I wake to the sight of a Mexican Paratrooper in his underwear and the confusing scent of curry and two minute noodles. Five English lads accompany gurgling snores with a guitar and an Irish boy and a Belgian girl become a couple over a bottle of Absolute. I press snooze.
For three days I lie low and recover from my jet-lag the less courageous way. But eventually the smell of coffee convinces me that it's morning in this country and time to venture down the stairs. I'm not sure I'm ready for a communal breakfast but I pick a croissant from the pile.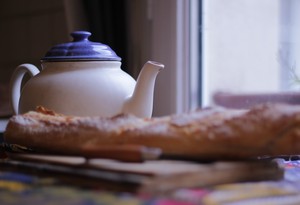 Each morning I sit across the breakfast table from someone different. Each morning a different part of the world is personified in front of me with bed hair, eating cornflakes. It's wonderful. "What's Memphis like?" I blurt out before 8 a.m. to a boy in striped pyjamas. It's clearly too early for such a big question but I'm saved by his travel partner who describes for me the corn fields in his native Minnesota. All the beloved books and films and National Geographic magazines of my childhood spring to life right there over the apple juice and croissant crumbs and I'm glad I didn't book a private room with immaculate white surfaces and nothing but a chandelier for company. The next morning I have breakfast with a beautiful Russian dentist in an elegant pink knit and diamond earrings. The following day I meet a bright eyed Chilean couple. I extend my booking for a month.
Staying in a Parisian hostel is the next best thing to travelling the world. My new-found Mexican friend invites me to the kitchen where he has befriended a Paris-trained, Brazilian chef. We fill each other's plastic cups with wine and watch as the simplest of meals is prepared with such pride and precision that we are inspired to rearrange the chairs and tables and search the premises for napkins.  With nothing but a touch of butter and a frying pan, the last of my day old baguette is transformed into geometric serves of croutons to accompany our lunch and we discuss the pros and cons of being in the Mexican army versus being a painter or a chef.
For now, my faith in colocation has been restored and it's much more cozy in a new city if you have housemates to share tea and cake with.
But a virtual trip around the world is not necessarily what one comes to Paris for and there are times when even impromptu lunches are just not as enticing anymore and you just need somewhere of your own. Being on a budget doesn't mean you have to stay in a ten bed dorm and hope to be surrounded by guardian angels who don't snore.
Exploring Paris with two Dutch sisters, I'm introduced to the famous European website called, Airbnb.com. The website is a forum in which people to sublet their apartments while on holiday.  There is a huge range of possibilities and prices and best of all, lots of pictures, so you can see what you're getting, as well as numerous reviews from past guests. Rumour has it that while hotel prices rise in high season, subletting prices go down because so many people are out of town.
But enough talk of short term places to call home; how does it work if I decide to stay forever? I have graduated from the hostel to a subletting arrangement in a friend's apartment, but should I want to sign a French lease in the future I will have to be well prepared. On my quest to arm myself with information, after some eavesdropping and diligent research, I've discovered that I will require a French guarantor, tenant's insurance, and proof that I earn at least three times the monthly rent.
Below is a list of web sites that are useful for flat-sharing, subletting and leasing in Paris.
Airbnb (French)
Airbnb (English)
Appartager (French)
Appartager (English)
PAP for private rentals
Roommates

Recherche Colocation
Adele (especially useful for students)
The American Church in Paris (65 quai d'Orsay, 75007) has an excellent notice board of "petit announces", which is updated every morning at 10 a.m.
Keep your eyes open for adverts in communal areas you may frequent such as laundrettes, cafes and bakeries.