Save on Your Trip to Paris: For Shopping or Game Lovers like George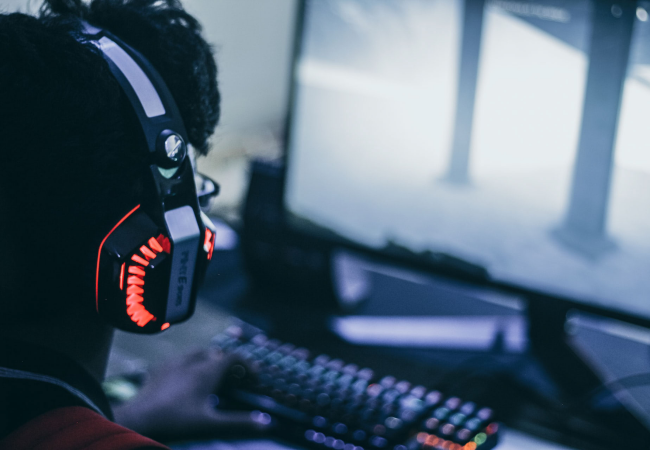 George is a young British adult who likes to spend money intelligently and is thrilled by the universe surrounding video-gaming. For that matter, he is excited for the brand new edition of the Paris Games Week. In fact, the fair is coming back in November 2023 and counts as the world's Top 5 video game shows. From Great Britain to France, George has precisely figured it all out. To participate he must register on the show's official website a few months before the start. To reduce his expenses he must book its tickets and accommodation in advance, and download ZappTax – a free app that helps him, as a UK resident, to recover the VAT on the purchases he will make in the EU, and bring back home.
Whether it is during the event or during his visit, ZappTax App will be his best companion. George may buy merchandise  for which, with ZappTax, he can recover the VAT since he resides in the United Kingdom. Yet, he may also be tempted to buy goods unrelated to the event to bring them back to the UK. It can be Wine, Cheese, Jewelry, Watches or Perfume etc. Even there, ZappTax is key to recovering the VAT. In a nutshell, this logic applies to all the objects he will purchase during his sojourn in France.
What has convinced George to become a ZappTax User ?
ZappTax devised an innovative system that practically tackles all the issues encountered with the traditional VAT-refund system. Its new approach, approved by the tax and customs authorities, works differently yet more efficiently and effortlessly.
When George compares ZappTax way of shop tax-free to the conventional method this is what he finds out: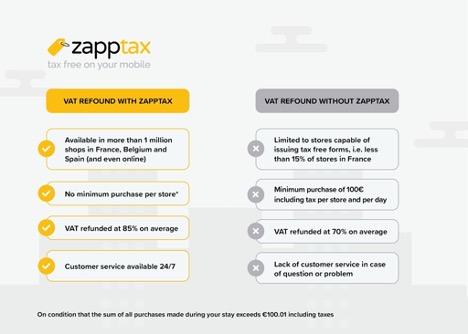 How can George effectively use ZappTax ?
1- He downloads the app, signs up, and creates his profile. When shopping, he asks for an invoice including VAT in the name of ZappTax. Then, he simply needs to take a photo of each invoice and upload it to the application.
PS: Merchants are legally obliged to issue such an invoice on request.
2- When done with all purchases, with a few clicks he can generate his tax-free form that will be sent to his email address and stored in his ZappTax app account. When leaving the EU, he can scan this customs document directly from his smartphone at a self-service terminal, or present it at customs, at most train stations, airports and ferry terminals.
PS: If he leaves the EU from a different country than the country of purchase (e.g: he purchased in Belgium but leaves from Paris), he must print his form to get it stamped.
3- Since he uses ZappTax for all his purchases, the savings really add
up as the company refunds up to 90% of the VAT. Once his documents
are validated, his VAT will be refunded within a few weeks through the means he selected : Bank account, PayPal, credit card, and more.
4- He knows that, if he has a question, ZappTax team is available 24/7 via telephone (FR +33 (0)1 78 90 04 42, UK +44 207 04 82 473), email ([email protected]), in the App chat. He can also check out our FAQ on our website ZappTax.com.
Additional Useful Recommendations
Remember to upload your invoices as soon as possible, preferably no later than 2 hours before your departure. If you're pressed for time (last minute shopping in the morning, traveling at the end of the day), let us know via the chat in the app or via email so that we can process your file as a priority!
For Train travelers
Eurostar: on the 1st floor at Paris Gare du Nord, go through check-in and security checks, access the Eurostar boarding lounge, and follow the signs for Détaxe. PABLO terminals are available to validate your form.
Eurotunnel: After you have your ticket checked, follow the signs to customs, park your vehicle by the Dickens Building on your right. Inside you will find a tax refund area with PABLO validation terminals and a customs office.
For Boat travelers
By ferry, from Calais: There are 6 PABLO terminals in the tourism export terminals.
Happy Tax-Free shopping!
Lead photo credit : Photo by Fredrick Tendong on Unsplash
---
---