Bouygues Telecom Launches Fabulous New SIM Plan for Tourists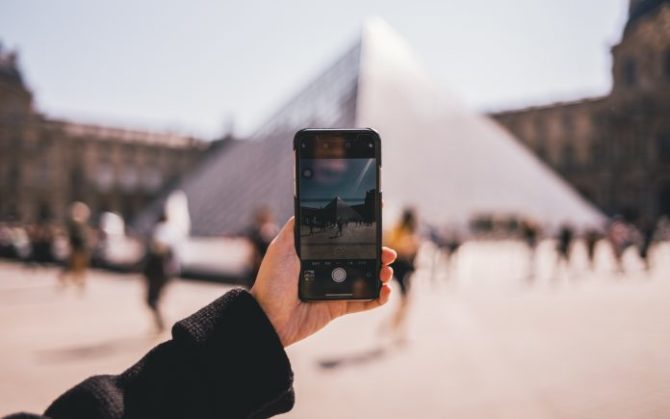 As a traveler, there's nothing more frustrating than searching for a wireless Internet connection while you're abroad. Whether you're trying to download maps, contact loved ones or upload your holiday snaps, relying on free wi-fi could leave you disappointed. Even signing up to an international plan with your own provider could mean you're slapped with a huge bill before you've even unpacked your suitcase. Talk about post-vacation blues!
Taking a trip to France? Here's a great solution. Bouygues Telecom recently launched a new prepaid SIM plan known as the Travel SIM Vacation Prepaid Plan. Designed for international tourists staying temporarily in France, this pre-activated SIM card can be used immediately. The user simply needs to insert the SIM in their telephone to activate it on the Bouygues Telecom network, enabling them to immediately enjoy all the benefits of a French mobile phone number and a full range of services.
The best part of all? The Travel SIM Vacation Prepaid Plan is priced at just €39.90, available in Bouygues Telecom stores and in Relay shops (the popular newsagents found at train stations and other locations around France). Note that Bouygues Telecom will soon expand the number of retail outlets where you can pick up this excellent offer.
For more information and to order directly, go to the dedicated webpage here:
https://www.bouyguestelecom.fr/carte-prepayee/vacation-prepaid-plan
Details on what the plan includes:
*A 20 GB data allowance on 4G, usable throughout France. 15 of these 20 GB can also be used for roaming in other European Union countries for those users continuing their journey elsewhere in Europe (connection sharing included).
*Unlimited calls and SMS messages in France and Europe.
*€25 of international calls.
The SIM card comes with an Eiffel Tower-shaped SIM card eject tool and a Paris metro map. The plan is valid in Metropolitan France for 30 days after the first use.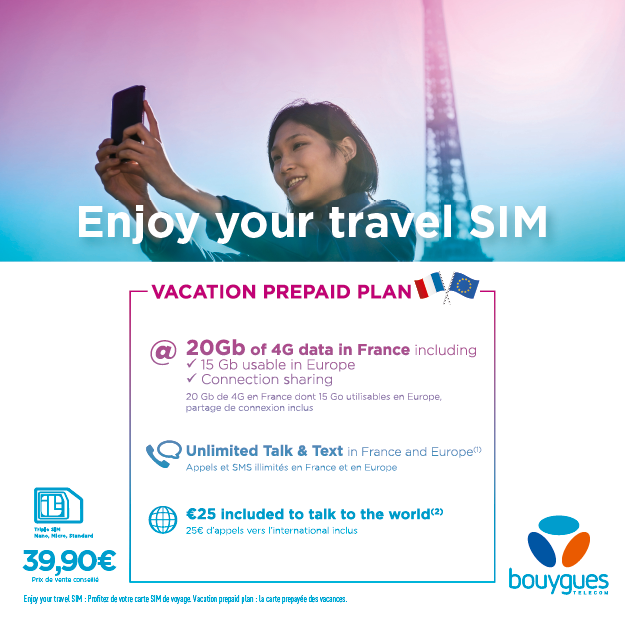 Leave a reply
Your email address will not be published. Required fields are marked *