Paris Vignettes, Volume 13, by William O'Such
Editor's note: This is the 13th installment in the "Paris Vignettes" series by photographer William O'Such. William was introduced to silver halide photography by his father, Chester J. O'Such, via the family's Ansco reflex camera and home darkroom. After college, William worked as a photographic engineer at Eastman Kodak, where he began to learn the art of photography. With his first SLR, a Canon AE-1, he photographed his inaugural voyage to Paris in 1982. This early spark turned into full passion when William became a Kodak expatriate in Paris from 1995-99. Before returning to the USA, William and his future wife Ineke bought an apartment in the Marais district. William continues to visit Paris at least twice a year to wander the streets, camera in hand, looking for the next vignette.
His photos are available for sale by contacting him at [email protected]. To see the entirety of his collection, visit http://myviewsofparis.shutterfly.com . Or you can order them on Pictorem.
After postponing our trip three times, Paris greeted us with perfect April weather. Birds chirping, flowers blooming, cafés bustling… The pandemic seemed "almost" over so I ventured to more museums and new neighborhoods in four weeks than I have done before the pandemic. Of course, there is always something different to discover in Le Marais,  even after 22 years. My new left hip worked well, as I took almost 20,000 steps on most days. I saw so many interesting scenes that I'll share two vignettes this time, the first B&W and the next to follow in color. I plan to return for the month of August as I try to work towards six months per year in Paris and a much simpler life than in beautiful but expensive San Francisco. Enjoy the 13th installment of my "vignettes"!
Un homme dans Le Marais
It is early in the morning and the shop owners are outside enjoying their daily coffee and cigarette, waiting for the day to begin. You wonder what he is thinking today.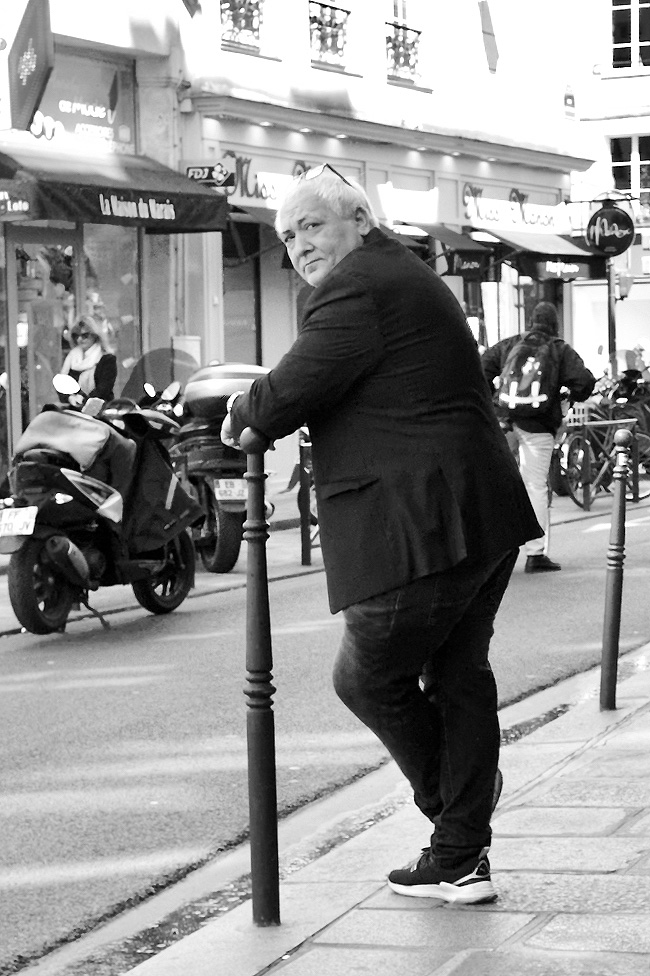 Regardant dans un regard
The ancient "regards" in and around Belleville have been preserved and continue to capture water. I took a walking tour with my new favorite local guide, Patrick Bezzolato, whose French is ultra clear (for those want to refine their French). During our very informative journey around Belleville, we stumbled across a friend who surreptitiously unlocked a door, walked us down a long set of stairs, so that I was able to wander deeper into one of the "regards".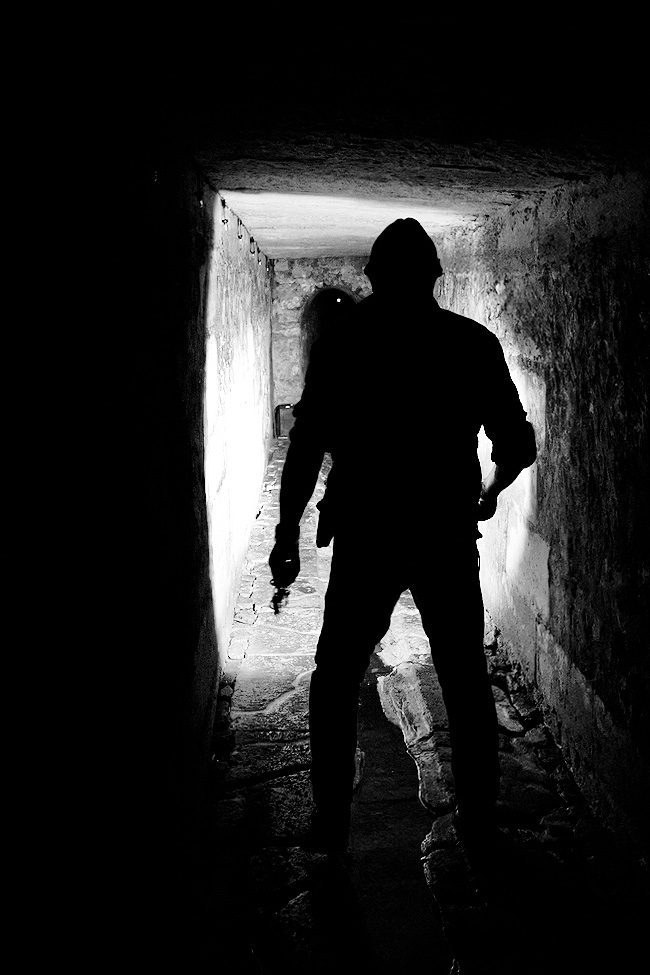 Au bibliothèque
Sometimes, we walk past buildings in familiar quartiers for years without venturing in. The Bibliothèque Historique de la Ville de Paris on rue Payenne is for me one of these missed adventures. Here I found people studiously reading newspapers, magazines and books (instead of browsing the internet!). Great opportunity to do some research and I found some interesting things about our street in some very ancient tour guides.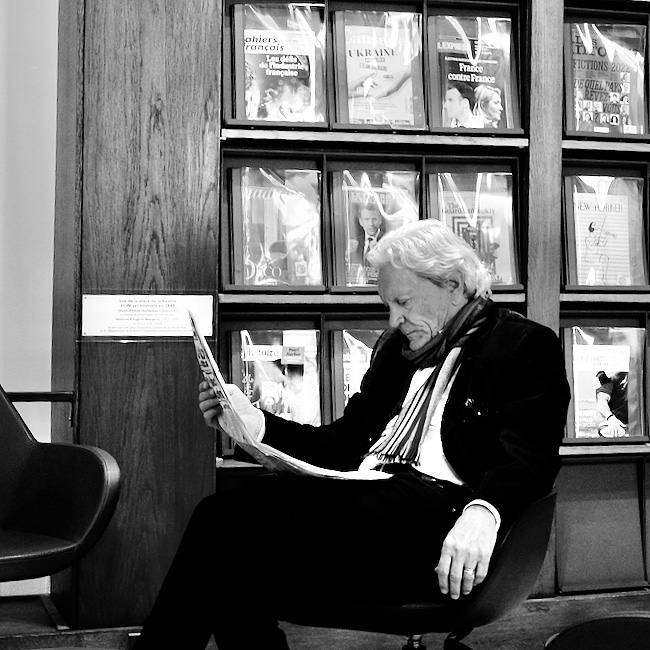 Les clefs du Sophie
Sophie Calle always puts together a combination of photography and installation art that makes you stop and understand the story behind the art versus just looking at art. The back story: "In the deserted Orsay train station and hotel, Sophie Calle has chosen an abandoned room, 501, as her shelter. The year is 1978. What does she find?"
Among many things, including a potential encryption code for spies, this collection of keys. What does each key open ? What would be behind each door or cabinet ?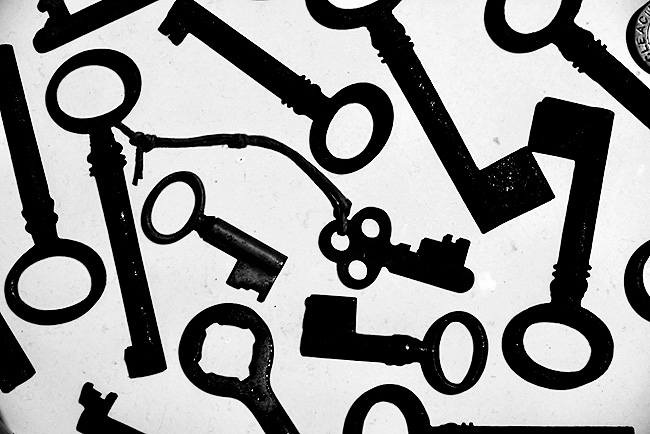 Au déjeuner près de la Bastille
Lunch and conversation are two pillars of French life catalyzed by a waiter and the wonderful food s/he brings to the table.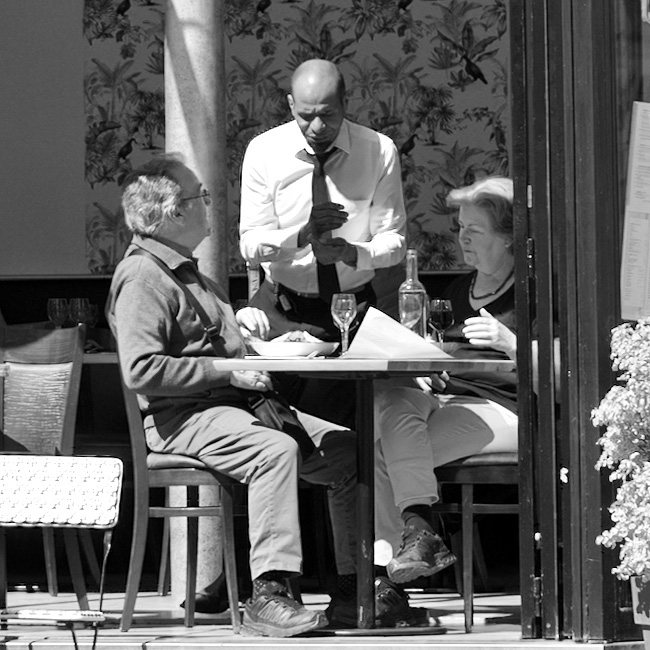 Pluie cour Damoye
In many cities, rain stops life. In Paris, it changes it. Suddenly umbrellas spring out and the sidewalk starts to glisten especially in quiet areas like Cour Damoye.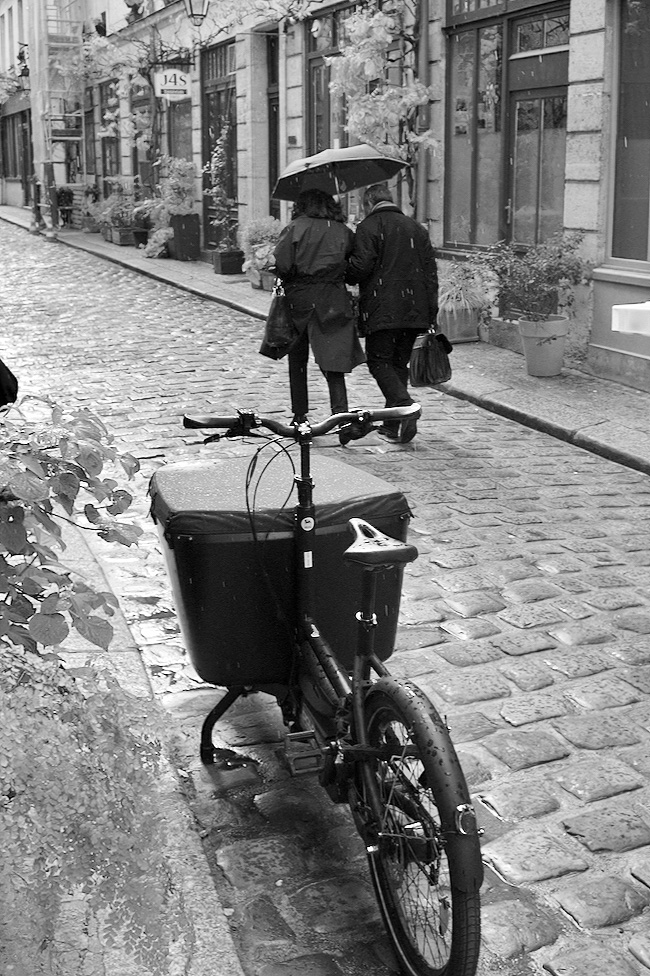 Un couple dans la place des Vosges
Together, find a bench, look out on the world, enjoy the sounds. Life is good.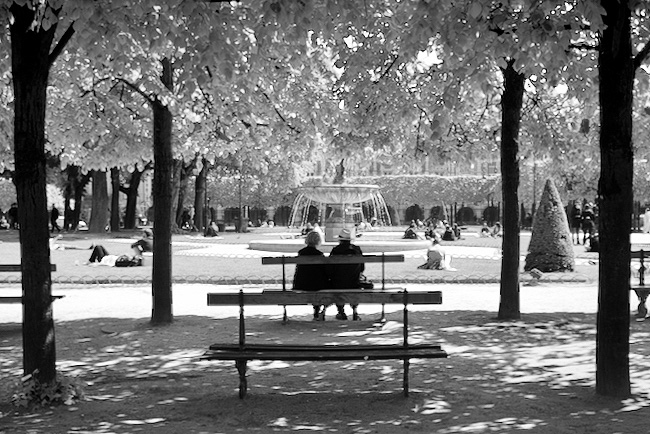 Le penseur place Thorigny
Sunday morning, birds singing is a perfect time to think about life and the day or year ahead.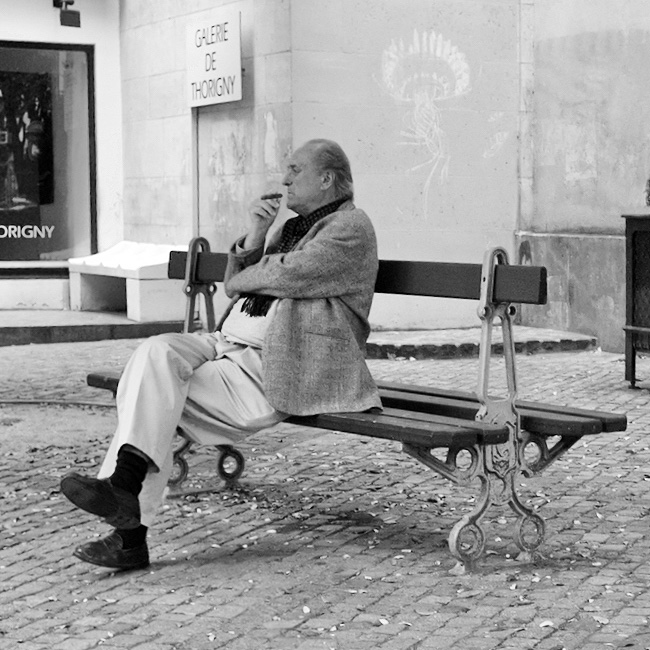 Silhouette Musée Marmottan
The Musée Marmottan in the far western part of Paris is worth a trip. Sometimes in museums the architecture and lighting captures my eye more than the art and the people. Or maybe they are one and the same?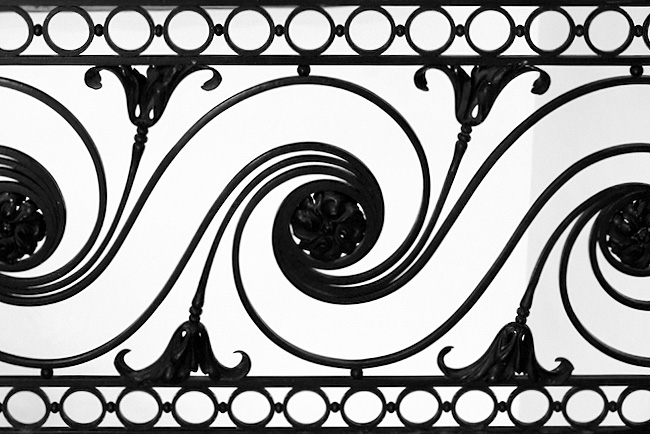 La discussion au déjeuner
The youth of Paris absorbing the sunshine and continuing the long tradition of conversation during lunch … that sometimes extends to hours!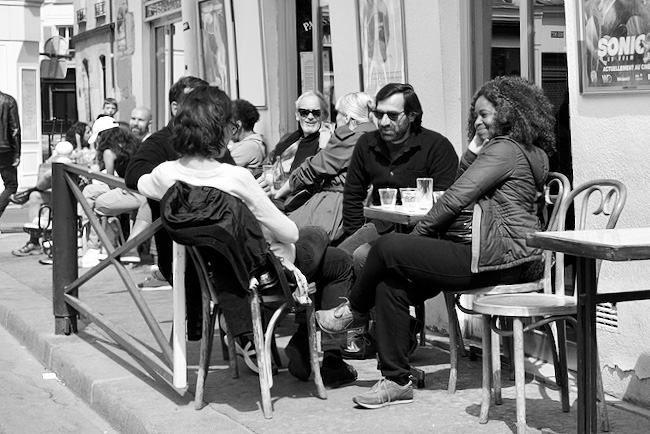 Un, deux, trois
Masters of the "manif", the participants or "militants" as they are called in French, bring all their energy in mostly peaceful statements of change that they believe will better life in France.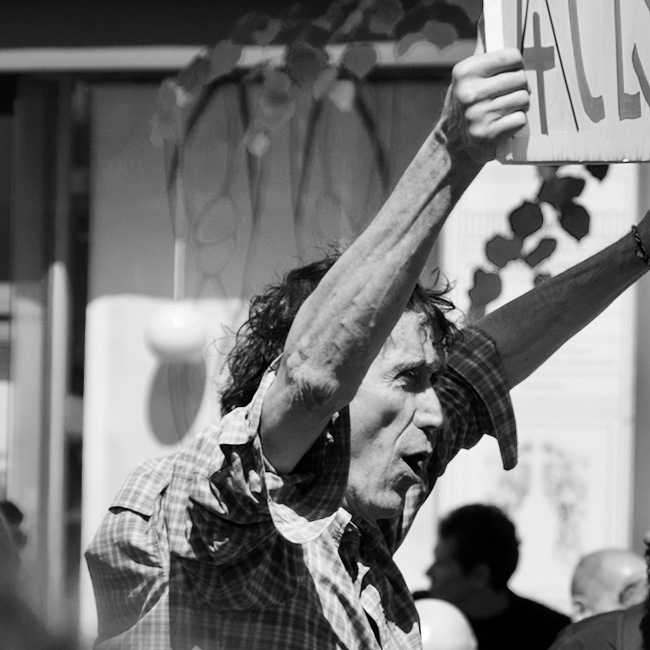 La révolution 2022
If you want, you can have a long discussion about the changes that people want to make including reading through their multi-page "manifestos."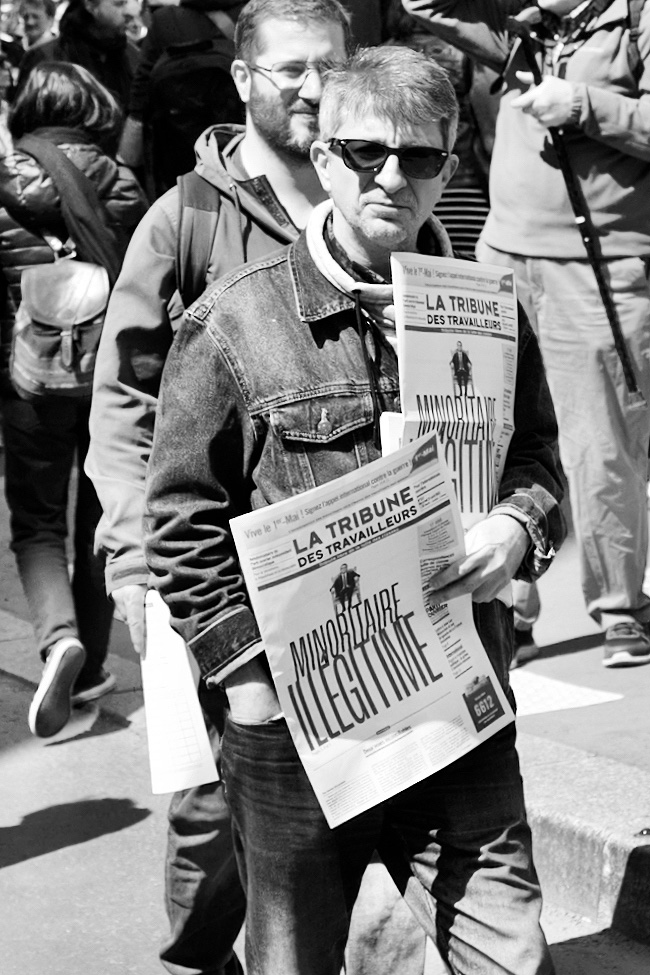 Au vélo dans Le Marais
Dinner on our last night at the wonderful Le Petit Marché. A local store owner we just met bikes home after a day in his jewelry shop. Mon rêve!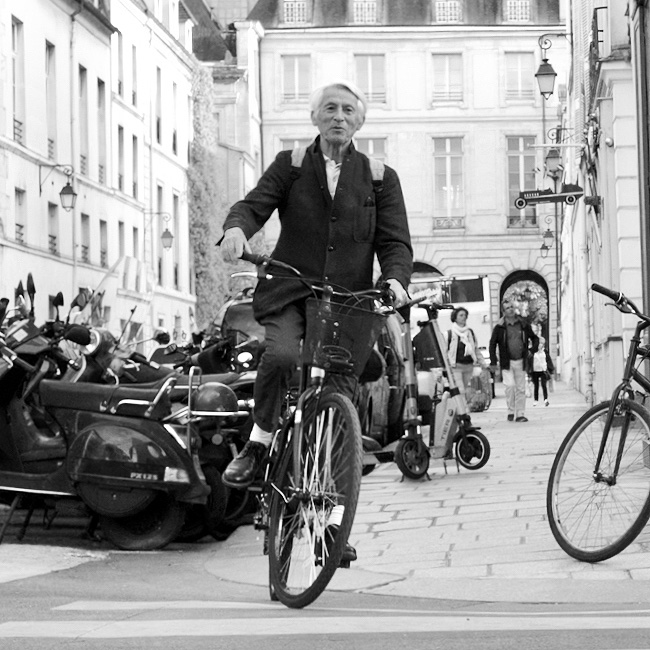 Bonne nuit, Ile St Louis
This corner of Ile St Louis, surrounded by the Seine, is an ideal place for an evening of chit-chat and enjoying the glimmering reflections off the Seine.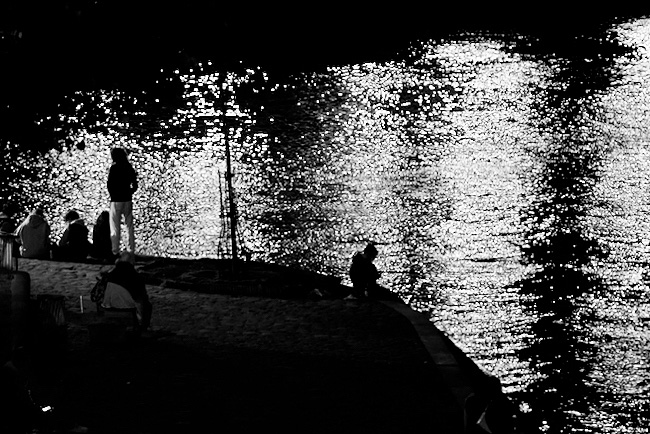 Lead photo credit : La Penseur Place Thorigny © William O'Such
More in Paris museums, Paris Vignettes, People watching, photography, photography in Paris, photography museum, street photography, William O'Such
---
---