Thinking Of Paris; Places Not to Miss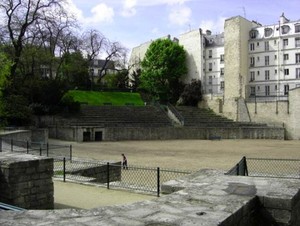 There are so many details that are often left out of discussions about Paris. I'd like to suggest at least a dozen "MUST SEE" places with a brief description of some. I know we all have different tastes, but looking back through the historical days that shaped Paris, I like to pase and remember.
Paris, in the early days was really a tiny collection of buildings on what we now call Ille de La Cité.  It was an ideal location since there was water all around.  This gave early people a natural protection against invasion.  The city of the Paris extended north onto what we refer to as the left bank.  Here, a few blocks away on the Rue Monge, one can still find their first arena.  It's a little difficult to see today since there are buildings all around. But the main part of the Arena is still there and a walk up Monge can lead you to the tunnel door entrance at number 47. You will be walking into history even though the local school kids might be playing soccer.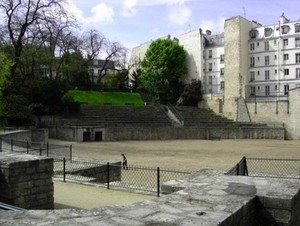 The Arenes de Luteces  sur la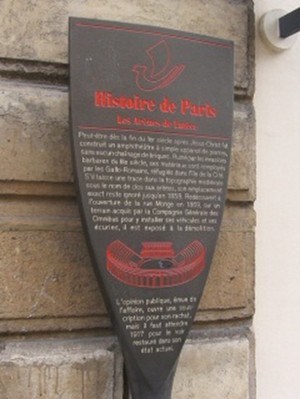 rue Monge #47
No entrance fee.
Picasso's Montmartre Home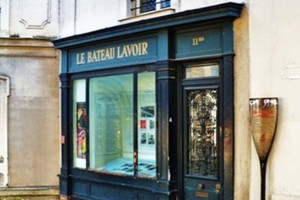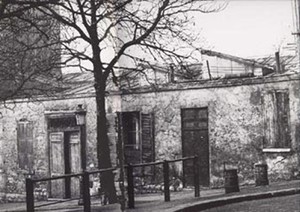 13 Rue Ravignon ……..Le Bateau Lavoire
They said it looked like the washer-woman's boats used in those days. It's a fairly non-descript building on one side of Place Emile Goudreau (a novelist/journalist) in the 18th arrondissement. What you see today is just the re-cemented entrance of the once wooden building on the cliff side below. But most art lovers know the adder and being there means you are in the presence of art history.
Here Picasso lived with his friends Max Jacob and Andre Salmon but you can often see other great artists here like Jean Cocteau, Modigliani, Kees van Dongen, Georges Braque or Henri Matisse.
Picasso met Francoise Olivier, his first great love on the Place, and later he invited many well-known artists and collectors like Gertrude Stein to a banquet dedicated to civil servant, Henri Rousseau, a favorite of Picassos whose work now hangs in the D'Orsay.
I can sit in the square for hours and just let my imagination take over. Here great art was created, great men walked and great ideas in modern art were born. Eg. Les Demoiselles d'Avignon.
There is a picture window next door at No. 11 but one cannot enter the building.
A third favorite of mine is the D'Orsay Museum
Once a home of the Conseil d État collection of French masterpieces. The building rose from the ashes of the Commune and stood as a ruined skeleton for thirty years. Then in 1900 it was reborn as a train station. Now a museum, it houses many different art forms from impressive sculpture to contemporary 20th century modern works by Ingres, Delacroix, Corot, Daumier, Courbet, Gaugin, SignacManet, Degas (art and Whistler Cezanne and Van Gogh sculpture).
There is a photography collection dating back to earlier days. I particularly enjoyed the Muybridge transition from still to motion pictures.
Just image walking along the main floor and seeing the incredible sculpture. As you walk, you picture trains coming and going along the tracks where you stand.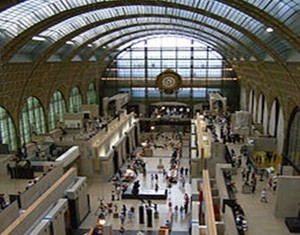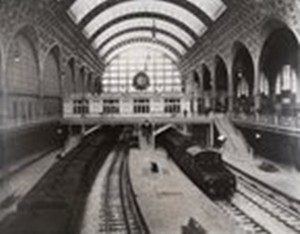 NOW                                                                  THEN
Address:
D'Orsay Museum
1 rue de Bellechase
Admission charges…Closed Mondays
Visit their bookstore near the main floor entrance or have dinner at their huge restaurant. But for those who want a quick meal, the restaurant next to the clock upstairs, opens onto a huge terrace which enables the visitor to enjoy a wonderful panorama of Paris.

Subscribe for
FREE

weekly newsletters.
BonjourParis has been a leading France travel and French lifestyle site since 1995.
Readers' Favorites: Top 100 Books, imports & more at our Amazon store
We update our daily selections, including the newest available with an Amazon.com pre-release discount of 30% or more. Find them by starting here at the back of the Travel section, then work backwards page by page in sections that interest you.
Current favorites, including bestselling Roger&Gallet unisex fragrance Extra Vieielle Jean-Marie Farina….please click on an image for details.
Click on this banner to link to Amazon.com & your purchases support our site….merci!
Leave a reply
Your email address will not be published. Required fields are marked *