A Parisian's Own Tips About Le Métro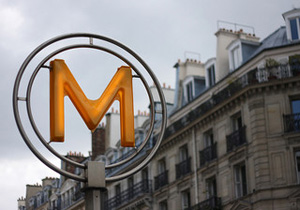 The Paris subway (called le métro) is the fastest and easiest way to travel around Paris and within the nearby suburbs. It is an underground train that stops automatically at each of its 300 stations, running  every day from 5:30 A.M.. until around 12:30 A.M.  In most trains it is necessary to press the button on the door in order for it to open.
Is it Safe ?
The Parisian métro is not particularly dangerous. Beware of pickpockets though. Keep your handbag closed and under your arm, and if you wear a backpack, wear it on your front so that no one can open the zippers. Smartphones have been a big target of thieves lately, and there have been incidents of people getting hurt after being pushed by thieves grabbing their phones. Otherwise, as long as you don't ride too far into the night, and stay in the "touristy" parts of the city, you should be fine.
There are many beggars in the Paris subway too, as well as musicians and performing artists of all sorts… some are even really good!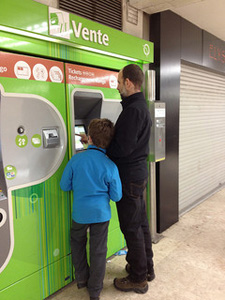 Rush hours
If you can, try to avoid the subway between 8:30-9:15 AM, and 5:00-5:45 PM.  It's rush hour and it can get uber-crowded. When people are standing in the middle part of the car, you should avoid sitting in the small folding chairs located in that part. And don't be afraid to push your way out…
Where can you get a ticket?
In order to ride the subway, you must begin by obtaining a ticket. You can buy tickets in the subway itself, where there is generally (but not at every station) a window, and thus a real person, who can give you information and a map — though it may take a while.  You can also buy tickets in the "tabac" part of a coffee place, where they sell cigarettes, etc (there is usually a red sign on the side of the building). Be sure to bring cash if you don't have a local credit card.
You can buy several kinds of tickets and passes: according to the distance you are traveling (Paris and its suburbs are divided into zones), your age, and the frequency of your trips. Note that children under the age of four ride free – they should go with you through the door (which is not always very easy). For more information, and in particular, for the prices – which change all the time – go to the RATP web site.
Connections might take a long time…
While the subway network is fast, it is also very big, full of stairs and long hallways, and is, therefore, painful if you have your hands full, if you have young children and strollers, or several suitcases.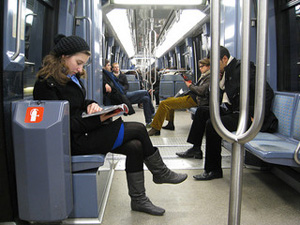 Sometimes, you must change several times before arriving at your destination; know that the connections can be lengthy and that it is often necessary to walk a lot and go up and down stairs. Thus, the shortest route on the map is not always the fastest. It is better to limit the number of connections. For example, the connection at Montparnasse Bienvenüe, between line 13 and line 14, takes 15 minutes when walking quickly, and there are five staircases…
Learn how to pronounce the stations with audio recordings
For more vocabulary, and tips on how to use to its fullest potential Paris' subway and all other public transportations – the bus, the Noctilien, the subway, the RER, and le tramway – as well as pronunciation tracks for all the métro stations, check out my cultural guide which comes in French with an English translation and French audio recordings "Le Métro and the Parisian Transportation System".
photo 1 by Roman Lashkin [CC BY 2.0], via Flickr
photo 2 by Kathryn Greenhill [CC BY-SA 2.0], via Flickr
photo 3 by Chris Yunker [CC BY-SA 2.0], via Flickr
Leave a reply
Your email address will not be published. Required fields are marked *