The Paris Catacombs – a journey you will never forget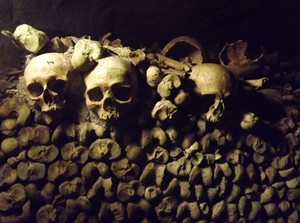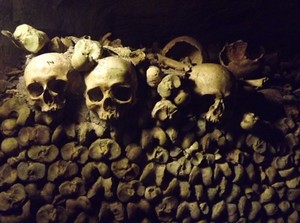 As you wait on the surface to go down into the Catacombs of Paris, nothing can prepare you for what you are about to see.  The bodies of over six million Parisians piled up in ordered patterns along the walls of the old limestone quarries. Over two kilometres of tunnels and pathways lead you through this macabre spectacle.
The Catacombs of Paris (or the "municipal Ossuary") were created at the end of the 18th century after people complained that the local cemetery was terribly overcrowded and that the decaying bodies were causing infections. In 1785, it was decided that all the bodies would be moved to the old quarries underneath Paris. The removal of the bones which began on April 7, 1786, was always at night and included a procession of priests who sang the burial service along the way. The bones were moved in carts covered with a black veil. This continued until 1814 and bones from all the cemeteries in Paris were collected.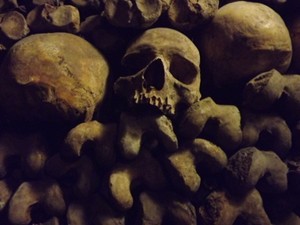 The entrance to the Catacombs is not obvious and (frightfully) the exit is even less so. Tucked away on the square at Denfert-Rochereau there is a small doorway – you may only see it if there is a queue. This entry point is in the western pavilion of Paris's former Barrière d'Enfer city gate. After descending a narrow spiral stone stairway of some 19 meters into the darkness, the silence is broken only by the gurgling of a hidden aqueduct channelling water away from the area. After passing through a long, twisting hallway of mortared stone, you will find a model of France's Port-Mahon fortress created by a former Quarry Inspector. Then, you will find the entry a stone portal with the inscription "Arrête! C'est ici l'empire de la Mort" ('Halt! This is the Empire of Death'). An appropriate warning.
Then begin the halls and caverns of walls of carefully arranged bones. Piles and piles of leg bones and skulls arranged in neat little rows several metres high. Some of the arrangements are quite artistic, such as a heart-shaped outline in one wall formed with skulls embedded in surrounding tibias; another is a round room whose central pillar is also a carefully created 'keg' bone arrangement. Along the way one would find other 'monuments' created in the years before catacomb renovations, such as the fountain baptised "La Samaritaine." There are also rusty gates blocking passages leading to other parts of the catacombs – many of these are either un-renovated or are not yet navigable.
After some two kilometres of passageways and tunnels you will emerge into the daylight. It is a rather macabre and sobering journey that takes at least 45 minutes and once you are out you will be glad to be alive! This feeling alone might justify paying a visit.
Catacombes de Paris
1, avenue du Colonel Henri Roi-Tanguy (place Denfert-Rochereau)
75014 Paris
Tél. : 01 43 22 47 63
Fax : 01 43 22 48 17
Métro et RER B : Denfert-Rochereau
Bus : 38, 68
Parking : Boulevard Saint-Jacques
Open daily from 10am to 5pm, except Mondays and public holidays. Last admission: 4pm.
Visitor numbers are restricted to 200 at any time. Admission may be delayed for a short time during busy periods (make sure you arrive early!)
Distance covered: 2 km, duration of the tour: 45 minutes.
No toilet or cloakroom facilities available.
130 steps to go down and 83 steps back up to street level.
Temperature: 14°C.
The tour is unsuitable for people with heart or respiratory problems, those of a nervous disposition and young children. The Catacombs are not accessible for persons with reduced mobility.
Children under the age of 14 must be accompanied by an adult.

Subscribe for
FREE

weekly newsletters.
BonjourParis has been a leading France travel and French lifestyle site since 1995.
Leave a reply
Your email address will not be published. Required fields are marked *