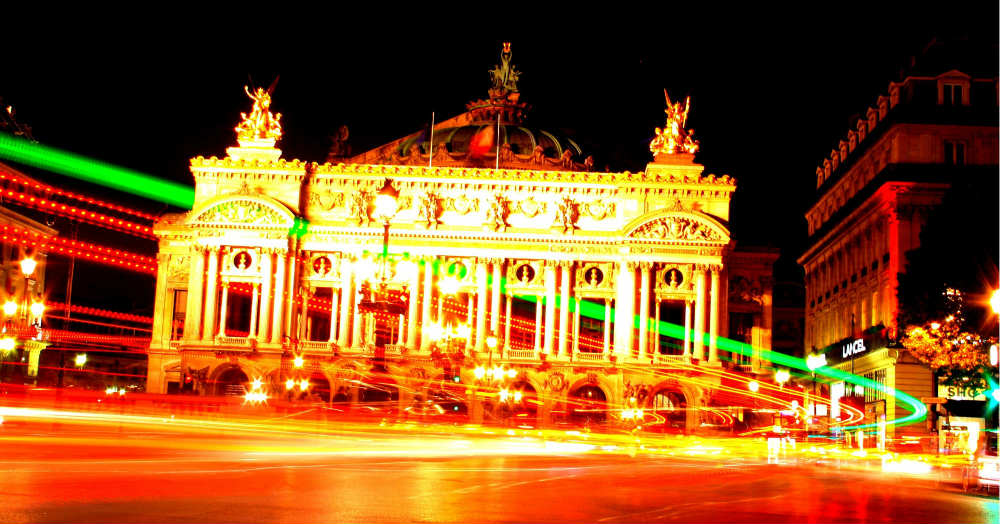 The streets of Paris are filled with people looking for entertainment in one form or another, right up until the early hours of the morning. After a full day of sightseeing, for many it's time to let loose and to get the party started. Here is my pick of 10 night-life options in Paris.
Watch a Stand-Up Comedy Show (in English!)
Why not start the night of with an hour or two of uncontrollable laughter? Currently "How to become Parisian in an hour?" is the most popular comedy act in Paris, performed by comedian Oliver Giraud.
Olivier has performed his one-man stand-up comedy act since 2009. The show was only supposed to run for a year, but because of its extreme popularity, it's still enjoyed today. Olivier targets the comical differences between French mannerisms in comparison to other countries around the world. Oliver's show has received positive reviews in the international media like The New York Times and The Sydney Morning Herald.
See a Show at the Paris Opéra
Looking to catch a ballet or opera performance? There's no better location in the world than the stunning Paris Opéra House. The Palais Garnier is a historic landmark with impressive architecture details, and a beautiful ceiling painted by Marc Chagall. (The Opéra de Paris also stages performances at its twin location in Bastille- not as impressive a building, but the shows are top-notch.)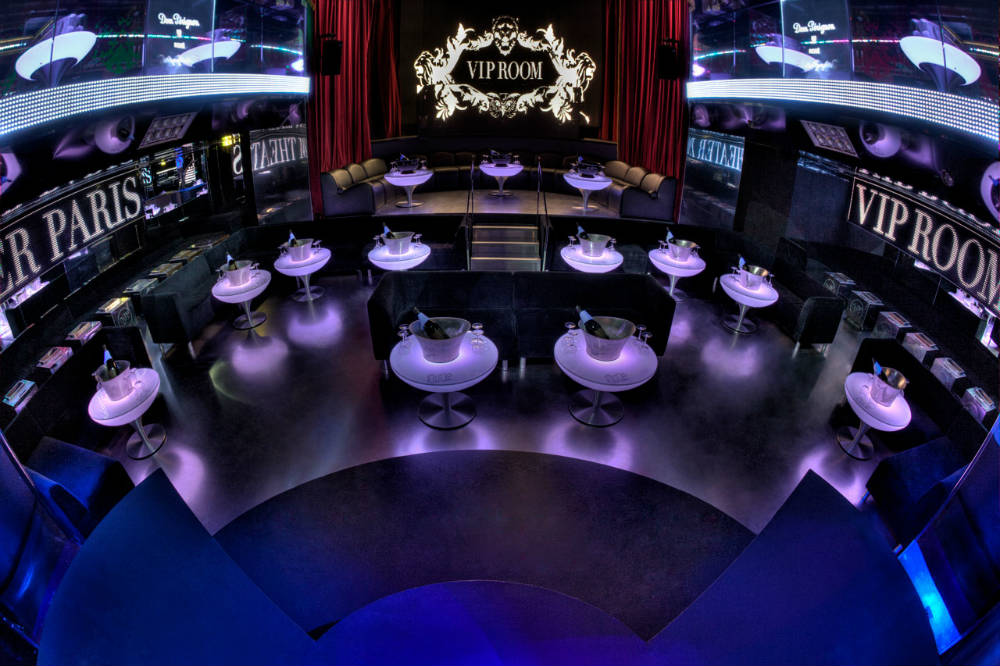 Dance the Night Away at a Night Club
As a married man, nightclubs have begun to lose their charm. However since first arriving in France in 2009, I've experienced some amazing clubs in Paris.
One of my favorites is called the VIP Room, and is located near the Louvre on Rue de Rivoli. The VIP Room features A-list musicians like Timberland (and even Paris Hilton). A few years ago we walked the red carpet to the VIP Room for the Tour De France after-party where N.E.R.D was performing. This is just one of a selection of top-notch nightclubs, but its location and popularity puts the VIP Room at the top of the list.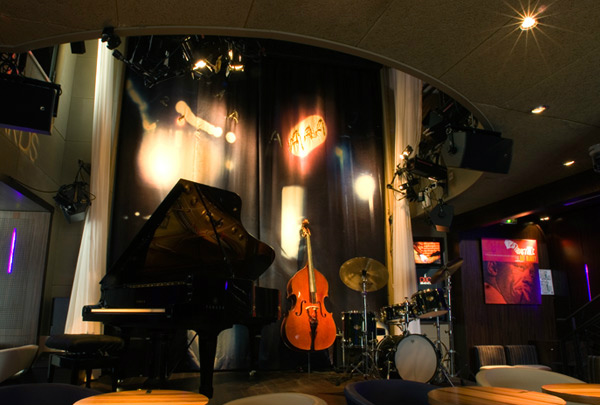 Relax at a Jazz Bar
Currently the jazz scene is in full swing, and there are a number of very popular jazz clubs in Paris.
If chilling out to a smooth saxophone riff is your thing, then I know the perfect place for you. Grab a martini and enjoy some live swinging jazz music at the most famous jazz bar in town: "Le Duc des Lombards", located at 42 rue des Lombards. This bar has an intimate feel about it and is sure to satisfy both the jazz newcomer and the long-time enthusiast.
Mingle with the Locals at the Canal Saint-Martin
The Canal Saint-Martin has been rising in the ranks as one of the trendier areas in Paris for the last decade. As the sun sets each evening, the Canal Saint-Martin stays true to its newfound "hip" reputation as Parisians flock for aperitifs under the stars.
It is a privilege to chill out amongst a horde of easy-going Parisians, engaging in conversation and enjoying the atmosphere of the Canal. You should plan to arrive before dark to be able to choose a good spot along the Canal, and don't forget your picnic blanket, some traditional French snacks and a nice bottle of wine.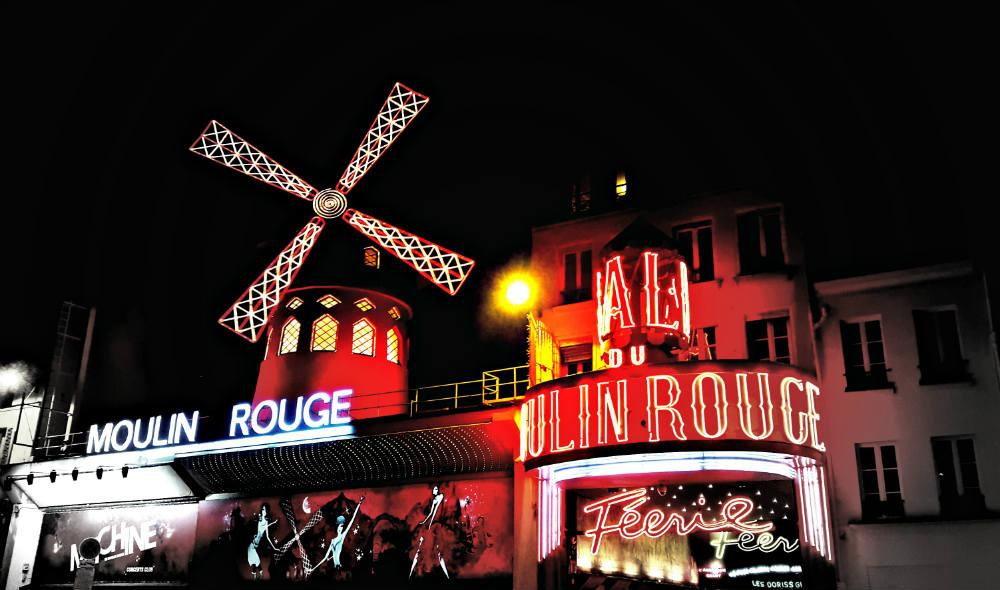 Attend a Cabaret Show
I confess to a certain amount of bias when it comes to cabaret shows in Paris because my wife is a dancer at the Moulin Rouge, and to this date I have seen the show 36 times. My suggestion, and my favourite show, is the Moulin Rouge; however I also recommend the Lido and the Crazy Horse as excellent choices too.
Packed full with fancy costumes, acrobatic acts and lovely ladies, each of these shows are world-class cabaret acts which exhibit partial nudity. Note: Crazy Horse actually stages *full* nudity.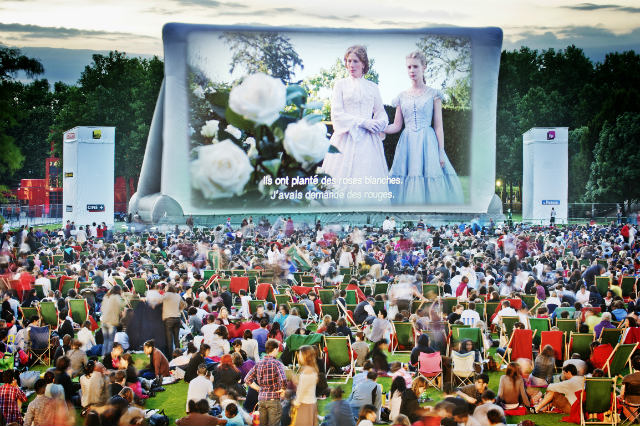 Movie Night at Open Air Cinemas
Each summer in Paris you can watch outdoor movie screenings at La Villette or Cinéma au Clair de Lune. La Villette is one of the best picnic spots in Paris. It is the perfect venue to lay out a blanket and watch a free movie– whether you're alone for the evening, or with company. For just a few euro you might even rent a deckchair, if you prefer not to sit on the ground.
Movies range from black and white classics, to modern day blockbusters. Cinema au Clair de Lune is held at different popular tourist locations around the city, from the Sacré-Coeur to the Jardins du Trocadéro. Venues and times can often be found at the popular tourist website of ParisInfo.com.
Seine River Dinner Cruise
If you were to ask me what is my own favourite social activity in Paris, my answer would be a dinner cruise on the Seine River. To me there is no better or more romantic experience to share with my wife than a dinner cruise on a glass-roofed boat with a five course meal, live entertainment and the sun setting over the Eiffel Tower. It showcases many of Paris's most beautiful features in the two-hour boat ride.
Experience a Shisha or Hookah Bar
As you walk through some areas of Paris you might be hit with the powerful aroma of liquorish or raspberry smoke, which is very likely  the alluring aroma of a Shisha or Hookah Bar.
Hookah bars typically are communal and individual flavoured tobacco smoking dens using a large glass pipe which contains water. Each group attending a hookah bar commonly shares the pipe around a table and participants also enjoy a coffee or alcoholic drink. These bars are associated with Middle Eastern cultures but are quickly becoming stylishly popular in Europe and Paris.
Join a Bar Hopping Pub Crawl
If you like a strong drink or two in an atmospheric bar or pub, then Paris could your utopia. For me, finding the stamina to visit four to five pubs and clubs in one night could be a real challenge, but there are actually package tours for the sincere pub crawler, and each tour company provides bar hopping in a range of different packages.
Usually you receive a few free drinks or shots, and you also have access to drink specials at each venue. However you need to moderate your consumption, as these bars will cut off your drink privileges if they believe that you are too intoxicated. Although drinking quite a lot is inevitable, the mission is not to get drunk but to enjoy Paris.
There is a Paris nightlife activity for everybody, and these 10 options should provide some solid choices for those on a trip to Paris looking for a great time!