Editorial: Paris Does Not Want or Need Skyscrapers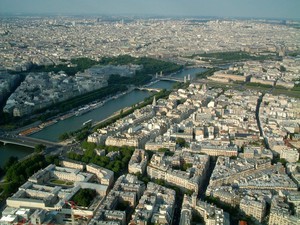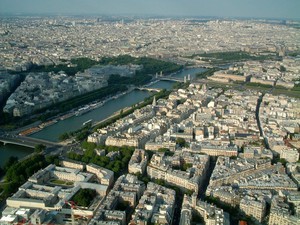 Editorial by: Mary Campbell Gallagher
We'll always have Paris. Or will we? With only brief post-War exceptions, Paris has had height limits for hundreds of years. In 2008, however, ignoring the wishes of Parisians, the Paris City Council voted to raise the limits and to approve six skyscraper projects, and three are now in the planning stages. Meanwhile, polls show more than 60 per cent of Parisians opposing towers.
Perhaps, you may think, these skyscrapers respond to the French housing crisis? No, they are not for housing. Or perhaps they create jobs? Alas, once buildings are built, they cannot create jobs. But the Eiffel Tower also had detractors! Yes, but that is irrelevant. Finally, what of the argument that without towers Paris will turn into a museum city, not "of its time"? Paris is not a ville-musée, Paris is a ville-bijou. Olivier de Monicault, president of the preservationist association SOS Paris, which campaigns against towers, says, "If certain areas must be perfectly preserved (like the Ile Saint Louis), the others must retain their spirit." Skyscrapers are not in the spirit of Paris.
These towers represent politicians' misguided effort to increase the prestige of Paris. But towers can in fact only diminish its allure. And Parisians neither want nor need them.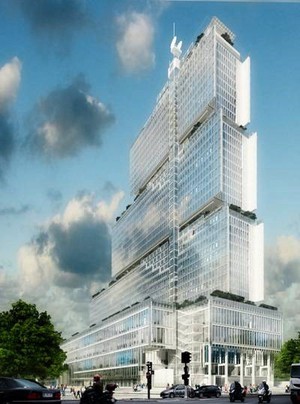 Although emphatically not wanted by its intended users, the courthouse skyscraper for the national government to be built out in the 17ème, by architect Renzo Piano, may appear to meet a need. Advocate Cyril E. Bourayne, however, who heads the attorneys' association opposing the move from the old Palais de Justice on the île de la Cité, reports that 64 per cent of members of the Paris bar oppose moving. Arguing for a new courthouse in 2009, he says, the government claimed that the old Palais was cramped for space and subject to floods, with inadequate access and security. But in fact, the last flood occurred in 1910, and the 2009 report ignored 60 million euros of improvements made in 2006. Space is available in areas now used for archives, with additional space to become available when a nearby hospital moves out, as planned; and the new building is already technologically outdated.
Bourayne says this project is "a museification of the Palais de Justice and the île de la Cité." And now, when the judiciary suffers cruelly from lack of resources, an energy-gobbling 575-million-euro building, paying 90 million euros in yearly rent for 27 years, is an outrage.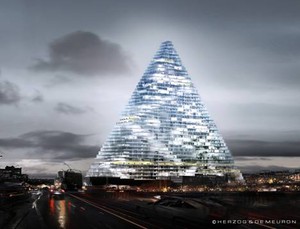 Noting a public demonstration on September 29 and other protests, opponents say that the Tour Triangle behind the Eiffel Tower in the 15ème is also unwanted. The developer has demonstrated that this pointy 48-story glass building by architects Herzog & De Meuron is unneeded, since the announced use has changed repeatedly: meeting hall, hotel, offices.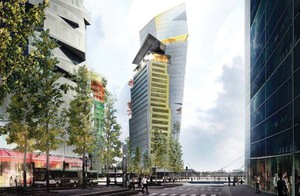 The third project, in the 13ème, is called the "Duo." It was designed by Jean Nouvel, and its developer, Ivanhoé Cambridge Europe, says it will contain offices, commerce, and hotel space, but there is no sign of pressing demand. This bizarre project, without urgent purpose, blighting the UNESCO-protected Banks of the Seine, thus provides final proof that Parisians neither want nor need skyscrapers.
ENDNOTE
What can readers do? Readers can join SOS Paris. They can sign the petition opposing the new courthouse. They can also write to the Mayor of Paris. Perhaps most important, readers can alert everyone they know in the media. As is often true with radical construction projects, many people, even in France, are still unaware of plans for these skyscrapers.
Leave a reply
Your email address will not be published. Required fields are marked *