Paris Music Festivals: Rocking on at Rock en Seine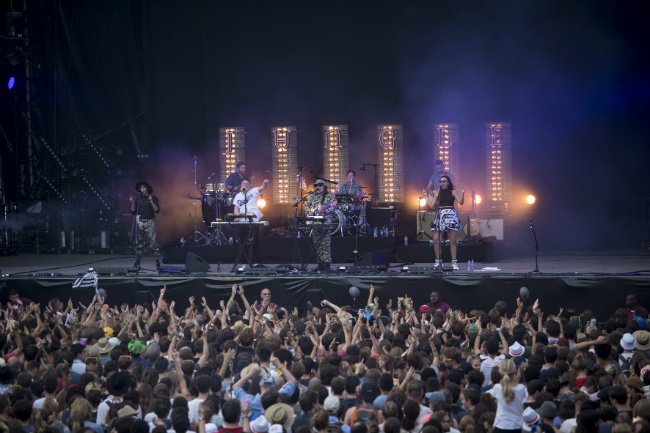 At the end of metro line 10, in Paris's Parc de Saint-Cloud, Rock en Seine takes place at the end of August each year. Now in its 13th year, Rock en Seine is France's third largest music festival and 2015's sell-out edition was the biggest yet, welcoming 40,000 people per day. Kasabian, The Libertines, Jamie XX and The Chemical Brothers headed this year's stellar line-up, supported by dynamic performances from the likes of Tame Impala, The Offspring, Jungle and Alt-J. As well as music, Rock en Seine puts on an art exhibition (this year's 'Rock'Art' theme was 'Jungle') and a designated kids' section called 'Mini Rock en Seine', offering music classes and dressing up. As a fairly seasoned festivalgoer, I arrived keen to compare a major French music event with British counterparts. First big difference: the weather. All three days basked in 32-degree heat, and the evenings stayed mild even until the early hours of the morning. I didn't wear a raincoat once, let alone a poncho or a pair of wellies. This just doesn't happen at Glastonbury, where the mud is as legendary as the music. In true French fashion, the festival site is a Historic Monument, where the royal Château de Saint-Cloud was once located before it burned down during the Franco-Prussian war. The gardens are considered to be amongst Europe's most beautiful, and were partly designed by King Louis XIV's gardener Le Nôtre. The music festival stages are set up in the lower part of the park below a hill that climbs up to a forest above. Fountains, statues and sculpted yew trees are dotted about the festival ground, which is relatively compact – even though it's big enough to maintain a big-festival vibe. There are five stages, all no more than a five-minute walk apart, meaning that you don't miss beginnings and ends of concerts by virtue of trekking between them. The set times are also tiered in a way that makes it easier to catch everything without having to wait around, and avoids any sound clashes between close-together stages. As you'd expect, as it virtually takes place in central Paris, the whole vibe is fairly civilized. It's a far cry from the Sunday-night traditions of Reading festival, where tents and gas canisters are dangerously tossed onto bonfires to the war cries of post-GCSE teens drumming on bins. Instead, the focus genuinely stays on the music – and there's great festival food, too. A simple hot dog stand just won't do: it's got to be an artisanal Merguez sausage from Toulouse, in a fresh-baked baguette smeared with Dijon mustard. Beer isn't cheap, but Rock en Seine has opted for an eco-friendly system that serves drinks in reusable plastic cups (which make handy souvenirs). In fact, the whole site is kept clean and relatively litter-free, with the help of such environmental incentives. On the bill was a healthy mixture of French and Anglophone bands, and one of the highlights on the Saturday night was a recently reformed The Libertines – who lurched on and off stage arm-in-arm, in a typically shambolic whirlwind of fag ends, broken Franglais and witty interludes. Sunday's line-up was the strongest, with the sun going down to the electronic beats of Hot Chip and Jungle's modern-soul spins. A watertight set from psychedelic prog-rock band Tame Impala was a huge success, before the final night went off with a bang thanks to high-energy hip-hop anarchists Run The Jewels. The Chemical Brothers closed the show like true pros, with an impressive light show that at one point featured huge towering robots with laser-beam eyes scanning the thousands-strong crowd. Rock en Seine runs a tight ship. It's accessible, well laid-out, and so close to Paris proper that it sets an example for other capital cities that could host full-length festivals of this caliber. It's close enough to civilization to inspire slightly less wild behaviour than the likes of what you find in an isolated, muddy field in the West of England – but this in no way detracts from the fun. Actually, it's the opposite: you're free to enjoy everything on offer without worrying about anything spoiling your enjoyment. It's cheaper than British festivals, and you can be in Paris within 20 minutes if you're really craving a café crème. What's not to like? Tickets for Rock en Seine cost €49 per day and €119 for a three-day pass. The best way to travel from the UK is by Eurostar – return tickets start at €89, and from the Gare du Nord you can hop on the tube straight to the festival, at metro stop Boulogne-Pont de St-Cloud. Visit
the festival website
for more information.
SUBSCRIBE
ALREADY SUBSCRIBED?
BECOME A BONJOUR PARIS MEMBER

Gain full access to our collection of over 5,000 articles and bring the City of Light into your life. Just 60 USD per year.

Find out why you should become a member here.

Sign in

Fill in your credentials below.
At the end of metro line 10, in Paris's Parc de Saint-Cloud, Rock en Seine takes place at the end of August each year. Now in its 13th year, Rock en Seine is France's third largest music festival and 2015's sell-out edition was the biggest yet, welcoming 40,000 people per day.
Kasabian, The Libertines, Jamie XX and The Chemical Brothers headed this year's stellar line-up, supported by dynamic performances from the likes of Tame Impala, The Offspring, Jungle and Alt-J. As well as music, Rock en Seine puts on an art exhibition (this year's 'Rock'Art' theme was 'Jungle') and a designated kids' section called 'Mini Rock en Seine', offering music classes and dressing up.
As a fairly seasoned festivalgoer, I arrived keen to compare a major French music event with British counterparts. First big difference: the weather. All three days basked in 32-degree heat, and the evenings stayed mild even until the early hours of the morning. I didn't wear a raincoat once, let alone a poncho or a pair of wellies. This just doesn't happen at Glastonbury, where the mud is as legendary as the music.
In true French fashion, the festival site is a Historic Monument, where the royal Château de Saint-Cloud was once located before it burned down during the Franco-Prussian war. The gardens are considered to be amongst Europe's most beautiful, and were partly designed by King Louis XIV's gardener Le Nôtre. The music festival stages are set up in the lower part of the park below a hill that climbs up to a forest above.
Fountains, statues and sculpted yew trees are dotted about the festival ground, which is relatively compact – even though it's big enough to maintain a big-festival vibe. There are five stages, all no more than a five-minute walk apart, meaning that you don't miss beginnings and ends of concerts by virtue of trekking between them. The set times are also tiered in a way that makes it easier to catch everything without having to wait around, and avoids any sound clashes between close-together stages.
As you'd expect, as it virtually takes place in central Paris, the whole vibe is fairly civilized. It's a far cry from the Sunday-night traditions of Reading festival, where tents and gas canisters are dangerously tossed onto bonfires to the war cries of post-GCSE teens drumming on bins.
Instead, the focus genuinely stays on the music – and there's great festival food, too. A simple hot dog stand just won't do: it's got to be an artisanal Merguez sausage from Toulouse, in a fresh-baked baguette smeared with Dijon mustard. Beer isn't cheap, but Rock en Seine has opted for an eco-friendly system that serves drinks in reusable plastic cups (which make handy souvenirs). In fact, the whole site is kept clean and relatively litter-free, with the help of such environmental incentives.
On the bill was a healthy mixture of French and Anglophone bands, and one of the highlights on the Saturday night was a recently reformed The Libertines – who lurched on and off stage arm-in-arm, in a typically shambolic whirlwind of fag ends, broken Franglais and witty interludes.
Sunday's line-up was the strongest, with the sun going down to the electronic beats of Hot Chip and Jungle's modern-soul spins. A watertight set from psychedelic prog-rock band Tame Impala was a huge success, before the final night went off with a bang thanks to high-energy hip-hop anarchists Run The Jewels. The Chemical Brothers closed the show like true pros, with an impressive light show that at one point featured huge towering robots with laser-beam eyes scanning the thousands-strong crowd.
Rock en Seine runs a tight ship. It's accessible, well laid-out, and so close to Paris proper that it sets an example for other capital cities that could host full-length festivals of this caliber. It's close enough to civilization to inspire slightly less wild behaviour than the likes of what you find in an isolated, muddy field in the West of England – but this in no way detracts from the fun. Actually, it's the opposite: you're free to enjoy everything on offer without worrying about anything spoiling your enjoyment. It's cheaper than British festivals, and you can be in Paris within 20 minutes if you're really craving a café crème. What's not to like?
Tickets for Rock en Seine cost €49 per day and €119 for a three-day pass. The best way to travel from the UK is by Eurostar – return tickets start at €89, and from the Gare du Nord you can hop on the tube straight to the festival, at metro stop Boulogne-Pont de St-Cloud.
Visit the festival website for more information.
Lead photo credit : Jungle, Rock en Seine/ ©Nicolas Joubard
---
---