Update on the Renovation of the Cluny Museum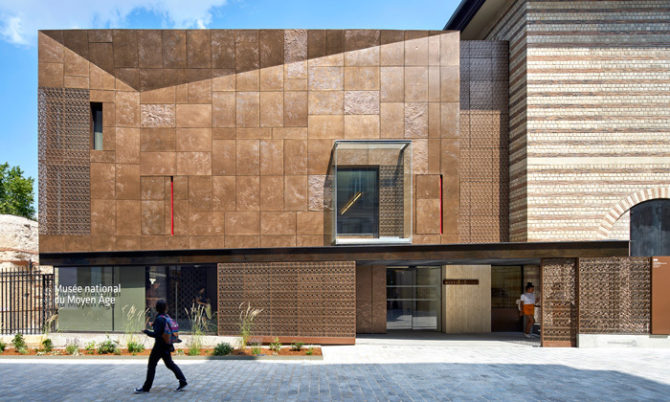 A popular museum in the Latin Quarter is the Musée de Cluny. Devoted to the Middle Ages, the museum occupies the Hôtel de Cluny, a 15th century building (flamboyant gothic style) which also incorporates an ancient Roman bathhouse on the site. Outside are lovely medieval gardens, while inside the fascinating collection includes the famous "Lady and the Unicorn" tapestries.
As we reported earlier this year, the museum has been undergoing an ambitious restoration and modernization project for the last few years. It shuttered completely from March 1- mid July 2018, and has now partially reopened with a completely new welcome area visible from the boulevard Saint-Michel (access is via the rue du Sommerard).
Designed by the architect Bernard Desmoulin, this extension serves to incorporate modern facilities (reception and ticketing, book store, cloak room, educational rooms) while also orienting the museum towards the well-trafficked boulevard Saint-Michel, inviting passersby to step inside. (Previously, the museum— despite its exceptional location— felt like it was "hidden in plain sight.")
Note that the medieval hôtel will stay closed until the end of 2020 in order to complete the museography.
Musée de Cluny- Musée national du Moyen Âge, 28 Rue du Sommerard, 5th arrondissement. Open every day, except for Tuesday, from 9.15am to 5.45pm. Last ticket purchase at 5.15 pm. Access: Metro: Cluny-La-Sorbonne / Saint-Michel / Odéon. Tickets: 5 euros (not including temporary exhibitions). Closed on January 1, May 1 and December 25.
Lead photo credit : The museum's new reception area. Image courtesy of Musée de Cluny.
Leave a reply
Your email address will not be published. Required fields are marked *