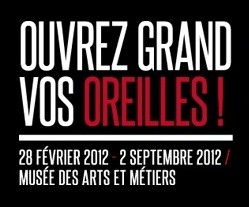 My musical education began by listening to the radio in my father's pick-up truck. With the windows rolled down and our elbows hanging out the sides, we would compete in our own version of name-that-tune by shouting the title and artist of each successive song that played on classic rock radio stations. The winner never took longer than three notes to finish. During my senior year of high school, the owner of a small Top 100 AM radio station came to visit one of my classes, looking for two students to do an afternoon show. I ran and pushed to the guidance counselor's office. My friend and I were in. Each Tuesday, we would banter, choose songs, and produce on our own, an hour-long show. It was here that I learned the intensity of the on-air button. Faced with a giant mixing board and the disastrous "dead air" concept, we had to be at the top of our game even when ads were playing. It was with these fond memories in mind that I went to explore the "Radio-Listen Up" exhibit at Musée des Arts et Métiers.
Open until September 2, the exhibit traces the history of radio by breaking it up into crucial time periods, that not only feature information and vintage equipment, but accompanying listening rooms as well. Visitors walk along a timeline on the floor, beginning at 1794 when the telegraph of Claude Chappe was invented. Braille is offered on the complementary informational panels. The exhibit, however, puts its focus on radio as a medium beginning in 1921 and the transformations it has made up until today.
"Radio des amateurs" from 1921 to 1933 features such antiques as a large Voixa microphone from 1925 and various radio receptors that were equipped with numerous lightbulbs to show that the electricity was flowing from the batteries needed to operate it. The brightly-colored listening room features photographs from the era, depicting young men with excited smiles, as their voices play over the speakers. What they began as an experiment, became a fixture in homes by the 1930's. No longer needing batteries, radios became more accessible and quickly, a necessity for entertainment, as transmissions reported on sporting matches, actors performed historical pieces, commentators gave up-to-the-minute news reports, and music and publicity further found their places over the air waves. A tremendous radio from 1937 displays how listeners were able to switch the dial to transmissions being broadcast in different cities throughout Europe.
The year 1936 brought the first political campaign to radio, but what quickly followed changed everything. With the emergence of the second World War, families remained around the radio on a constant basis as they listened to news from the front, dialed into Allied reports from the BBC in London, and secretly tuned in to transmissions of resistance. It was through this medium that on June 18, 1940, Charles de Gaulle gave his infamous cry-to-arms address from London. The speech is played in the accompanying listening room in its full length.
The 1950's brought the first real test to radio with the emergence of the television. Radio still remained an important medium, yet was now forced to transform itself to face new competition. Select models from the era are smaller for easier transportation, while other radios combined with record players resulted in beautifully designed pieces to showcase in one's home. Radio also began to serve as an outlet for writers, poets, journalists and cultural experts. This model of free speech allowed for the public to connect on a more personal level with grand figures of the day, such as Jean Paul Sartre.
The mod-styled radios of the 1960's on display makes one wish they could go back in time to a house party of the day. The 1960's brought the emergence of FM radio, which provided better quality. Call-in shows also began, further connecting a new, younger generation with the medium. This became extremely important in France in 1968, with the uprising of the student revolution, where radio was the sole medium used by the protagonists to spread their message.
The exhibit continues on to showcase pirate radio, which began in 1964, and led to the creation of private channels in 1981. During this time period, NRJ and Skyrocket made their debut in France. For the next twenty years, radio continued to provide listeners with innovative programming and the introduction of new music. It wasn't until the emergence of the Internet in 2000, that radio truly had to evolve–and quickly.
The radio of today not only exists in cars, but through mobile phone transmissions, and online podcasts and streaming channels. Instead of record players attached to radios, new models are now accompanied by docks for MP3 players. With all the options offered to consumers today, radio, however, still holds its ground with eight in ten people in France tuning in on a daily basis, with the largest percentage listening between six and nine in the morning.
And in order to give kids a taste of how fast-paced radio truly is, the exhibit ends with a set of computers accompanied by large microphones where participants can read the weather or report on a sporting match while watching it. Your transmission can be emailed to you as well. Watching a young boy transpire as he tried to keep up with a woman's football match, I couldn't help but smile at the newfound respect for radio he would surely leave with.