What I Learned from Dating in Paris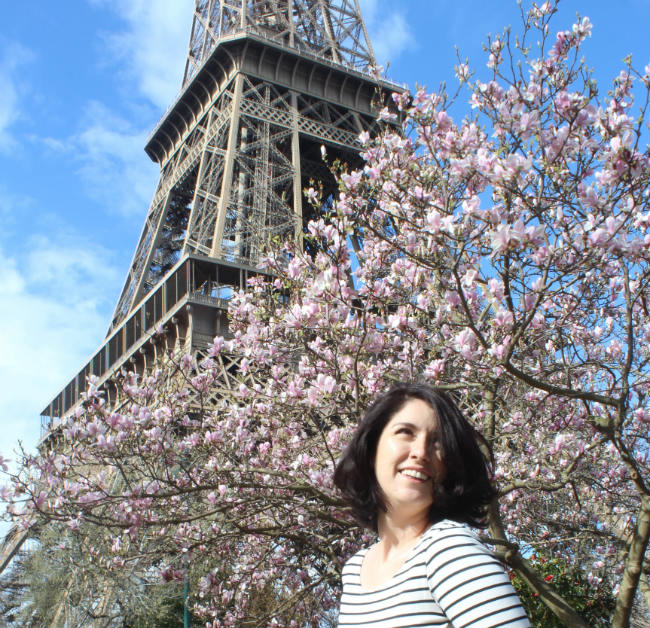 Paris! The City of Light! The City of Love! How exciting it is to come to a city that is celebrated for being steeped in such romantic culture from its art to its architecture. What will your Parisian love story be? "An American Girl in Paris" by way of Carrie Bradshaw and get slapped by your pretentious artist lovah before being rescued by your ex-boyfriend who flew in from New York? Or will you follow in the footsteps of Gil Pender in Midnight in Paris and simply fall into your Parisian love story after a little time travel, during a solo stroll on Pont Alexandre III? Or will you be The Girl Who Stole the Eiffel Tower and find that love has been sitting right under your nose like Audrey Hepburn in Paris When It Sizzles? While my Parisian love stories have been far from a string of scenes written for romantic comedies, I have come out of these six years with an understanding of how dating in Paris works, and perhaps a little bit more about myself. Be Open. Before my arrival I was convinced that I was going to be swept off my feet by my French heartthrob, indie actor Louis Garrel, and that all French men looked like him. While I did see him one afternoon sitting at a café in Saint-Germain-des-Prés, I simply did not see a future with us (he was also dating Carla Bruni's sister at the time, which may have played a role in our fate.) I learned not to box myself into an idea of what I expected of Paris and had fun meeting different kinds of guys. However, Don't Do What I Did: Try to engage in small talk with a guy at an old man tabac that was littered with lottery tickets and smelled like stale coffee where I was mistaken for a professional. Do You. I was once told by another expatriate to work on becoming "more French." The idea, even then, seemed absurd. Why would I want to be more French when I could just be myself? Being a foreigner is considered exotic. The misconception that the French turn their noses up to Americans is so painfully 80s. The French drink Coca Cola, wear Converse, and go to brunch. Peppering their conversations with little expressions and words in English is as chic (or some would say pretentious) as when we sprinkle our dialogue with a few bon mots. Play with the language and just be you. However, Don't Do What I Did: Overestimate your French communication skills where I was at times unwittingly suggestive. How was I to know that addressing my aggressive cat as a feminine noun would have such a salacious dirty double meaning? Everyone Says I Love You? Okay, maybe not everyone but French guys really do love declaring this early on in a relationship. Unlike in the States where men can be a little stingy with their love, French men just go with it if they're feeling it. Don't be alarmed, but also don't feel like you have to say it back. They may even like the challenge. However, Don't Do What I Did: Don't be irrationally affronted by his declaration by accusing him of getting all "French" on you too soon. Luckily the guy who I flipped out on really did love me and is now my husband. Be Monogamous. Things may have changed with the Tinder generation sweeping through Paris but I have heard from single friends that even this hook-up culture is losing some steam. I don't know if it is because it is easier to find an apartment for two in the increasingly expensive Paris or that the French just enjoy coupling up, but casual dating has not really hit the mainstream, and relationships tend to blossom from the first kiss. However, Don't Do What I Did: Casually go out on a date with a guy you have tepid feelings for to practice your French and because why not? No. Just no. There is no why not, especially if you give him a small kiss at the end of your dates because this is incredibly misleading to a French man. There is a guy walking the streets of Paris who thinks I am a horrible person because I thought he and I were just– you know– "hanging out." Maybe I have more Brooklyn dude in me than I thought. Move On. Not to be a downer but yes, break-ups in Paris do happen. Crazy, right? They happen just as quickly as relationships start where you recall only weeks earlier when you were the butter to his baguette. What happened? You ask yourself staring down at your phone that you are convinced is blocking his phone calls. French men are painfully honest when they feel things have fizzled out and speaking from experience; it really hurts but it can be incredibly humbling. Try not to internalize and just move on. You're in Paris after all! However, Don't Do What I Did: Confuse his ring-less marriage proposal as a real one. Because if he really liked it, he would have put a ring on it and not repeatedly tell you that it was at his aunt's house. Now, what to do with that wedding dress I bought…
SUBSCRIBE
ALREADY SUBSCRIBED?
BECOME A BONJOUR PARIS MEMBER

Gain full access to our collection of over 5,000 articles and bring the City of Light into your life. Just 60 USD per year.

Find out why you should become a member here.

Sign in

Fill in your credentials below.
Paris! The City of Light! The City of Love! How exciting it is to come to a city that is celebrated for being steeped in such romantic culture from its art to its architecture. What will your Parisian love story be? "An American Girl in Paris" by way of Carrie Bradshaw and get slapped by your pretentious artist lovah before being rescued by your ex-boyfriend who flew in from New York? Or will you follow in the footsteps of Gil Pender in Midnight in Paris and simply fall into your Parisian love story after a little time travel, during a solo stroll on Pont Alexandre III? Or will you be The Girl Who Stole the Eiffel Tower and find that love has been sitting right under your nose like Audrey Hepburn in Paris When It Sizzles?
While my Parisian love stories have been far from a string of scenes written for romantic comedies, I have come out of these six years with an understanding of how dating in Paris works, and perhaps a little bit more about myself.
Be Open. Before my arrival I was convinced that I was going to be swept off my feet by my French heartthrob, indie actor Louis Garrel, and that all French men looked like him. While I did see him one afternoon sitting at a café in Saint-Germain-des-Prés, I simply did not see a future with us (he was also dating Carla Bruni's sister at the time, which may have played a role in our fate.) I learned not to box myself into an idea of what I expected of Paris and had fun meeting different kinds of guys.
However, Don't Do What I Did: Try to engage in small talk with a guy at an old man tabac that was littered with lottery tickets and smelled like stale coffee where I was mistaken for a professional.
Do You. I was once told by another expatriate to work on becoming "more French." The idea, even then, seemed absurd. Why would I want to be more French when I could just be myself? Being a foreigner is considered exotic. The misconception that the French turn their noses up to Americans is so painfully 80s. The French drink Coca Cola, wear Converse, and go to brunch. Peppering their conversations with little expressions and words in English is as chic (or some would say pretentious) as when we sprinkle our dialogue with a few bon mots. Play with the language and just be you.
However, Don't Do What I Did: Overestimate your French communication skills where I was at times unwittingly suggestive. How was I to know that addressing my aggressive cat as a feminine noun would have such a salacious dirty double meaning?
Everyone Says I Love You? Okay, maybe not everyone but French guys really do love declaring this early on in a relationship. Unlike in the States where men can be a little stingy with their love, French men just go with it if they're feeling it. Don't be alarmed, but also don't feel like you have to say it back. They may even like the challenge.
However, Don't Do What I Did: Don't be irrationally affronted by his declaration by accusing him of getting all "French" on you too soon. Luckily the guy who I flipped out on really did love me and is now my husband.
Be Monogamous. Things may have changed with the Tinder generation sweeping through Paris but I have heard from single friends that even this hook-up culture is losing some steam. I don't know if it is because it is easier to find an apartment for two in the increasingly expensive Paris or that the French just enjoy coupling up, but casual dating has not really hit the mainstream, and relationships tend to blossom from the first kiss.
However, Don't Do What I Did: Casually go out on a date with a guy you have tepid feelings for to practice your French and because why not? No. Just no. There is no why not, especially if you give him a small kiss at the end of your dates because this is incredibly misleading to a French man. There is a guy walking the streets of Paris who thinks I am a horrible person because I thought he and I were just– you know– "hanging out." Maybe I have more Brooklyn dude in me than I thought.
Move On. Not to be a downer but yes, break-ups in Paris do happen. Crazy, right? They happen just as quickly as relationships start where you recall only weeks earlier when you were the butter to his baguette. What happened? You ask yourself staring down at your phone that you are convinced is blocking his phone calls. French men are painfully honest when they feel things have fizzled out and speaking from experience; it really hurts but it can be incredibly humbling. Try not to internalize and just move on. You're in Paris after all!
However, Don't Do What I Did: Confuse his ring-less marriage proposal as a real one. Because if he really liked it, he would have put a ring on it and not repeatedly tell you that it was at his aunt's house. Now, what to do with that wedding dress I bought…
Lead photo credit : Lisa Czarina Michaud
---
---