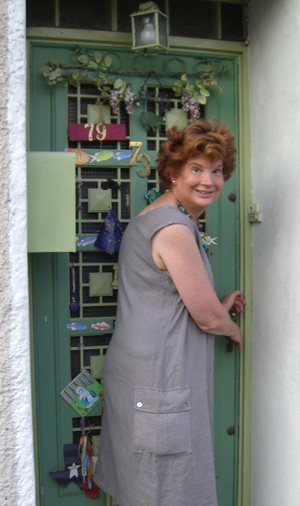 I do not want to write this. Who wants to write about a best friend who has died? Who wants to write about a best friend who has died much too early? Suzy was special…. But isn't everyone? Of all my special friends, Suzy was, well, the most special. Why so? Lots of reasons. One, she was the most incredible giver. She gave and gave and gave. She never stopped giving. I used to remonstrate with her: STOP spending (especially on other people)…but she kept giving, especially to those whom she loved. Two, she was verrry bright. She was the Queen of Shopping. [How bright does that need to be?] But beneath the Shopping Goddess image was a sharp mind, honed on Soviet studies at university, quick to puncture the hoo-haa and push to the inner core of the issue. Three, she loved her friends/family. Literally, there was nothing she would not do for them. When I learned that I was probably Jewish, as Suze certainly was, she welcomed me into 'the family' but never stopped teasing me about the 'what-if-I'm-not' factor. When I got sick, and potentially fatally sick, there she was, doing her usual fabulous (Jewish??) cooking; how I wish I still had some of her leftovers in the freezer. Suze and I met in Paris.  We had both recently lost our beloved husbands, we were in love with Paris, we were determined to build a new life, we bought in Paris and we bought in Provence (near each other), we loved her dogs Samantha and Toffee and Junior, we loved each other and our group of supportive friends…..now coming to an end…. though the love and memories will last forever. She would hate this triteness that I write but I know she is laughing at it (and me) and loving the world she has departed…much too soon.
Sally Shelton-Colby and Suzy met in Paris when Sally was Deputy Secretary-General of the Organization for Economic Cooperation and Development (OECD).

Subscribe for
FREE

weekly newsletters.
BonjourParis has been a leading France travel and French lifestyle site since 1995.
Readers' Favorites: Top 100 Books, imports & more at our Amazon store
We update our daily selections, including the newest available with an Amazon.com pre-release discount of 30% or more. Find them by starting here at the back of the Travel section, then work backwards page by page in sections that interest you.
Current favorites, including bestselling Roger&Gallet unisex fragrance Extra Vieielle Jean-Marie Farina….please click on an image for details.
Click on this banner to link to Amazon.com & your purchases support our site….merci!