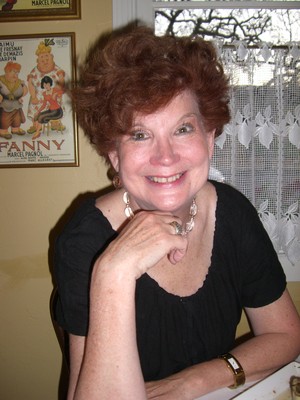 Years ago I began calling Suzy "La Swuze," a nickname that came to me spontaneously as I searched for a way for her name to be consistent with what she was: sui generis, one-of-a-kind. Bright red hair, taller than most, and immaculate, bright red nails that recalled her youth as a Revlon model, but that another friend thought of as "aggressive."
Our first encounter was on a cruise, "non-rev celebs" is what La Swuze called the three or four bold face names plus their husbands and partners. It wasn't caviar and champagne that was missing as we moved from one Mediterranean port to another, some stops glamorous, some a little down at the heels. It wasn't laughter that was missing either, for where Suzy was, laughter was also. She dazzled with an unfettered wit, and not things she made up. Her stories were things she had witnessed or reported on in her days at Time Inc. Sadly, her Mike died. Together they had already begun a Paris adventure, one of those business deals that quickly silenced a lot of the laughter. Without Mike, she continued her Born to Shop guides, bought a house in the village where my wife and I lived in the South of France, but she mostly   lived on the road, or so it seemed to me since she was rarely living in Vaison. Eventually she rented the house to a Canadian writer who became a good friend, then sold it when the writer found that living with all of La Swuze's collections left little space for his family. (One of her friends said of her fondly, "She's still got the first thing she ever bought.")
After the cancer struck and it seriousness became evident she took to answering the phone "Senator Kennedy's line." Always good for a laugh.  La Swuze: a life force whose absence from this earth will be noticed more than a little.
Walter Wells is the former Executive Editor of the IHT and lives in Paris and Provence with his wife Patricia Wells.

Subscribe for
FREE

weekly newsletters.
BonjourParis has been a leading France travel and French lifestyle site since 1995.
Readers' Favorites: Top 100 Books, imports & more at our Amazon store
We update our daily selections, including the newest available with an Amazon.com pre-release discount of 30% or more. Find them by starting here at the back of the Travel section, then work backwards page by page in sections that interest you.
Current favorites, including bestselling Roger&Gallet unisex fragrance Extra Vieielle Jean-Marie Farina….please click on an image for details.
Click on this banner to link to Amazon.com & your purchases support our site….merci!