Where to Eat Now in Paris: Malro, Le Bistrot d'à Côté Flaubert, Le Bistrot de Madeleine
"Men think women dream of meeting the love of their life. Wrong! The dream of every woman is to eat without putting on weight!" –Denny Imbroisi
A restaurant in homage to André Malraux, the esteemed writer/politician (1901-1976), "man of the Marais", has opened in the heart of the Marais district. Talented Italian chef Denny Imbroisi (Ida, Epoca)– with art, food, attitude– has partnered with Micaël Memmi (Epoca, Zo, Duras) to launch Malro. (In this trendy district, their near neighbors are super concept store Merci on Boulevard Beaumarchais.)
The airy two story space with green winter/summer garden could be Brooklyn/Shoreditch. It's a is a haven of good vibes. (Note: Upstairs can be privatized.) The sunny Mediterranean style cuisine is by chef Francisco Raul Conforti.
He sends out sourdough pizzas (veggie, Margarita, truffle); Thon rouge mi-cuit, tzatziki, Salmoriglio marinade, coriander; Betterave rôtie, féta, Kalamata olives and grated boutargue. For carnivores, there's a thick Chuck flap Black Angus US (le persillé), and the fish of the day is from the barbecue grill. There's also pasta and foccacia (takeaway possible). Desserts include Tiramisu du Malro and a Chocolate Hazelnut tart.
Creative cocktails include "Cucumber Flower" by Franco/ Mexican barista Kaziel Balivet and an eclectic wine card (glass from €7). The décor by DA-collective combines traditional brasserie codes with Carrara marble tables, brass bar, comfy velvet banquettes and eye catching art work.
Excellent vibes from the enthusiastic team led by Axel Baiot – remember him from Chez Mustache?
7 rue Froissart, 3rd
Metro: Saint Sebastien Froissart
Lunch – Tuesday-Sunday. Dinner Tuesday-Saturday. Late Lunch Le Week End
Average spend €35-€55 + wine
Tel: +33 (0)1 42 77 38 47
Not a lot of people know that in 1987 **Michelin chef Michel Rostang created the first "ready to wear" bistro – creating a template that inspired many star chefs to do the same. Flaubert, a former traditional epicerie reboot, recreates the vintage atmosphere of bistros of yesteryear.
"Opening à coté (next door) I could cook everyday dishes in contrast to the classic Michelin style cuisine I sent out in the flagship restaurant," explains Rostang. And, the sixth generation of Rostangs, his daughters Caroline and Sophie, are very much part of the brand.
Helming Flaubert's kitchen is Columbian born, Paris bred, Jaime Corzo. Inspired by his mother's cooking, Jaime traveled the world working with top chefs; he tips his toque to the likes of Yannick Alléno, Eric Briffard, Alain Pegouret, and Simone Zanoni.
Jaime's dishes are original, not copies of his mentors. As in picture perfect signature pastry crusted lamb Provençale/Wellington, stuffed with spinach and mushrooms. Match with Côtes de Rhône Mon Cœur Jean Louis Chave Selection (€32)
"I decide what to cook according to the market." Look for pumpkin tortellini starter in frothy foie gras emulsion – a slither of old parmesan and "today's Pink Lady Tart" to finish, or chef's spin on cinnamon spiked pain perdu (French toast).
Menus 36€-€45 + wine. A La Carte: Starters €15/Mains€25/Desserts €10
10 rue Gustave Flaubert, 17th
Metro: Ternes
Tel: +33 (0)1 42 67 05 81
Terrace – Valet Parking
Closed Saturday lunch, Sunday & Monday
Walking on place de la Madeleine, early for an interview, I decided to live like a duchess and, instead of lunch, try some caviar at Kaspia's ground floor "prêt-à–porter" "Cantine Kaspia" tasting space. Upstairs, the first floor elegant "haute couture" restaurant – serving the signature baked potato brimming with caviar – is open all day without interruption.
Each month "La Pause Kaspia" highlights a seasonal caviar. For March it's Baeri Imperial: firm, medium-sized and dark-gray grains, a delicate and fresh taste with iodized flavors (10g – €40-€44).
Then I discover "Caviar of the Month" – Caviar d'Esturgeon Blanc Royal – crunchy grains, an explosion of in-mouth flavors, notes of grilled almonds, with a flute of Fleur de Champagne Kaspia (10g – €29) with Vodka Blanche Kaspia (10g €27).
I loved my spontaneous luxury lunchtime experience and, as I left, recalled food guru Ruth Reichl's advice. "If you have caviar, the way to eat it is by the spoonful. Don't combine it with shrimp, pomegranate seeds or huitlacoche" (a fungus that grows on ears of corn!)
Open Monday to Friday from 10am-Midnight
17, place de la Madeleine, 8th.
Metro: Madeleine,
Tel: +33 (0)1 42 65 66 21
François Charpentier named his bistro for his mother. "I always dreamed of opening a restaurant and my mum Madeleine made it possible," he told me one spring day last week. The welcome's warm, the sunny terrace shaded by an awning which Charpentier calls "Trouville Blue," and the food's delicious.
At B de M you're eating with friends, the menu changes daily according to the market. The raw brick walls are studded with ivy and from the open kitchen Julian Kerwien (ex-Joel Robuchon/Guy Martin) heads a young team working with Terroirs d'Avenir so everything's fresh.
The wines are mostly bio-dynamic from small producers (from €6 glass) to match light as a feather spinach, olive and feta soup; roast chicken and grilled vegetables (everything is a la braise/grilled). Mop up with warm bread from Bob Boulangerie on avenue Rodier, perfect with cheese. For dessert try the cinnamon spiked, Golden Delicious apples and ice cream.
Lunch €18-42 A La Carte €32 + wine
Dinner average €46 + wine
4, avenue Trudaine, 9th
Metro: Anvers
Tel: +33 (0)1 42 85 19 35
Closed Sunday-Monday
The palace hotel occupying the former residence of Prince Roland Bonaparte showcases eleven works by iconic French photographer Jean-Baptiste Huynh, in the lobby, Botanist Bar and La Bauhinia restaurant, which ties in nicely with the exhibition at Guimet National Museum of Asian Arts, located at 6, place d'Iena, opposite the hotel.
To mark the occasion, Christophe Moret, Bauhinia's Executive Chef, creates menu "Voyages Photographiques" (€30 + wine – starter/ main or main/ dessert). Prefer à la carte? No problem. Museum ticket holders get a 20 percent discount at La Bauhinia if they'd rather choose their own dishes from the menu.
Reserve by e-mail: [email protected] or Tel: + 33 (0)1 53 67 19 91
10 Avenue d'Iéna, 16th.
Metro: Iéna
Book of the Month
"Is there a more appropriate location for intimate conversation, day-dreaming, reading or even working than a salon de thé?" asks Barbara Kamir in the introduction to her recently published Paris, Salons de thé de Charme, Les Douceurs Gourmande du Tea Time (Parigramme, €14.90).
Who knew about Miss Marple's scones or Sunday Brunch/Le Used Book Café at Merci/the fabulous KL Pâtisserie in the 17th? Here's a peek into a well connected friend's address book for a Proustian moment – yes, the Ritz is there too.
Written in French with English translation by Mary Dechamps – photographed by David Marmier.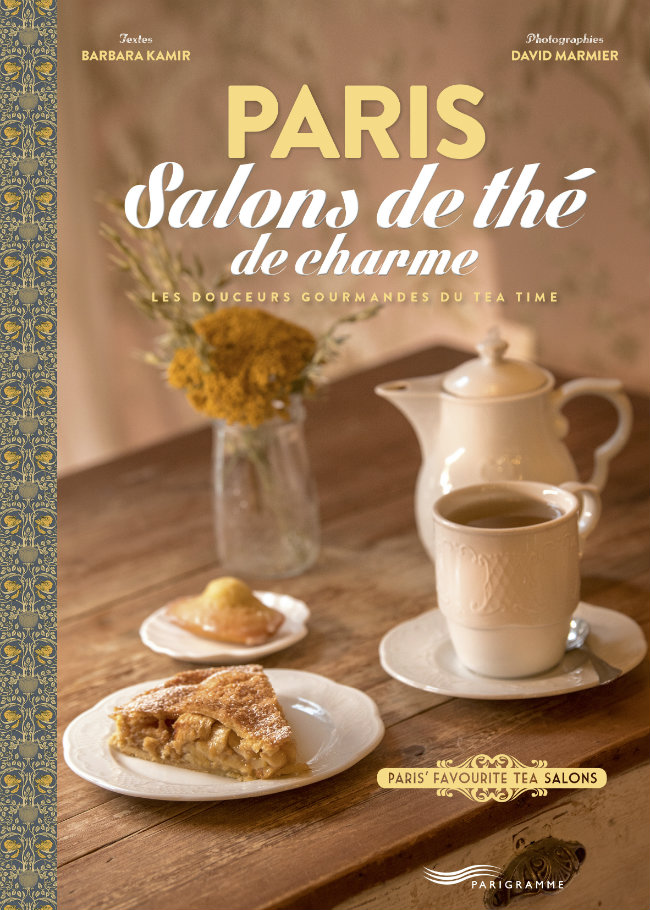 Dish of the Month
Etched with the Paris skyline, chef Justin Schmitt's signature traditional pâté en croute parisien is a must for March (€26). Tuck in at Brasserie d'Aumont, L'Hôtel de Crillon.
6 rue Boissy d'Anglas, 8th
Metro: Concord
Tel: +33 (0)1 44 71 15 17
Chefs of the Month
** star Michelin Michel Rostang with head chef Jean-Pierre Hocquet invite ** Mathieu Viannay, of the two Michelin-starred La Mère Brazier in Lyon, to cook and create – the first in a series of exciting regional Paris-Lyon-Méditerranée gastronomic journeys (€75 + wine).
Le Train Bleu – Gare de Lyon – until 26 April, 2019.
Tel: +33 (0)1 43 43 09 06