Winter Rescue: The Best French Pharmacy Products (You Can Find at Home)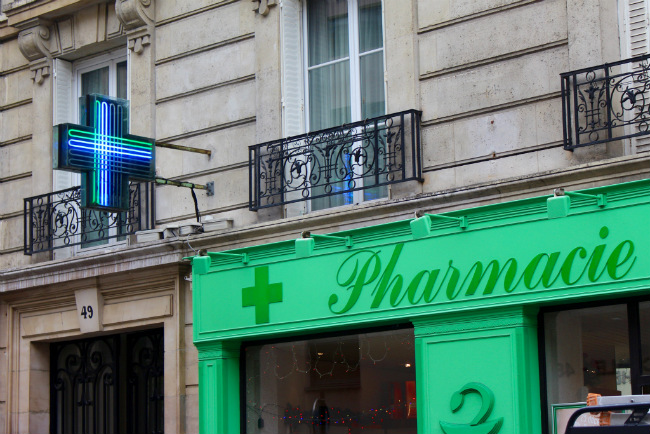 It's no secret that French pharmacies are brimming with covetable French beauty products. In fact, many travelers– even when first arriving in Paris– make a beeline to popular parapharmacies like the sprawling Pharmacie Monge (fifth arrondissement) and the City Pharma (on the corner of rue Bonaparte and rue du Four in the sixth arrondissement) to stock up on goodies. These pharmacies are destinations themselves! It's not uncommon to see visitors with printed-out lists of lotions and potions requested from friends back home.
But what if you're not traveling to Paris anytime soon? How can you rescue your winter-hijacked hands? Moisturize your terribly dry locks? Rejuvenate yourself in the dead of the arctic-cold winter months? Prep for the spring (thankfully right around the corner!)? Here we've compiled a selection of our favorite pharmacie products that you can find at home– no transatlantic flights necessary.
The Caudalie brand– which was started in the Bordeaux vineyards (Chateau Smith Haut-Lafitte) in 1995– is now a cult favorite. The idea? Harness the anti-oxidant-rich polyphenols found in grape seeds. We love the face creams and scrubs, and this lip conditioner can't be beat.
Klorane shampoo (Dattier du désert/ Desert Date)
How to nourish your winter-ravaged hair? Try a reparative shampoo from favorite brand Klorane. The desert date is rich in fatty acids and proteins which gives it its nourishing and repairing properties. This shampoo restores and strengthens the hair fiber.
This is a tried-and-true favorite of celebrities and A-list fashionistas. Soothes dry skin instantly.
Another cult favorite. It's much cheaper in France, but thankfully you can also get it States-side.
You'd be hard-pressed to find a more trusted moisturizer. The Embryolisse brand has been sold in pharmacies in Paris for over 60 years.
We call this "miracle oil." Really: there's nothing like it. The ultimate cure for repairing winter's damage to the skin.
*The* make-up remover used by Hollywood actors, runway models, and savvy French women.
A very popular item from Thalgo, the marine spa brand. Products are developed through science and marine research, and can be found in thalassotherapy centers in more than 90 countries.
Lead photo credit : French pharmacy. Photo: The Leaf Project/ Flickr
More in French pharmacy
---
---