The Alcohol-Free Movement in Paris
Paris can seem an unyielding city, particularly in matters related to food and drink. A meme that's been circulating recently, portraying an English gentleman's request for "an oat milk flat white" being met with a Parisian waiter's resolute "non," serves as a vivid illustration of this. Immersed in tradition, wrapped in intricate customs, and boasting an unshakable reputation, Paris tends to see itself as the gatekeeper of France's sacrosanct culinary tradition. 
Most revered of all, arguably, is French drinking culture, at the heart of which lies wine, cherished as a vital part of the nation's economy and cultural identity. France holds a prominent position as one of the world's top three wine producers and, currently, Paris boasts the highest wine consumption per capita among cities globally. This enduring wine-making tradition traces its roots to the 6th century BC, with France maintaining rigorous standards through its esteemed AOC system (Appellation d'Origine Contrôlée). Beyond this, the country is also renowned for a variety of other alcoholic drinks, including spirits such as cognac, calvados, and pastis, as well as beers (Kronenbourg 1664 being among the most famous) and liqueurs such as crème de cassis, chartreuse, and triple sec. It wasn't until 1956 that the French stopped serving pupils (under 14 years old) alcohol in school canteens, not banning it fully in schools until 1981. 
It's perhaps surprising, then, that in a city so deeply rooted in tradition and where alcohol is a familiar part of daily life, we're seeing a developing interest in alcohol-free drinks.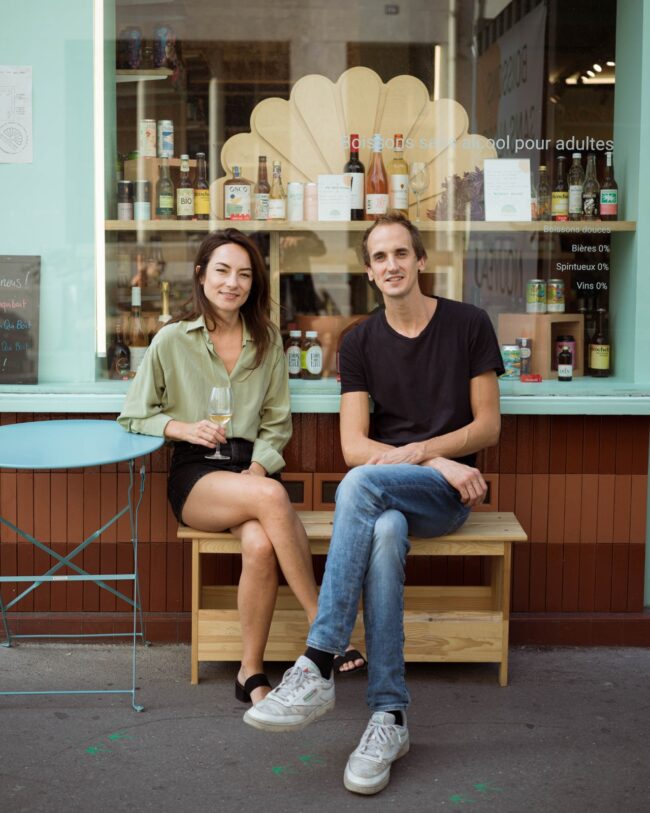 France's

S

hifting Alc

ohol

Trends:

Some H

istory
According to a 2020 analysis by IEEE Spectrum, French wine consumption, which represents over half of the country's total alcohol intake, has seen significant shifts over time. Statistics in France have been recorded since 1850, when annual per capita consumption was remarkably high at 121 liters. The country's wine consumption peaked in the late 1920s, reaching a record 136 liters per capita in 1926 before experiencing a slight decline to 124 liters per capita by 1950.
A further reduction in wine drinking in France occurred in the mid- to late-20th century so that, by the early 2000s, average per capita consumption was 58 liters – almost half of what it had been a century earlier. This decline was attributed to shifting work patterns, evolving office environments, changing demographics (including the growth of France's Muslim community) and the increasing popularity of automobiles. 
Recent trends continue to indicate a decline in alcohol consumption. Just last year it was revealed that the French were drinking the lowest amount of red wine in a decade and, this year, a market research survey conducted by NielsenIQ revealed that 52% of the French population were planning to reduce their alcohol intake in 2023. In a noteworthy development during the summer of 2023, the French government allocated €200 million to address a substantial surplus of wine. So what's going on?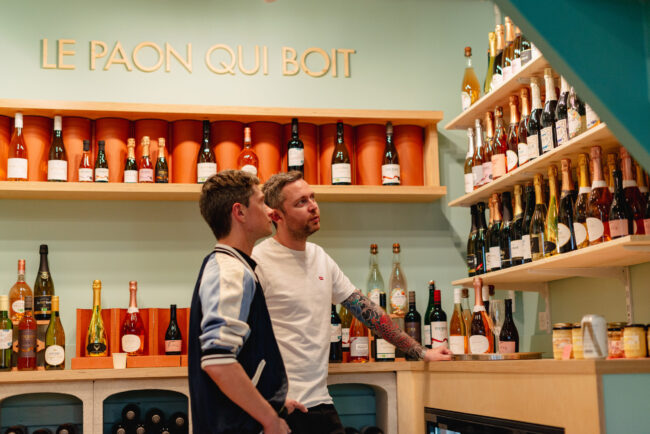 Why are the French Drinking Less?
Reasons for the reduction in alcohol consumption among the French population are complex. While a pattern of decline can be seen since the 1950s, more recently government initiatives and public health campaigns have been largely attributed to reshaping drinking habits. 1970 saw the implementation of the first drink-driving law in France and, in 1991, restrictions on alcohol advertising in public broadcasting channels were introduced. In 2019 a government campaign encouraged French residents to limit their alcohol intake, recommending a maximum of two glasses per day.
At the same time there has been a heightened awareness, globally, of the mental and physical health risks associated with excessive alcohol consumption. Annual sobriety challenges, such as Dry January, have emphasized the advantages of abstaining from alcohol for a month. So too has the post-pandemic Gen-Z "sober curious" movement, challenging the binary options of either drinking or not drinking at all, instead encouraging individuals to explore when and why they consume alcohol. 
Economic pressures and the rising cost of living have also played a part, with more and more people regarding alcohol as an expensive excess. The effects of the pandemic and the ongoing war in Ukraine have increased the costs of alcohol (most specifically wine) production in France, resulting in higher prices to be paid by consumers. It is interesting to note, however, that many French citizens support the idea of raising alcohol prices for the sake of public health. In 2018, a poll conducted by La Ligue National Contre Le Cancer (LLNCC) revealed that 54% of the public would be open to higher alcohol prices as a means of reducing overall consumption for health reasons.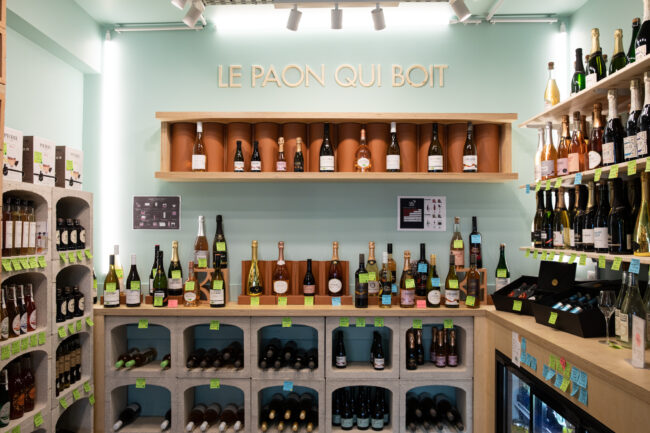 Paris's Alcohol-Free Bars and Caves
Perhaps unsurprisingly, the reduction in alcohol consumption in France has coincided with an increase in alcohol-free products. According to NielsenIQ's 2023 press release, "41% of the French people surveyed now drink mocktails when they go out, and 34% opt for an alcohol-free or low-alcohol beer." The Guardian reports that France's non-alcoholic market is rapidly expanding (with large companies such as Pernod Ricard investing in the sector) and is attracting a significant influx of new, younger, consumers. 
The leader in non-alcoholic beers is Tourtel Twist, which grew as a company by a whopping 23% in 2021, and which last year became the official Tour de France supplier. Sober Spirits, founded by Calixte Payan is an award-winning (it was elected the best non-alcoholic spirits in the world by the IWSC in 2021) 0% spirit company, boasting products such as alcohol-free rum, gin and whiskey. Leading the way with 0% alcohol wines are Pierre Zēro, based in Languedoc-Roussillon in the south of France and Le Petit Béret, specializing in fermented wines, based in Béziers. 
View this post on Instagram
Paris in particular has embraced the alcohol-free movement with the introduction of non-alcoholic bars promoting the idea that abstaining from alcohol can align with the French way of life. A notable example is Le Paon Qui Boit, which opened its doors in 2022 as Paris' first ever non-alcoholic drinks cellar. The vibrant and inviting space offers an extensive selection of locally sourced non-alcoholic beverages, including 0% wines, beers, spirits, sake, and non-alcoholic pre-mixed cocktails, catering to a wide range of preferences. While owner Augustin Laborde personally quit drinking after the Covid pandemic, he notes that most of his customers aren't teetotal; they are simply seeking to moderate their alcohol consumption.  
Paris' first entirely alcohol-free bar, Déjà Bu, opened this year in the trendy 11th arrondissement. It's a welcoming and stylish destination in which to enjoy handcrafted alcohol-free cocktails. The bar also features a variety of vegan, organic, gluten-free, and halal drinks, with owner Sarah Missaoui emphasizing their commitment to inclusivity. The drinks menu rotates weekly, and they host diverse events, such as cocktail-making masterclasses and complimentary tastings. Another establishment, Drinks & Co, emerged towards the end of the previous year on bustling Rue Saint Lazare. This venue offers a similar concept, featuring products from around the world and presenting two menus — a traditional alcoholic cocktail menu and a corresponding "mirror menu" that replicates the same offerings without alcohol.
In addition to dedicated alcohol-free establishments, many restaurants, bars, and hotels are increasingly offering non-alcoholic and low-alcohol options, not least Le Mary Celeste in the Marais and Rehab, Solera, and Le Perchoir, to name a few.  
View this post on Instagram
Alcohol-free and the preservation of France's culinary and drink heritage
For some, the surge in alcohol-free products, bars, and cellars raises concerns about the future of the alcohol industry, particularly the wine-making sector which is deeply entwined with the French economy and cultural identity. This is perhaps understandable, given that a recent report by the Washington Post at the beginning of this year suggested that of half a million jobs directly tied to the alcohol sector in France, up to 150,000 could disappear in the next decade. 
As Augustin Laborde (owner of Le Paon Quit Boit) notes, some people perceive non-alcoholic products as a threat, pointing out that those working in the traditional wine market have "well-established notions of what wine is how it should taste." Indeed, we need only think about Olivier Collin (a sommelier at the renowned Le Baron Rouge wine bar in Paris) who, when asked about alcohol-free wine in an NPR interview in the United States, expressed his skepticism, stating bluntly, "I don't understand why you would want to try wine without the alcohol."  
Nonetheless, despite some resistance from traditionalists, the majority of people in France whose livelihoods are dependent on wine production do not attribute the industry's challenges, nor the potential decline in its cultural significance, to the rise of alcohol-free products. They cite the economic issues caused by the Covid pandemic, recent spikes in food and fuel prices, and generational shifts in young people prioritizing well-being. Many point to public health campaigns (in particular the 2019 recommendation of a maximum of two glasses of wine per day), which even figures like France's former Agriculture Minister, Didier Guillaume, regard as extreme. The consensus in France's wine industry is that alcohol-free products, bars, and cellars reflect evolving societal preferences rather than serving as the root cause of these shifts in alcohol consumption.
The reality is that the alcohol-free movement doesn't stand in opposition to France's rich culinary and drink heritage, especially in Paris. Its alcohol-free venues and products appear effortlessly to integrate with the lively tradition of French joie de vivre.  In the capital, the two worlds — alcoholic and alcohol-free — are blending to enrich and diversify the cultural landscape, promoting inclusivity and choice. 
Lead photo credit : courtesy of Le Paon qui Boit
More in Alcohol, Drinking, Lifestyle, Paris restaurant news
---
---