Taking the Plunge in Paris: Where to Swim in the City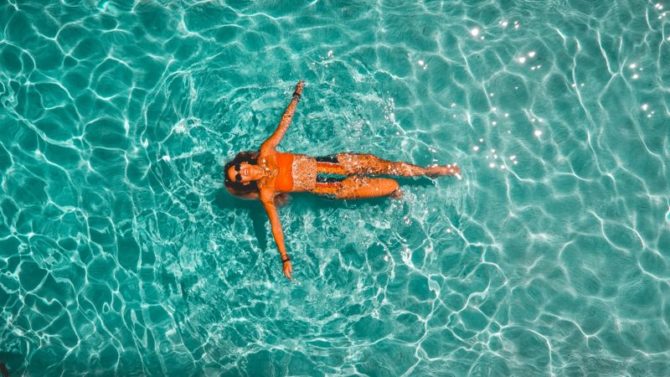 There are few things more refreshing than plunging (voluntarily) into water on a hot and sunny day, and even when the weather's far less balmy year-round swimming in the open air is honestly very invigorating and, need I say, a little addictive. Whether you're a sunny day bather or an open air and wild swimming fanatic, there are surprisingly lots of options in and around the dense urban metropolis that's Paris. In fact, there's so much choice that it can even be hard to choose. I grew up near an outdoor salt pool and access to lakes in national parks, competed in lifesaving, worked as a lifeguard and always lived near water or in areas where there's an abundance of swimming options, so it's safe to say I like being in water. Furthermore, during this summer's heatwave, at 5 months pregnant, much like a hippo I have often spent time submerged in water, so I feel that I have a pretty good knowledge of Paris's aquatic options and, therefore, thought I'd share my picks. During the hot and sticky summer months, those of us unlucky enough to be left trying not to stick to the tarmac or fellow Metro passengers in Paris, must seek watery solace. Luckily Parisians can cool down in a number of pools; here are my favorites. Georges Hermant boasts an unmistakably urban situation where you swim looking up at Parisian apartment blocks and can stroll through nearby Buttes Chaumont park. To beat the summer crowds I suggest going for a late evening dip. There's also Piscine Josephine Baker, which gets all the novelty points for being on a boat on the Seine but, be warned, it can get a little crowded. Both pools are covered in the winter. There are multiple other outdoor pools in Paris including the retro Olympic size Roger Le Galle, in the east, and the ecologically heated Butte aux Cailles, in the south. Equally, around Paris you will find many options, such as the Nogent-sur-Marne aquatic centre, near Creteil, and the Ile de Loisirs Port aux Cerises, which boasts a 1800metre wave pool inside the huge Le Port aux Cerise Park, both in the South and accessible by RER. Back inside that périphérique, the absolute jewel, in Paris's swimming crown is the pool on the
Bassin de la Villette
. These pools are actually partitioned off parts
of the canal
, so, yes, you are swimming in the canal but don't panic, the water is filtered and because this pool is a summer only initiative from the city, and as part of Paris plage, it is absolutely free. There are decent changing facilities, a small pool for little ones and the novelty of swimming in an urban canal is just plain fun. I am biased because the canal is my hood, but I think many would back me when I say it's one of the best summer spots in Paris. If you are looking for more of a thrill then may I recommend L'ile des Loisir de Cergy with its range of water sports, including rafting, surfing and kayaking. It's not swimming but if you're as bad at rafting as I am then you will definitely spend most of your time in the water. For those less intrepid, including the future me, there are some lovely lakeside beaches to lounge on in between dips. The whole park is a little oasis just 1.5 hours from Paris but a little complex as you take the RER A north from Paris or the regional L train from Saint-Lazare to Cergy-Préfecture and then the 48 bus to the stop 'Base de Loisirs'. When I miss the lakes of the Peak district and London's wild Hampstead ponds, I look to the east and head to Val de Marne. The Marne river boasts many great swimming spots for something more natural and calm. If you get the RER line P from Gare de l'Est you can hop off in various spots for a dip in the river or if you're not quite hearing the call of the wild completely then the charming Meaux beach is just a 20 minute wall from Meaux station and has a café, lockers and lots of nice picnic and lounging spots. From the beach, or further up within the nature reserve, you can access the calm meandering river and swim alongside lush banks, speckled with trees. It's truly idyllic. There you have it. Cool down, get a thrill, exercise without breaking a sweat and unleash your inner dolphin, or maybe otter, because being in a city doesn't mean you have to always stay on land. Bassin De La Villette (19th) Location: Quai de la Loire, downstream in Passerelle de la Moselle. Open in summer, free of charge Josephine Baker Location: Quai François Mauriac – 75013 Paris Opening hours: 7 a.m. – 8:30 a.m. then 1 p.m. – 8 p.m. in the week (11 p.m. in July and August), 9 a.m. – 8 p.m. in the weekend. Phone: +33 (0)1 56 61 96 50 Rates: €6,50 in the summer, €4 is the full-price ticket the rest of the year Nogent sur Marne Aquatic Centre Location: 8 rue du port – 94130 Nogent-sur-Marne Opening hours: 11 a.m. – 7:30 p.m. Monday, 10 a.m. – 7:30 p.m. Tuesday and Thursday, 10 a.m. – 10 p.m. Wednesday and Friday, 10 a.m. – 7:30 p.m. Saturday and Sunday Rates: €5 for inhabitants, €3 for inhabitants' children, €7.5 for non-residents (subscription and 12-entry booklet available) Espace Baignade du Porte aux Cerises Location/ Rue du Port aux Cerises – 91210 Draveil Opening hours: Summer only –…
SUBSCRIBE
ALREADY SUBSCRIBED?
BECOME A BONJOUR PARIS MEMBER

Gain full access to our collection of over 5,000 articles and bring the City of Light into your life. Just 60 USD per year.

Find out why you should become a member here.

Sign in

Fill in your credentials below.
There are few things more refreshing than plunging (voluntarily) into water on a hot and sunny day, and even when the weather's far less balmy year-round swimming in the open air is honestly very invigorating and, need I say, a little addictive. Whether you're a sunny day bather or an open air and wild swimming fanatic, there are surprisingly lots of options in and around the dense urban metropolis that's Paris.
In fact, there's so much choice that it can even be hard to choose. I grew up near an outdoor salt pool and access to lakes in national parks, competed in lifesaving, worked as a lifeguard and always lived near water or in areas where there's an abundance of swimming options, so it's safe to say I like being in water.
Furthermore, during this summer's heatwave, at 5 months pregnant, much like a hippo I have often spent time submerged in water, so I feel that I have a pretty good knowledge of Paris's aquatic options and, therefore, thought I'd share my picks.
During the hot and sticky summer months, those of us unlucky enough to be left trying not to stick to the tarmac or fellow Metro passengers in Paris, must seek watery solace. Luckily Parisians can cool down in a number of pools; here are my favorites. Georges Hermant boasts an unmistakably urban situation where you swim looking up at Parisian apartment blocks and can stroll through nearby Buttes Chaumont park. To beat the summer crowds I suggest going for a late evening dip. There's also Piscine Josephine Baker, which gets all the novelty points for being on a boat on the Seine but, be warned, it can get a little crowded. Both pools are covered in the winter.
There are multiple other outdoor pools in Paris including the retro Olympic size Roger Le Galle, in the east, and the ecologically heated Butte aux Cailles, in the south. Equally, around Paris you will find many options, such as the Nogent-sur-Marne aquatic centre, near Creteil, and the Ile de Loisirs Port aux Cerises, which boasts a 1800metre wave pool inside the huge Le Port aux Cerise Park, both in the South and accessible by RER.
Back inside that périphérique, the absolute jewel, in Paris's swimming crown is the pool on the Bassin de la Villette. These pools are actually partitioned off parts of the canal, so, yes, you are swimming in the canal but don't panic, the water is filtered and because this pool is a summer only initiative from the city, and as part of Paris plage, it is absolutely free. There are decent changing facilities, a small pool for little ones and the novelty of swimming in an urban canal is just plain fun. I am biased because the canal is my hood, but I think many would back me when I say it's one of the best summer spots in Paris.
If you are looking for more of a thrill then may I recommend L'ile des Loisir de Cergy with its range of water sports, including rafting, surfing and kayaking. It's not swimming but if you're as bad at rafting as I am then you will definitely spend most of your time in the water. For those less intrepid, including the future me, there are some lovely lakeside beaches to lounge on in between dips. The whole park is a little oasis just 1.5 hours from Paris but a little complex as you take the RER A north from Paris or the regional L train from Saint-Lazare to Cergy-Préfecture and then the 48 bus to the stop 'Base de Loisirs'.
When I miss the lakes of the Peak district and London's wild Hampstead ponds, I look to the east and head to Val de Marne. The Marne river boasts many great swimming spots for something more natural and calm. If you get the RER line P from Gare de l'Est you can hop off in various spots for a dip in the river or if you're not quite hearing the call of the wild completely then the charming Meaux beach is just a 20 minute wall from Meaux station and has a café, lockers and lots of nice picnic and lounging spots. From the beach, or further up within the nature reserve, you can access the calm meandering river and swim alongside lush banks, speckled with trees. It's truly idyllic.
There you have it. Cool down, get a thrill, exercise without breaking a sweat and unleash your inner dolphin, or maybe otter, because being in a city doesn't mean you have to always stay on land.
Bassin De La Villette (19th)
Location: Quai de la Loire, downstream in Passerelle de la Moselle.
Open in summer, free of charge
Josephine Baker
Location: Quai François Mauriac – 75013 Paris
Opening hours: 7 a.m. – 8:30 a.m. then 1 p.m. – 8 p.m. in the week (11 p.m. in July and August), 9 a.m. – 8 p.m. in the weekend.
Phone: +33 (0)1 56 61 96 50
Rates: €6,50 in the summer, €4 is the full-price ticket the rest of the year
Nogent sur Marne Aquatic Centre
Location: 8 rue du port – 94130 Nogent-sur-Marne
Opening hours: 11 a.m. – 7:30 p.m. Monday, 10 a.m. – 7:30 p.m. Tuesday and Thursday, 10 a.m. – 10 p.m. Wednesday and Friday, 10 a.m. – 7:30 p.m. Saturday and Sunday
Rates: €5 for inhabitants, €3 for inhabitants' children, €7.5 for non-residents (subscription and 12-entry booklet available)
Espace Baignade du Porte aux Cerises
Location/ Rue du Port aux Cerises – 91210 Draveil
Opening hours: Summer only – 11-6 weekdays, 11 – 7 weekend.
Prices: 3.60 weekdays, 3.70 weekend
L'ile de Loisir de Cergy
Location: 1 Rue des Étangs, 95001 Neuville-sur-Oise
Opening hours : 6 am – 8pm Monday – Sunday
Rates : €6 adults, €4 under 16s and free for under 3s
Le Plage de Meaux
Location: 2 Chemin de la Marine, 77100 Meaux
Lead photo credit : Taken by Drew Dau. Image © Unsplash
More in Paris pools, pools in Paris, swimming, swimming pools
---
---
Comments