Sparkling Water Fountains in Paris, Mais Oui!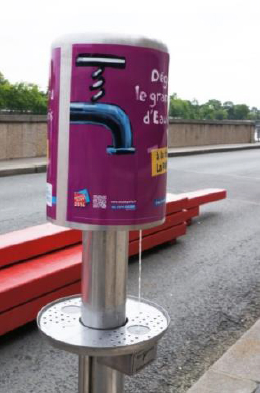 One of the great pleasures of walking through Paris on a hot day is taking a long refreshing drink from one of the fountains that dot the city streets. The Wallace fountains— the iconic cast-iron fountains, painted green and decorated with sculptures— are a source of the city's pride: its water. But these aren't the only fountains. You'll find contemporary style fountains in places like the pedestrianized promenades along the Seine river. And some of these dispense sparkling water. That's right: you'll also find a Fontaine Pétillante with delicious fizzy water.
These lovely fountains have been around since 2010, but as reported in a recent City Lab article, "Paris City Hall has just embarked on an ambitious-sounding scheme that will ultimately provide at least one fountain of sparkling water in every one of Paris's 20 Arrondissements." The most recent opened at Square Eugene Varlin along the Canal Saint Martin, with many more in the pipeline.
To quote City Lab: "At the outset, the city's water authorities presented this as a way of nudging Parisians to hydrate more. 'People often told me that they were ready to drink tap water if it was carbonated," Anne le Strat, head of the Paris water board, told the magazine 20 Minutes when the first fountain was installed in 2010. "Now they they've got no excuse not to.' "
Hats off to the city for also wanting to curb the use of plastic water bottles.
We can't help but concur with journalist Feargus O'Sullivan. "But when something this luxurious can be created by simply and cheaply inserting a CO2 canister into the base of a fountain—and then making it available to everyone—the city's surely on the right track." Merci!
Note: A map of the city's water fountains can be accessed here.
Related article: Don't Miss: Franck Vogel's Photography at the Pavillon de l'eau
Photo credit : courtesy of Eau Ile-de-France
Leave a reply
Your email address will not be published. Required fields are marked *