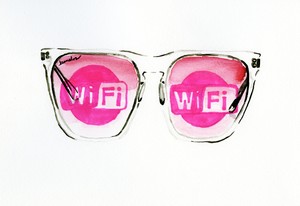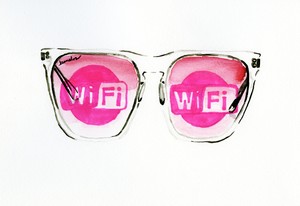 Imagine anxiously anticipating a response from a friend in town who only communicates through Facebook. Or waiting on the ultimate right of passage to any apero in France, the door code.  Or think of an ex getting married and expecting to rip the photos apart the moment they are uploaded onto Facebook. Although we are more closely linked to one another than ever before, interactions are now dependent on an internet connection.
Although I-Phones have been added to the must-have Parisian accessory list, coming second only to cigarettes, those of us stranded with phones without IQs are often left in search of a café to send off an important email or book tickets to the next destination. Much like American coffee shops, at the expense of a single drink, a table in a Parisian café can be claimed for hours on hand. But instead of spreading out and finding the light at the end of a dissertation like in a coffee shop, Parisien cafes are still slow on the WIFI front. But the trend is picking up. More and more cafes are advertising their WIFI alongside their Router's reviews in their windows. Oftentimes, however, there is a catch. It is not free!  But much like everything else in Paris, one must first be led in to discover the real treasures the city has hidden away. Here are the secrets to logging on in the City of Lights. So, repeat after me, vous avez le wifi?
Although the cafés are a little slow on the uptake, the city of Paris has caught on to the wireless trend. Wifi is free and accessible in public gardens, town halls or mairies, libraries, and public museums during the hours they are open to the public. Just turn on the wireless on the smart phone or laptop, highlight the Orange network, log on using an email address and password to obtain a 2-hour voucher and surf the net for free. Although the strength of the connection varies, find the comprehensive directory of public Parisien hotspots here. To surf the net al fresco, see a complete listing of connected gardens and squares here.
But if searching for a proper Parisien cafe to actually get a little work done, here is a thorough list of all the hotspots in town. Do not be alarmed if a password is needed to connect. Ask the garçon for the code. And oftentimes the profile and password are listed on the receipt from that café crème.
Although Paris gets more plugged in everyday, including department stores like Printemps and Citadium, some tried and tested spots marry old World Charm and the World Wide Web. An idyllic Parisien café since 1913, just on the edge of the Seine, Café Sully (6 Boulevard Henri IV 75004 Paris) has 20th-century charm with that little 21st-century necessesity. Another grand café but with a view of the Opera Garnier is Le Royal Opéra (19 avenue de l'Opéra, 75001 Paris).  Huge windows flood the cafe with light and make people watching condusive even from the inside. So much for getting a little work done. Bazart Cafe (36 boulevard Henri IV, 75011 Paris) is a calm, cozy, and convivial cafe with unlimited access in a romantic, velour-draped salle. Café Titon (34 Rue Titon 75011 Paris) the resident German bar of the 11e opens up like a clamshell onto the street. With ancient stone mosaic tiles geometrically breaking up the floor and the makeshift loveseat of pushed-together leather armchairs but it is one blueberry scone and chai latte away from being a coffee shop in Prospect Park, Brooklyn, Wicker Park, Chicago, or anywhere but here. Right on the Canal St. Martin, Point Ephémère, (200 quai de Valmy, 75010 Paris) a restaurant, club, bar, and all-around hub of creativity, is also a wifi hotspot. Plug in and be pleasantly distracted by Point Ephémère's colorful clientèle and programming.
Assuredly, there are still the usual suspects. They have become notorious destinations for toilets and free wifi everywhere. American fast food chains have laid down the pavement for internet use. Granted, McDonald's, KFC, and Starbucks have some of the most reliable connections around. After a recent move and a painful separation from my internet connection, I was left camping out my MacBook Pro at my local McDo. Although nothing pumps me up better than a McCappuccino and Carly Rae Jepsen, the loud, pop music and stiff plastic stools are not condusive to deep thought or long-term internet use. But McDonald's is a reliable standby in times of desperation. If feeling nostalgic for home, a purple velvet armchair and double ristretto venti half-soy nonfat Frappuccino can do wonders for an expat's writer's block and morale at Starbucks. Admittedly, I have not developed a Starbucks obsession of my own. But every now and then, when I walk by a Starbucks, I see the baristas caulking up mocha chip Frappucinos with whipped creme and I hear the adult contemporary strumming from within. And I am tempted to spend my pocket of 2 euro coins and my afternoon with a taste of Anywhere, USA.
Although it is undisputedly best to roam about unplugged in Paris, sometimes the magnificence of the City of Lights can only be summed up in a single tweet.
Jessie Kanelos is a recent American transplant to Paris. In addition to a background in costume for stage and film, having been thrown into the world's capital of gastronomy, she has recently crossed over to food styling.  She writes a Parisian expat food blog to document her adventures, observations, and recipes, which can be found at: thefrancofly.wordpress.com.  Jessie is also a talented illustrator whose work appears in this article.

Subscribe for
FREE

weekly newsletters.
BonjourParis has been a leading France travel and French lifestyle site since 1995.
Readers' Favorites: Top 100 Books, imports & more at our Amazon store
We update our daily selections, including the newest available with an Amazon.com pre-release discount of 30% or more. Find them by starting here at the back of the Travel section, then work backwards page by page in sections that interest you.
Current favorites, including bestselling Roger&Gallet unisex fragrance Extra Vieielle Jean-Marie Farina….please click on an image for details.
Click on this banner to link to Amazon.com & your purchases support our site….merci!