Not to Miss if You're in Town End of February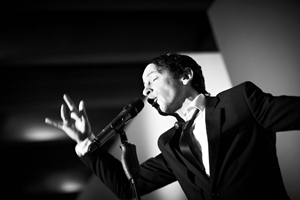 There's something special to be there at a breakthrough moment of a great entertainer.  I knew an old man who heard Piaf at a nightclub in Pigalle not long after they found her singing in the streets. A full house of influential Parisians had that privilege and shouted and applauded for Olivier Laurent, at the historic Théâtre des Deux Anes the other night…  Next stop for Laurent, the prestigious Olympia from February 26 to March 2, where he'll be in a double billing with the singer Patricia Kaas. Laurent has a rich and powerful personal voice and the power to seduce an audience of the greats in French music hall tradition, but his uncanny talent is for a specially French popular genre of entertainment: imitating.  Beginning with Jacques, Brel going on through Bécaud, Montand, Brassens, Gainsbourg and Trenet, Laurent's repertoire at the Deux Anes brought back in sound almost the very ghosts of these great talents at France's greatest age for singers.  At one point, when he was singing a duo with the real voice of Brel,  you couldn't really tell them apart.  "Amsterdam," "Ne me quittez pas", "Et maintenent" "Les Feuilles mortes"– anybody who has a place in his heart for those favorites and more would feel a frisson listening to Laurent. Laurent, who lives in the obscure town of Chinon, had been playing in the provincial towns of France and in Belgium, when Kaas' impressario Richard Walter discovered him in Brussels and raved about him to Yanou Collart, great friend to the most famous names in entertainment here and in America.  Collart arranged with the owner of the Deux Anes for Laurent to do the evening there. The rest may be entertainment history. G.Y. Dryansky
SUBSCRIBE
ALREADY SUBSCRIBED?
BECOME A BONJOUR PARIS MEMBER

Gain full access to our collection of over 5,000 articles and bring the City of Light into your life. Just $60 a year.

Find out why you should become a member here.

Sign in

Fill in your credentials below.
There's something special to be there at a breakthrough moment of a great entertainer.  I knew an old man who heard Piaf at a nightclub in Pigalle not long after they found her singing in the streets. A full house of influential Parisians had that privilege and shouted and applauded for Olivier Laurent, at the historic Théâtre des Deux Anes the other night…  Next stop for Laurent, the prestigious Olympia from February 26 to March 2, where he'll be in a double billing with the singer Patricia Kaas.
Laurent has a rich and powerful personal voice and the power to seduce an audience of the greats in French music hall tradition, but his uncanny talent is for a specially French popular genre of entertainment: imitating.  Beginning with Jacques, Brel going on through Bécaud, Montand, Brassens, Gainsbourg and Trenet, Laurent's repertoire at the Deux Anes brought back in sound almost the very ghosts of these great talents at France's greatest age for singers.  At one point, when he was singing a duo with the real voice of Brel,  you couldn't really tell them apart.  "Amsterdam," "Ne me quittez pas", "Et maintenent" "Les Feuilles mortes"– anybody who has a place in his heart for those favorites and more would feel a frisson listening to Laurent.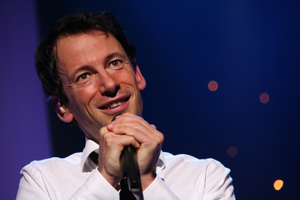 Laurent, who lives in the obscure town of Chinon, had been playing in the provincial towns of France and in Belgium, when Kaas' impressario Richard Walter discovered him in Brussels and raved about him to Yanou Collart, great friend to the most famous names in entertainment here and in America.  Collart arranged with the owner of the Deux Anes for Laurent to do the evening there. The rest may be entertainment history.
G.Y. Dryansky
More in entertainment, Olivier Laurent
---
---