Interview, Philippe Starck – THE ULTIMATE JOURNEY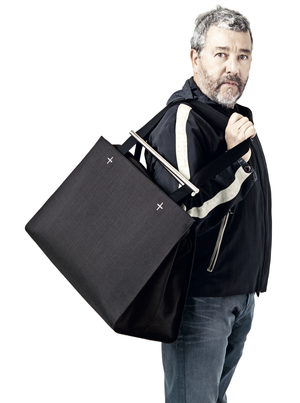 Philippe Starck and his wife Jasmine clocked up 300,000 kms travelling last year, almost to the moon and back. « 7 and a half times round the world », he admitted one bright autumn day on the first floor of Ma Cocotte, his brasserie chic, in the heart of the Paris Saint-Ouen flea market.
We're having lunch, but Monsieur Starck wants to show off his latest creation an « haute couture » collection of sleek valises, the product of 2 years of thought and technological research.
On the first-floor Ma Cocotte space S+ark Trip ergonomic, lightweight, valises (with worldwide lifetime warranty) are displayed. Black with grey fittings, very lean, very Starck. Monsieur Starck says the collection, intelligence in motion, reminds him of Tesla, state-of-the-art high performance electric sports cars.
«Let's start at the beginning », he suggests. As a youth he was a hermit who rarely went out, useless at school unless he was drawing.  «My father André was an aeronautical designer and I spent most of my time, at home, underneath his table, making model airplanes ! «Finally, I decided I had to get out or I would rot ».
In a local market Starck bought a hessian sailor's bag and set out to discover the world. « I kept that bag for 20 years, it was perfect, but disappeared like lots of things in life », he sighs. « So, now I consider it's replaced with S+arckTrip ».
Just how did he set about designing his intelligent valises ?
«I based the designs on George Clooney in, Up In The Air », he admits. « I love that film. Ryan Bingham, played by Clooney, is a company executive whose job is flying round the USA 'career transition counselling', in other words, firing people! He protects his cowardly bosses from having to tell employees they are being 'let go'. Ryan/Clooney is great at his job!" continues Monsieur Starck, picking up Milanock valise (520€) with one finger and twisting it around, "see the wheels make no noise", he points out. "Cool as Clooney!"
"A suitcase", says Starck, "should be a continuation of yourself, so I spent a lot of time with the brilliant boffins at Delsey (the French luggage company founded in 1946) making sure you could roll over the cobblestones without waking the entire quartier, as you leave on your travels, or go to work, at the crack of dawn".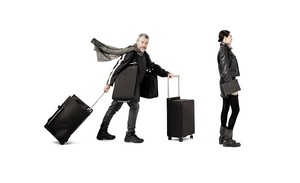 The 16 pieces have special hiding places, and are made with burglar-proof fabric to protect personal data theft in airports and other busy places.
"Each piece is a subtle, understated masterpiece of sophisticated design and invisible technology, in-factory testing under extreme conditions guarantees performance no matter where you go", says Albert Engler, Delsey's Brand & Design Manager.
"Once, in Venice, I thought I'd found a valise I liked, beautifully made, but so heavy I couldn't lift it. You know the "me" that packed my bag is not the same "me" that comes home and unpacks it", he reflects. Well, OK if you say so Mr. Starck !
"Travelling is good, travelling with intelligence is even better", Starck adds. The inventor, creator, architect, designer, all round renaissance man once told The Sunday Times that, as soon as he wakes up, and daily after lunch, he makes love to his wife Jasmine (also CEO of his company). "It's obligatory. It keeps the creative machine in working order, it's pleasant and it's a proof of our love!"
And with that, he and "ma petite femme", the beautiful Jasmine, shoulder their bags, put on their helmets, and are off on their bike.
Ma Cocotte,
106 rue de Rosiers 93400, Saint Ouen,
M : Porte de Clignancourt,
T : 01 49 51 70 00
Open 7/7 Valet Parking
Leave a reply
Your email address will not be published. Required fields are marked *