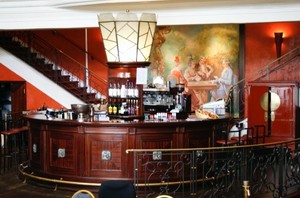 Paris certainly draws crowds for its beauty, with the Eiffel Tower, Champs Elysees, and Pont Des Arts Bridge and of course all the fashion and romance you could possibly imagine.
But even though gambling might not be at the top of the list for most visitors, if you like casinos, you'll find some here. Here are some of our picks:
Cercle Haussman

This popular casino is situated in the heart of Paris near the Opera Garnier. There are 25 tables at this casino, offering blackjack, Punto Banco, baccarat and various games of poker including 3 card and poker 21. The casino is open from 2pm until 7am from Monday until Sunday and invites over 18s to enjoy the games as well as its restaurant, smoking lounge and American-style bar.
Association Cercle Eldo
This rather small casino gem is hidden just off the Boulevard Saint Martin and with only 5 poker tables and 1 multicolor table, it's a far cry from anywhere you'd find on the Vegas strip. However it does make for a far more intimate setting, especially if you've always fancied playing poker in a smoky room without too many other people around to distract lady luck.
Aviation Club de France
One of France's oldest casinos, the Aviation Club de France opened its doors in 1907, near the prestigious Champs Elysees. Often referred to as both a gambling club and casino, there are 29 tables in this casino offering blackjack, baccarat, backgammon tournaments, and a variety of poker spread across 10 tables, plus stud poker. This Parisian casino is renowned; it has even previously hosted the Grand Prix de Paris leg of the World Poker Tour.
Cercle Anglais
This casino is another small find tucked in the heart of Paris. It has only 5 tables, with poker games ruling the roost, plus a Baccarat and Punto Banco table. Open from 3pm to 6am, this casino is situated nearby Paris Charles de Gaulle airport, meaning you can jet off to the sun if you score a big win!
Cercle Central
This Parisian gambling institution has been around for almost 50 years and offers members an amazing deal of unlimited free drinks on a €100 annual subscription. There are 5 live table games here offering blackjack, baccarat and multicolour.  There are 6 poker tables to enjoy, featuring Texas Hold Em, Omaha and various poker tournaments.
Did you know that online gambling is legal in France? This means that if you can't face donning your glad rags and fighting with others for a spot at one of the tables, you can always go online and play your favourite games in private and comfort, wherever you are. Sites like paypal-casinos.co can help if you're unsure where to find the best online casino. It's also worth noting that slot machines are illegal in French casinos, but online slot games are not.
So whether it's online or on a casino floor, rest assured, these are the best casinos in Paris!
————————————————-
This is a sponsored article.