August is Over, and Here Comes the Rentrée in France.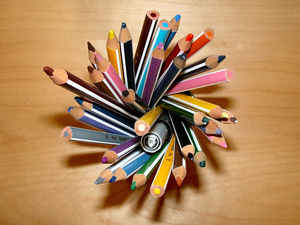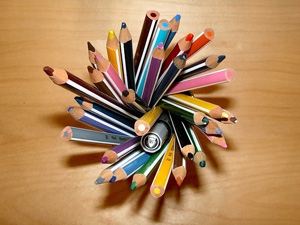 When August ends, le tout Paris takes on a different look and feel. Many people return from the beach, country or family homes with calm, tan and glowingly healthy appearances. It's the rentrée, when real life begins again, and life takes on new dimensions.
In contrast to many Americans, the French tend to do nothing (or as little as possible) during their August vacations. Even though many people no longer take off for the entire month, things slow down substantially, and such is life.
Because the French have five+ weeks of vacation each year, a trip isn't catch as catch can. Most Americans have to wait until after they've retired to take a vacation that lasts longer than two-weeks.
And although an increasing number of French executives work during part of the eighth month of the year, many don't, which makes it hard to accomplish a whole lot. It's almost like singing to a non-existent audience when you're trying to do business. Invariably, the person you need to contact is en vacance.
Just plowing through the stacks of accumulated mail, after the rentrée, is enough to make executives shake and shiver, then have a nervous breakdown—or just not bother. How some people can avoid reading emails when they come home from vacation is an enigma to me, but they do. C'est la vie (but, certainly not mine). Support staff is often away, and some companies change their voice mail greeting to "call back in September." There's not even a leave-a-message option. Bienvenue en France, pal. It sounds like the 1950s in the States.
If I didn't check my e-mail while on vacation—and I've had an address since the days of dial-up—I know I'd succumb to cardiac arrest when I had to face my e-mails by the dozens… no, the gross.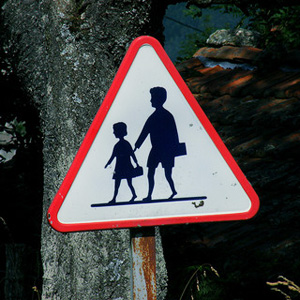 Still work is work and a necessity, though people may or may not be charmed by it. But the yearly custom of watching children return to school has a nostalgic feel. I live in a Parisian arrondissement where there are four schools within two blocks. I love watching the children begin classes. The younger ones have a look of apprehension as they clutch their mother's or father's hand. The students are pristinely dressed and never seem to get dirty in the playground. Of course the playgrounds are paved and covered with shock-absorbing rubber mats.
Each fall, parents have specific instructions as to how many notebooks to buy (yes, they are expected to have tiny grids, the equivalent of the antiquated Palmer method with less of a flourish), specific pencils with different gradations of lead, a list of books and the obligatory backpack once a student has reached a certain age.
There's been a lot of controversy surrounding these book bags since there're so heavy they've caused back problems. Students are expected to study once they've left the inner sanctums of the school halls rather than participating in sports and extracurricular activities.
At the primary school at the end of my block, the children go home for lunch. These days, it's not unusual to see a grandmother or a caregiver come and fetch them as an increasing numbers of mothers are working. Just walking by the playground causes people to stop and gape over how heavy-duty adorable these students (wearing smocks while playing) are while (seemingly) following their teachers' instructions.
Kids who attend the high schools have their own style. It's the casual perfectly fitting jeans. Students appear to have a universal look. But, what often differentiates French girls from ones who attend schools in the US, is how they toss their hair or unconsciously pull it up so it's coiffed to look just so. In addition, you can usually identify a French teenager by her posture. Children are taught from infancy not to slouch.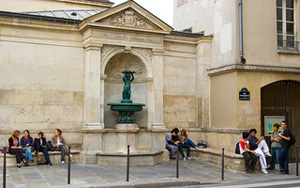 Even though this summer hasn't felt like summer because it's been unseasonably cold and rainy in Paris, perhaps September will be warmer. Streets will be jammed with cars and people will sooner than later look more harried.
Not to worry. Before you know it, there'll be another holiday (remember all the Saints' days) that will be extended into three-day—or longer— weekends). And before you can count to 12, the Christmas holiday season will be another reason to flee the city or stay at home and relax.
Even though the French take much more vacation than their American counterparts, statistics demonstrate they are no less productive. And, that's a definite positive when it comes to holding out for a superior quality of life and having more family and down time. In any case, I've come to appreciate it even though there are days when it's frustrating.
© Karen Fawcett
photo 1 by Darounet [CC BY 2.0], via Flickr
photo 2 by OliBac [CC BY 2.0], via Flickr
photo 3 by Nelson Minar [CC BY-SA 2.0], via Flickr

Subscribe for
FREE

weekly newsletters.
BonjourParis has been a leading France travel and French lifestyle site since 1995.
Readers' Favorites: Top 100 Books, imports & more at our Amazon store
We update our daily selections, including the newest available with an Amazon.com pre-release discount of 30% or more. Find them by starting here at the back of the Travel section, then work backwards page by page in sections that interest you.
Current favorites, including bestselling Roger&Gallet unisex fragrance Extra Vieielle Jean-Marie Farina….please click on an image for details.
Click on this banner to link to Amazon.com & your purchases support our site….merci!
Leave a reply
Your email address will not be published. Required fields are marked *