Le Pley: A Paris Hotel Inspired by the World of Radio
"I still enjoy traveling a lot. I mean, it amazes me that I still get excited in hotel rooms just to see what kind of shampoo they've left me." —Bill Bryson
I'm sure you've already noticed, there's a breathtaking choice of unique hotels in Paris. Here's one, opened in 2021, that will appeal to aficionados of vintage and authentic chic, without pretensions of grandeur.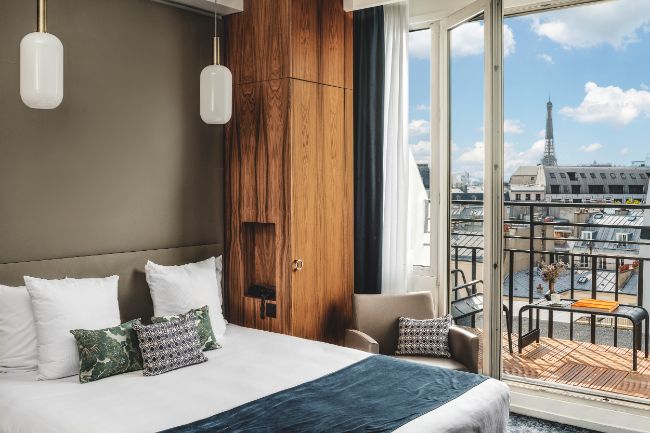 Location, location, location. The 100-room Pley — named in homage to the nearby Salle Pleyel, the French equivalent of Carnegie Hall — is minutes from the Champs Elysées, L'Arc de Triomphe, and L'Hôtel Salomon de Rothschild with its peaceful, zen style gardens.
Punctuating Le Pley's walls are intriguing works by, among others, contemporary artist Julien Nédélec, showcasing archival photographs from Europe 1 radio. There's retro style radio sets and period advertising posters lovingly recalling the history of French broadcasting.
As you enter, on the right, note Nédeléc's playful hypothesis "One Two Three Four Is It Snowing Where You Are".
"The first words spoken on the radio," explains Pley's genial General Manager Henri-Francois Tiberi.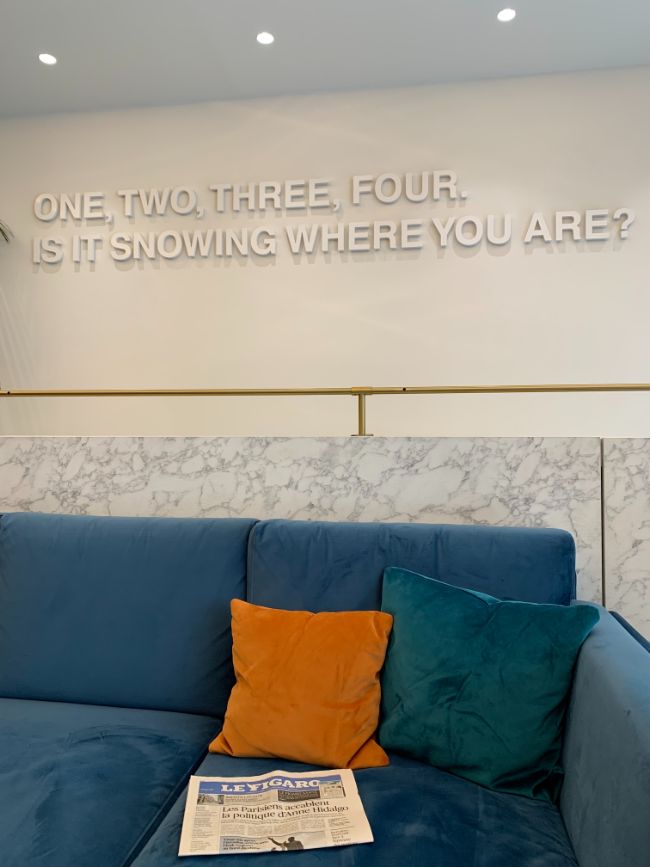 Tiberi, and his welcoming team, create an atmosphere that is contemporary, fascinating and warm. On the ground floor is the Pleyground Restaurant and Bar, the buzzing, beating heart of the hotel. It's the perfect spot for private or professional lunches or, say, "ze after-work."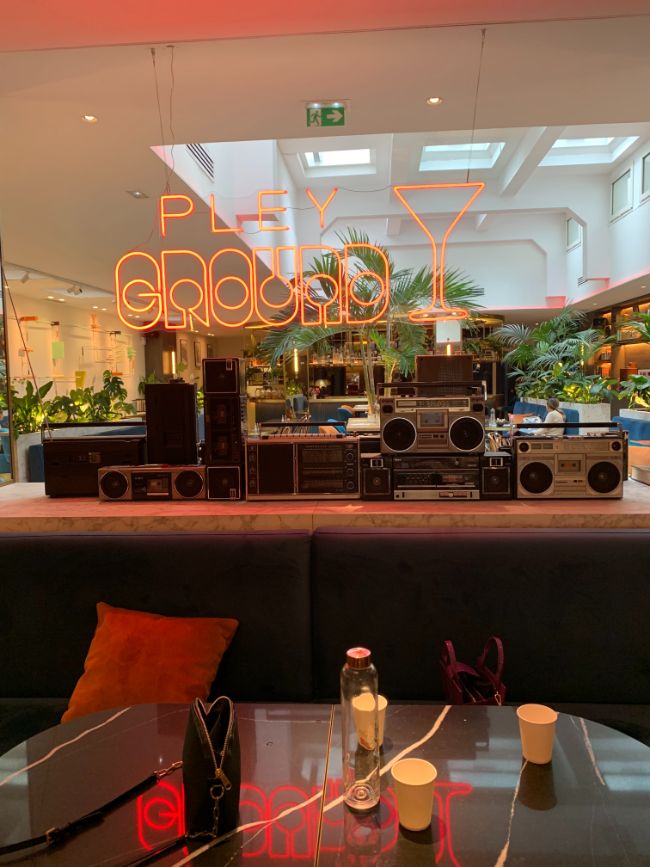 Begin with cocktails (from €14). Share sumptuous salmon and cream cheese burgers (€12); Eggs Mimosa (€8); Truffle and Ham macaroni (€23); Sea Bass, new potatoes and Brussels sprouts (€20). Sip Château de Pampelonne, 2021 Rosé (glass €8/bottle €58). Finish with Pancake Millefeuilles (€12).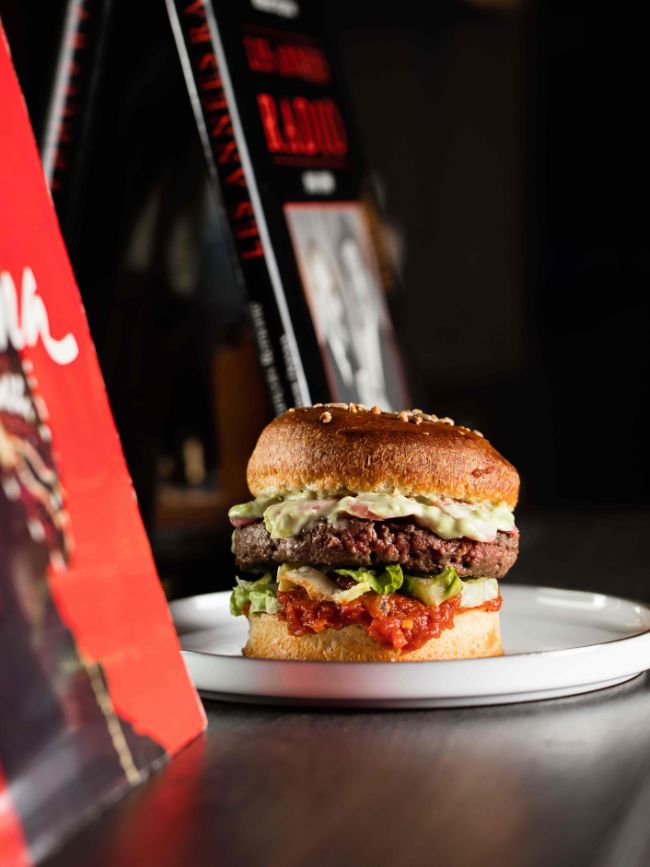 The Rooftop is open for themed evenings and/or private events, with panoramic Paris views. Note, regular radio broadcasts began in France in November 1921, transmitted… from the Iron Lady!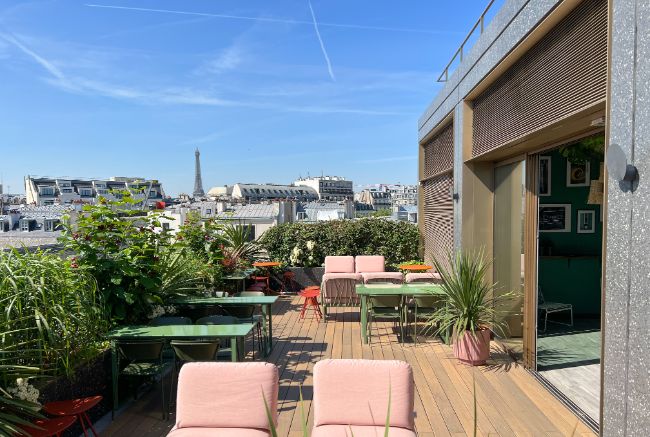 "The Rooftop will have a new theme each season, in collaboration with brands, chefs, and partners who share the same values we do," explains Henri-Francois Tiberi. "This summer, it's inspired by Saint-Tropez. We're partnering with  Château de Pampelonne."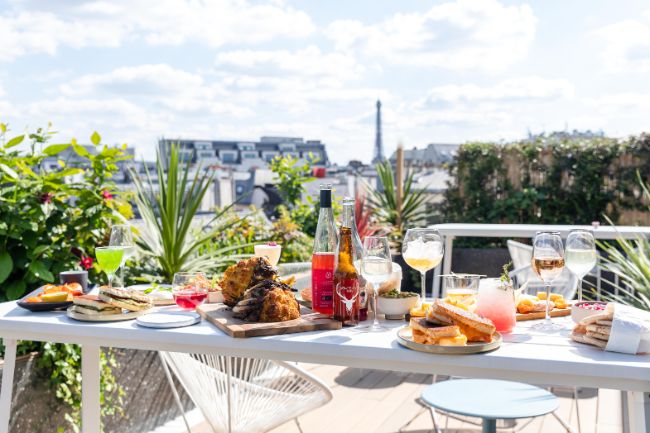 In a bright, sunny, and colorful atmosphere, Pley's Rooftop offers a breezy break in the heart of Paris. Sip rosé wines (from Château de Pampelonne, of course) nibble on fish rillettes and tapas. "You're traveling onwards, to the iconic Pampelonne Beach, within view of the Eiffel Tower!" Tiberi points out.
Downstairs, the contemporary complex of glass fronts a gym, cozy bar, and recording studio to write your next hit.
I chose one of the rooms decorated in variations of blue, white and pink, dotted with memorabilia, photographs and advertising posters highlighting the history of French radio. Add organic, coffee-based "Made in France Terre de Mars" grooming products, as well as Lexon and Tivoli Bluetooth radios (purchase the merch in the chic Pley Hotel boutique) to get you jiving around the room !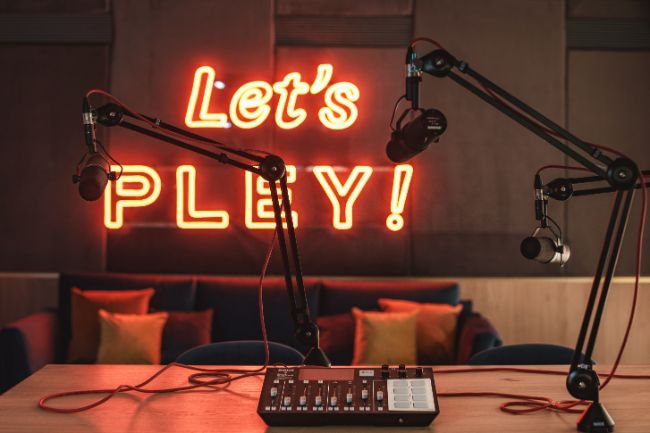 "We want guests to discover the ideal space to recharge their batteries and experience Paris. Lovers of wide open spaces may want to consider The Penthouse», our sleek suite with private access to the rooftop," Monsieur Tiberi suggests with pride.
I stood forever in front of the historic photos of Europe 1 studios, formerly on rue François Ier, 8th (now on rue de Cevennes, 15th). These 1950s posters advertise Schaub-Lorenz and Radiovox stations, fascinating!
Here's the chic new destination. Impossible not to love this place; I want to live here!
Details
Pley Hotel
214 rue du Faubourg Saint-Honoré, 8th
Metro: Ternes
Tel: +33 (0)1 42 25 26 27
Rooms from €200-€500. Suites €700-€1,500 per night
Lead photo credit : PLEY Hotel. Photo credit: Nicolas Anetson
---
---