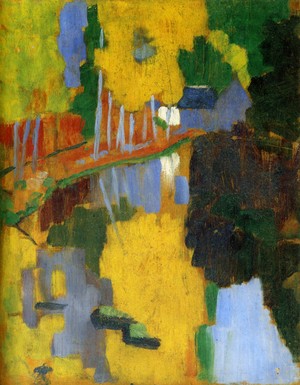 It may seem a stretch to imagine that a small, unfinished landscape, painted on the lid of a cigar box during summer vacation, would end up in the Musée d'Orsay. And yet that's just what happened.
In the summer of 1888, Paul Sérusier stopped in Pont-Aven, where he met and painted with Paul Gauguin, who taught him to look at painting in a new way: "How do you see these trees? They are yellow. So, put in yellow; this shadow, rather blue, paint it with pure ultramarine; these red leaves? Put in vermilion." The result approached abstraction.
Sérusier returned to Paris and revealed his work to his friends at the Académie Julian (still open today on rue du Bac). As Maurice Denis later described the group's reaction to the painting, they felt "liberated from all the yokes that the idea of copying brought to [our] painters' instincts." It became the "talisman" that defined their mission, to revitalize art.
They called themselves "les Nabis" (from the Hebrew nebim), the prophets of modern art.  Among the members were Sérusier, Pierre Bonnard, Paul-Elie Ranson, Ker-Xavier Roussel, Edouard Vuillard and Félix Valloton. The movement's theoretician-in-chief was Maurice Denis, whose writings were instrumental in putting the movement in the public eye. Their vision, at least, was prophetic, for they would exert a profound influence on the movements that followed – fauvism, cubism and abstraction.
They developed a language of their own and adopted sobriquets by which they were known within the group: Denis, the sacred painter, was "le Nabi aux belles icônes" and Sérusier "le Nabi à la barbe rutilante" for his brilliant beard. Their "temple" was the atelier of Paul-Elie Ranson on boulevard Montparnasse, and Marie-France, Ranson's wife, was "La Lumière du Temple."
They were stylistic descendants of Gauguin who drew their inspiration from the old masters and the symbolists, employing a color palette influenced by Impressionism. Their work was representational and decorative, with an evident appreciation for Japanese prints and Art Nouveau (Bonnard's lithographs recall those of Toulouse-Lautrec).
To my mind, one of the most charming museums in Île de France is the Musée Départemental Maurice Denis (le Prieuré) in Saint-Germain-en-Laye. It holds the most comprehensive collection in existence of Denis and les Nabis, including some of his most monumental decorative commissions, such as "Le Légende de Saint-Hubert." The work of the Symbolists and the painters of Pont-Aven are represented, as well.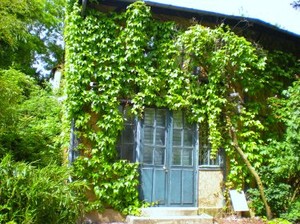 There is something compelling about a museum housed in the space where an artist lived and worked. Walls that absorbed the sounds of life – expressions of affection, the laughter of children and the exchange of ideas – now bear the weight of that life's work. The museum includes the family home, the gardens Denis once lovingly tended, his ivy-covered atelier and a chapel.
Maurice Denis was "un homme sérieux," a serious man. In his life as in his work, he achieved a delicate balance, a commercially successful member of the Parisian avant-garde who remained true to his self-avowed vocation as a Catholic painter. Denis was devoted to his art, his family and his Church, and it is in the chapel that the three converge. Le Nabi aux belles icônes was accomplished in many disciplines, and the decoration of the chapel is entirely his, from ceilings to missals, by way of furniture and stained glass. Denis began this labor of love immediately after the family moved in. Following the death of his first wife, who had been his muse and model, he named it in her honor, la Chapelle de Sainte-Marthe.
When Denis died in 1943 from injuries sustained in a motor vehicle accident, his family was deeply committed to preserving his work and that of the Nabis, who were little known outside of France at the time. It was not until 1976 that a plan to open the museum was finalized, and le Prieuré opened its doors to the public in 1980.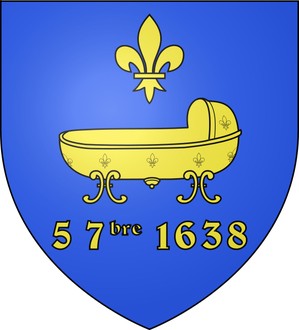 Before you leave Saint-Germain-en-Laye, weather permitting, stroll the grounds of the château.  Louis XIV was born there (the commune's coat of arms features a cradle adorned with fleurs de lys and his birthdate), and it was the principal royal residence until the seat of power moved to Versailles. It's a fine spot for a picnic and, on a clear day, you can see Paris.
To reach le Prieuré, take RER A from Paris and exit at Saint-Germain-en-Laye station. The museum is a 10-minute walk from the station, at 2 bis, rue Maurice Denis.
Jane del Monte [1] has studied and worked for a number of years in Paris. She directs ARTS in PARIS tours [1], with a focus on French culture and l'art de vivre, and is currently developing a tour of Art Nouveau in Paris. When she isn't in Paris, she writes about it.