La Samaritaine: A Green Light for the Controversial Paris Project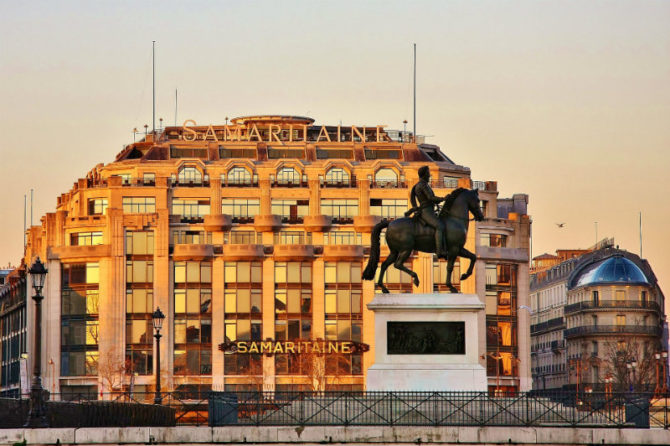 For years now, Parisians have watched the dramatic saga unfold. La Samaritaine—the iconic department store that was founded in 1870 in the beating heart of Paris—is currently in the midst of a transformative project by owners LVMH (the luxury goods conglomerate). La Samaritaine was forced to close in 2005 because it failed building codes, and in 2010, LVMH sought to give the legendary building a new lease of life by commissioning the Pritzker Prize-winning architects at SANAA to redesign it.
The idea? La Samaritaine would morph into a luxury hotel, apartments (including some subsidized ones), and retail space. And with initial approval from the city, the construction project got underway in 2012.
Not without controversy. Opponents have fought tooth and nail to prevent the modernization of the structure in the historic city-center. After all, this is prime real estate just a stone's throw from the Louvre, and the developers planned to cover one of the historic façades with panels of frosted glass. Overlooking both the Seine and rue de Rivoli in the first arrondissement, La Samaritaine is an Art Deco landmark that sits amidst some of Paris's most symbolic architectural heritage.
The work screeched to a halt as the case went to court. The latest development? After a three-year legal battle, the court ruled last week that construction could resume on the €500 million project. La Samaritaine is now slated to open in late 2018.
The case of La Samaritaine sheds light on the greater issues at play in the future urban development of the French capital: the constant tug of war between preservationism and innovation in charting the course for the ancient city of Paris– a vibrant metropolis that's also beloved as an open-air museum.
Photo credit : La Samaritaine and the statue of Henri IV/ Photographer Adrian Scottow
Leave a reply
Your email address will not be published. Required fields are marked *
Comments