Discover the Bouquinistes of Paris, Classified as UNESCO World Heritage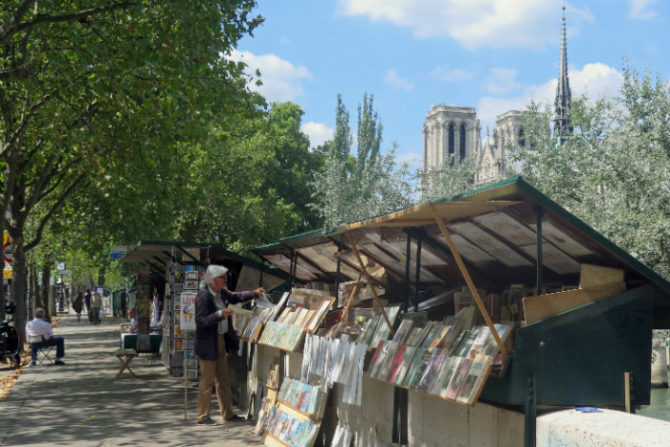 A fundamental part of the "paysage parisien," the bouquinistes are booksellers (used and antiquarian books) whose stalls line the Seine river. As important symbols of literary and historic patrimony, the bouquinistes were recognized as part of a UNESCO World Heritage site in 1991. You find them both on the right and the left banks of the Seine, occupying some three kilometers (close to two miles) around some of the city's major attractions like the Louvre museum and Notre-Dame cathedral.
There is a several centuries-old tradition of selling second-hand books in Paris, however it originally met a lot of resistance, especially as the authorities had a difficult time enforcing the then-prevailing censorship rules (like during the Nazi occupation of the city). Originally the sellers were found on the bridges; nowadays their charming stalls line the river banks.
Questions remain about the origin of the word bouquiniste, but the word appeared in L'Académie française dictionary as early as 1762.
In 1859, the basic rules were established for the bouquinistes— which, of course, have been modified since. You have to apply to get the right to set up your stall – today there seems to be some 100 requests to get one of the roughly 20 concessions which are opened each year. Each bouquiniste can install four boxes. The standard boxes have a regulated size (length 2 meters = 6,5 feet) and must be in the specific green colour. There are ongoing discussions about modernizing the boxes, but nothing seems to have been decided.
Today there are some 220 bouquinistes and some 900 boxes on the banks. There is no fee to pay, but there are obligations, like staying open at least four days a week – however bad weather is an accepted excuse for closure.
The bouquinistes are authorized to sell second-hand books, magazines, newspapers, ancient engravings, and postcards, but a limited amount (1 out of 4 boxes) can be devoted to purely tourist objects (like key chains). These in-demand souvenirs probably help the vendors achieve acceptable revenues.
It's not likely that you'll find a real, undervalued discovery here, but you're bound to find some lovely second-hand books at a very attractive price- even recently published ones. If you are looking for 18th or 19th century books or beautiful engravings, there's also a large choice; get ready to start bargaining!
Lead photo credit : The bouquinistes of Paris by Peter Olson
---
---
Comments