The City of Paris to Unveil the Canopy of Les Halles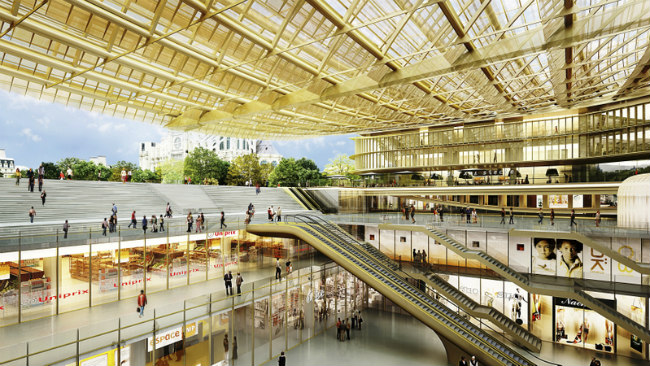 Wandering around Paris, you may notice the billboards announcing the April 5 Rendez-vous at Les Halles. After a massive, €1 billion makeover, Les Halles is set to unveil its new look: a soaring canopy designed by architects Patrick Berger and Jacques Anziutti.
Located in the very heart of the city, Les Halles was the historic food market famously described by Émile Zola as "the belly of Paris." The cast-iron pavilions were razed in 1971 as the market was moved to Rungis, and they were replaced by an ugly, underground shopping mall and transport hub for métro and RER trains.
As detailed in a recent article in France Today magazine, our sister publication, this transformative facelift is one of the major construction projects that define today's "changing face of Paris." The expensive transformation of Les Halles aims to redefine and rejuvenate this central Paris location. New facilities will include the Mozart conservatory, the médiathèque called La Fontaine, a hip-hop cultural center, the Maison des pratiques artistiques amateurs, and a "Kiosque Jeunes" where under-30s can score discounts on theater tickets, concerts, and the like.
Mark your calendars! The city of Paris will officially inaugurate "La Canopée" on April 5; it's your chance to get an up-close look at the graceful glass and steel structure, soaring nearly 50 feet above the Forum des Halles.
For a retro look at Les Halles, check out these recent features in Paris Unplugged and Messy Nessy Chic. They've published fabulous photo essays with images captured by Thomas McAvoy for LIFE magazine in 1956.
Lead photo credit : A new look for Les Halles. Artist rendering courtesy of Agence Patrick Berger & Jacques Anziutti/ City of Paris
Leave a reply
Your email address will not be published. Required fields are marked *