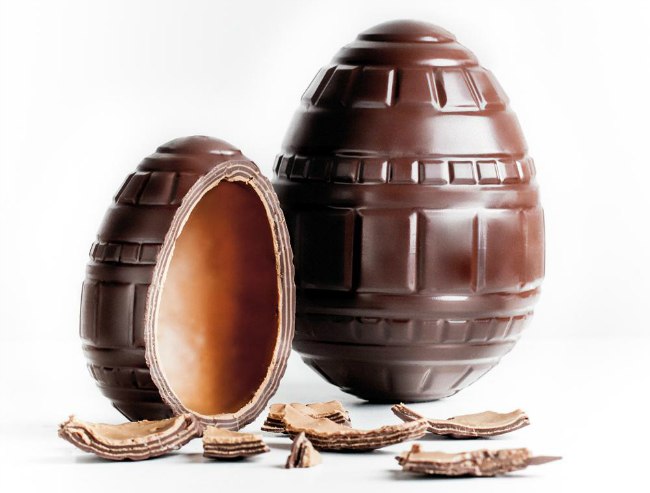 If you hop around Paris today on a chocolate Easter egg hunt, I promise you'll be astounded by the immense choice around.
As artisanal chocolate shops prepare for one of the busiest seasons of the year, it's no wonder that the French so aptly describe the term of window-shopping as faire du léche-vitrine, as the urge to lick the delectable displays couldn't be higher. Who can resist Jean-Paul Hévin's sense of humor with that in mind for his Easter shopfront?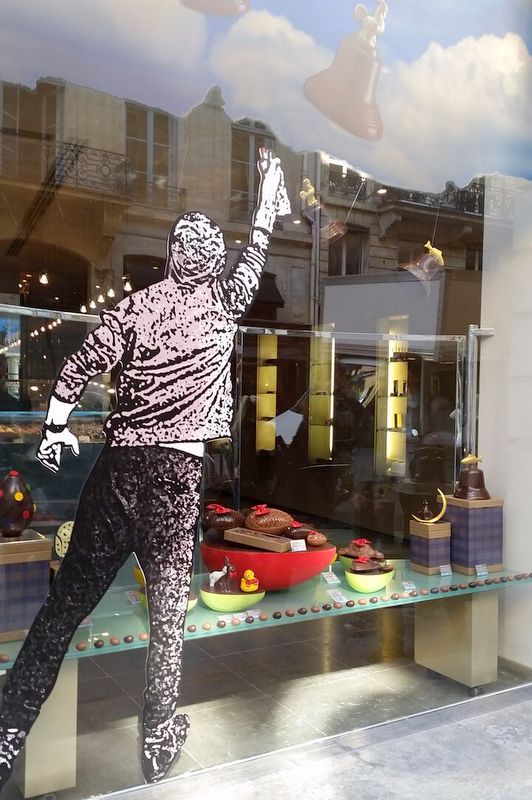 Already the choice of eggs in itself is awe-inspiring; but add to that the different-colored chocolate hens, chicks, diverse other animals (owls, tortoises, sheep), bells, and the fish that we typically find in the French chocolate boutiques.
Where can we start? Before we get cracking with a sampling of Easter eggs (oeufs de Pâques), let's start with the most typically French in the chocolateries: bells and fish.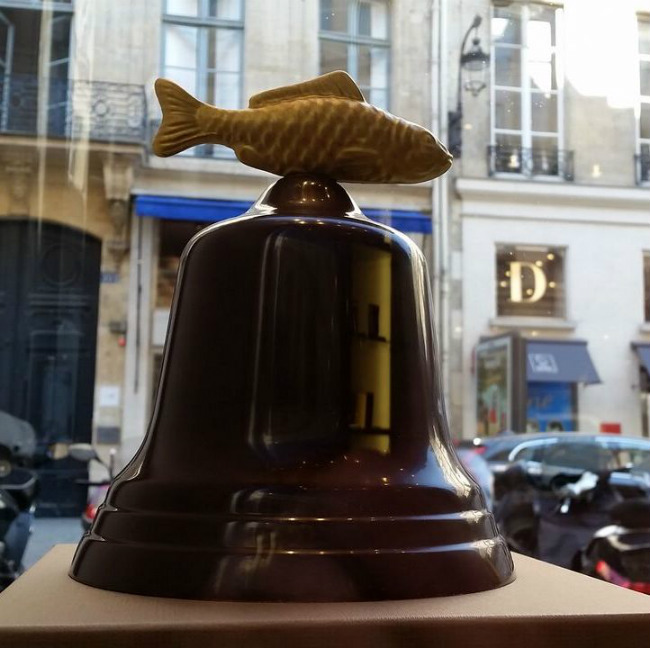 EASTER BELLS (Cloches de Pâques)
Listen carefully for the Church bells over Easter weekend: in France they stop ringing from Good Friday when Jesus died to Easter Sunday morning. After Church Mass, to celebrate Christ's resurrection, the bells joyously peel around France as they fly back from Saint Peter's in Rome, dropping chocolate eggs in gardens as the children are eager to hunt for them.
Even my girls (who are French) have always found it a crazy tradition – perhaps as parents we simply poorly described it – but imagine trying to explain to your kids that church bells had flown with wings all the way to the Vatican to be blessed by the Pope to help everyone in mourning, then returned (with no hands) to hide chocolate.
The Easter Bunny still makes more sense, even if it doesn't figure that much in France, but over the years, more are gradually hopping into the boutiques – such as these pastel cuties from Hugo & Victor.
WHY ARE THERE CHOCOLATE FISH?
I've always been intrigued by the schools of chocolate fish in the windows.
Fish are popular for April Fool's Day since in France it's April fish or Poisson d'avril as the children's chorus goes! If you're any decently duped April Fool in France, you'll probably be sporting a school of colorful paper fish taped to your back. There was one year I discovered that, after various not-so-discrete pressing to my back, I had been modeling a mobile primary school wall.
Eager to find out the history behind it, I attempted to return to a school of fish myself, rummaging around for more clues but the fishy story remains rather unclear. Various sources cite the most popular: it goes back to the 16th Century under Charles IX reign, who changed the New Year to the 1st January. Until then in France, the New Year started around 1st April and was celebrated by fresh fish to herald the arrival of Spring (following the zodiac sign of Pisces, perhaps). As not everyone was au courant or kept forgetting this new calendar, jokes gradually spread the custom of pinning fish on their backs.
A la Mère de Famille has a huge choice of chocolate fish and scallop shells. Like eggs, many are garnished with yet more miniature fish. The smallest fish and other seafood shapes, called friture, often garnish the insides of the bigger Easter eggs or are sold simply in sachets to eat comme ça, just like that.
This year's sample of fish can be found hooked up vertically in a line, lined up in a jigsaw pattern, or even swimming in clouds.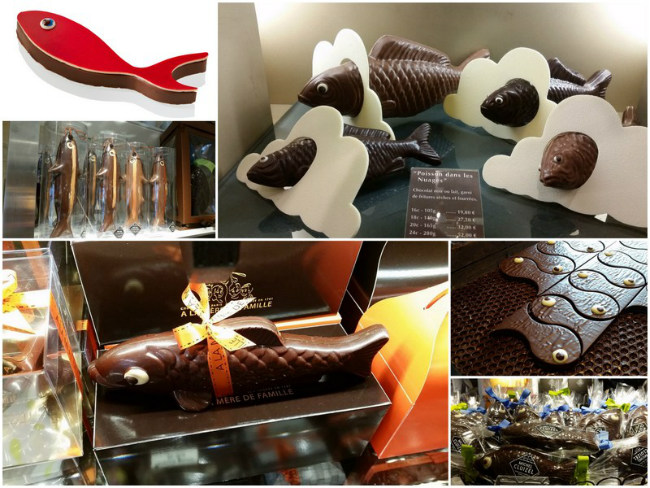 EASTER EGGS WITH PERSONALITY
As with outside of France, eggs are still the most popular at Easter and over the years they've gradually transformed from brightly decorated hard-boiled to more chocolate. Symbolizing the Resurrection of Jesus on Easter Sunday with the rolling stone that covered Christ's tomb, the rolling of eggs transformed death into life, bringing new life and fertility – much like a chick popping from its egg.
Many high-end chocolate boutiques, confiseries (candy shops), pâtisseries, or top hotels have created their eggs from simply chic, amusing, to popular characters, or impressive giant sculptures as works of art.
Jacques Genin has gone wonderfully wild with a vivid, brilliant lacquered look for his masterpieces this year. Otherwise there are his clowns, fish and hens to choose from.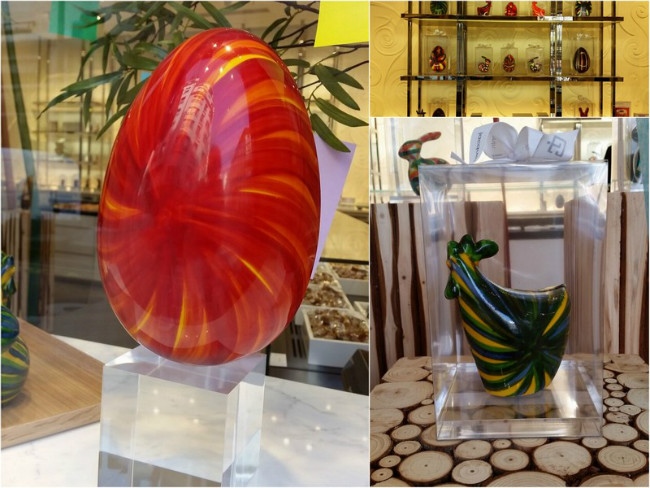 From cowboys at Le Nôtre to Mangas of Pierre Hermé (along with many others), what about some cool skate-boarding eggs at Dalloyau?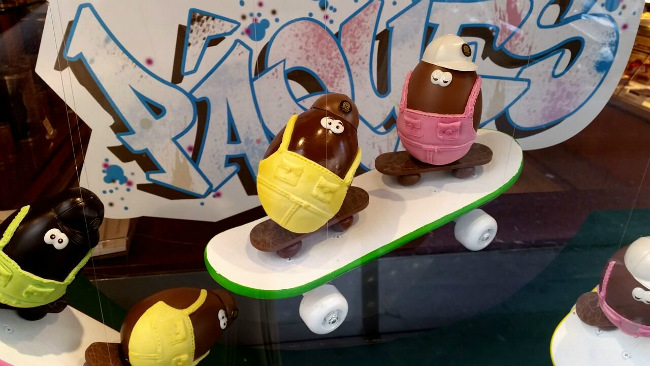 Looking through the glass, Pierre Marcolini has chosen an Easter Wonderland theme, complete with this grinning Cheshire cat. Or what about a box of mini praline eggs: including pistachio, almond, nougat and hazelnut?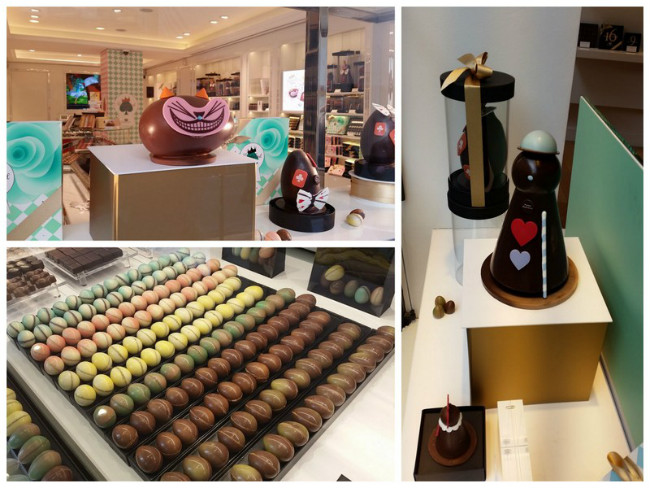 From Le Manufacture de Chocolat of Alain Ducasse, you'll find traditional artisan chocolate eggs and contemporary designer hens – but what caught my eye is the original DIY Easter Egg box for you to fill yourself, complete with a white glove for that in-boutique chic experience at home.
Henri Le Roux has dressed his eggs Harlequin style – and, talking of clowns, Arnaud Lahrer's major act this year is the Circus Chocolate with Plou the Clown, sealions, elephants, and monkeys. Eggs are also clowning around at De Neuville.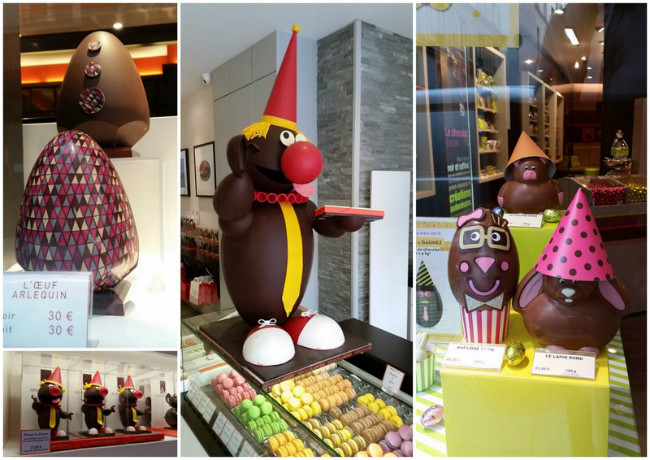 We're totally in love with Paris – and eggs disguised in an amusing collection this year from Christophe Roussel, including Paddle La Baule and Udon le mouton. Incidentally, highly glossy sheep also feature at Edwart Chocolatier. You could say they're ewe-some!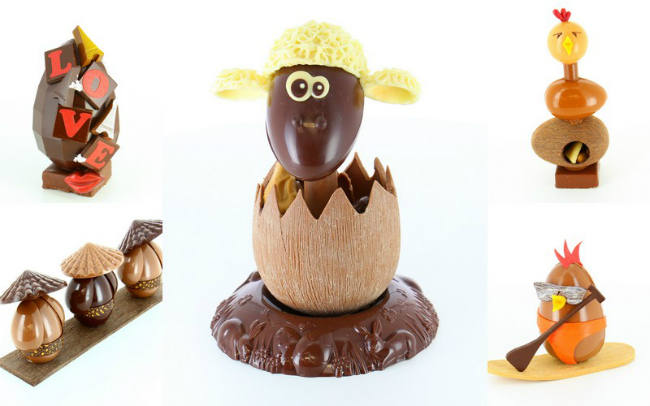 FRIED CHOCOLATE EGGS
You'll notice a few fried eggs (oeufs au plat) around too, such as these smashing takes by Patrick Roger and Georges Larnicol.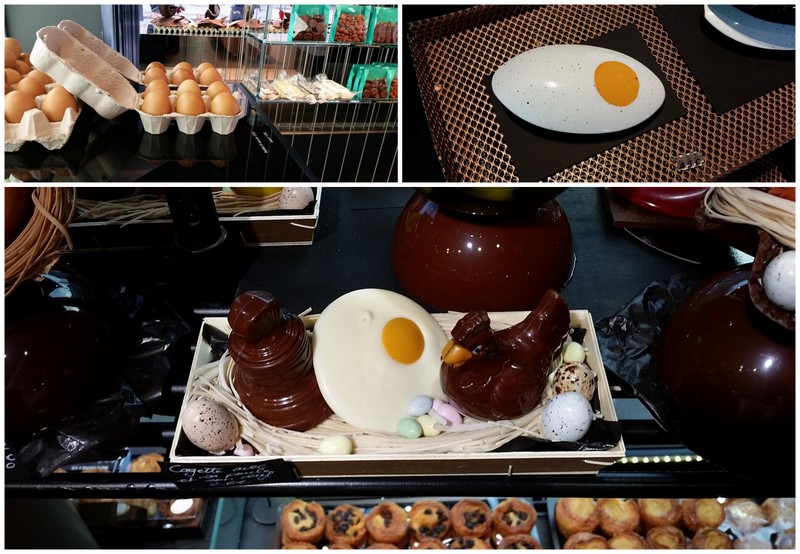 WHY SO MANY CHICKS and HENS?
During the 40-day Christian tradition of Lent, meat or eggs were not allowed to be eaten. Meanwhile, hens continued to lay their eggs so by the time Easter arrived, signaling the end of Lent, there were so many eggs to be used. Many hens are garnished with miniature eggs, my personal favorite being praline. And if you're fond of praline, try Pascal Caffet's extra plump hens, "mini Pious" and pralines made with hazelnuts from Piemonte.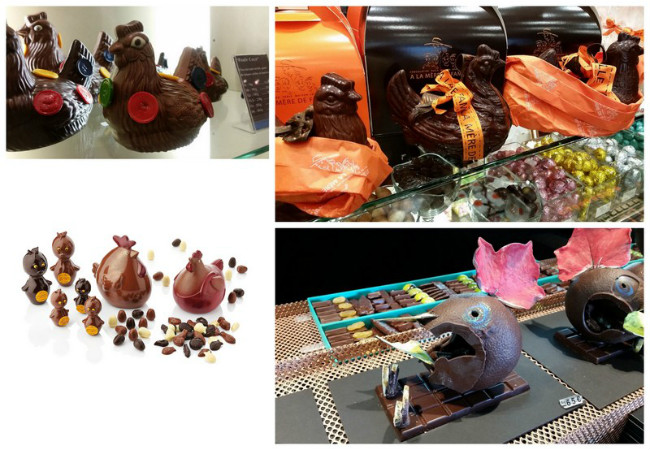 HAVE A HEART
A la Mère de Famille have also created chocolate hearts filled with the traditional fritures pralines for the upmarket grocery, Maison Plisson in the Marais.
GIANT EGGS
Just imagine the Easter bells trying to deliver some of the more giant sculptures from Rome. From a giant Chinese Tian Long Dragon, with 200 scales at the Shangri-La Hotel to this 7.5 kg (about 17 pounds) packaged giant ready to be delivered at Les Marquis de Ladurée. It's garnished inside with Les Marquis's famous mini cameos, in dark, milk and white chocolate.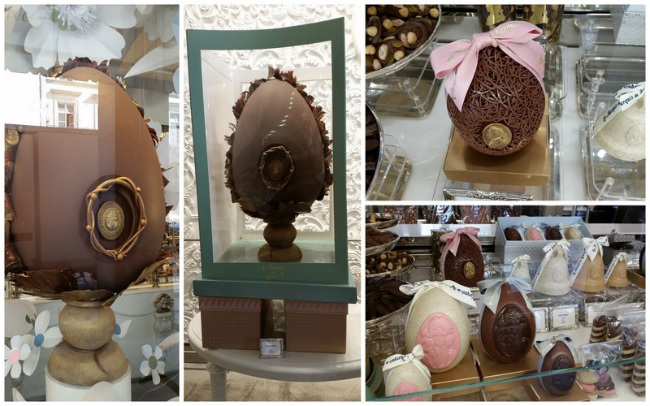 CLOCK CHANGE
Alas, there are so many more but I can only manage a sampling for you. Now that I've wound you up, don't forget in France that the clocks go forward on Easter Sunday, so let me leave you with this impressive clock egg structure by pastry chef, Pierre Mathieu at the Mandarin Oriental's Camélia Cake Shop – available from today.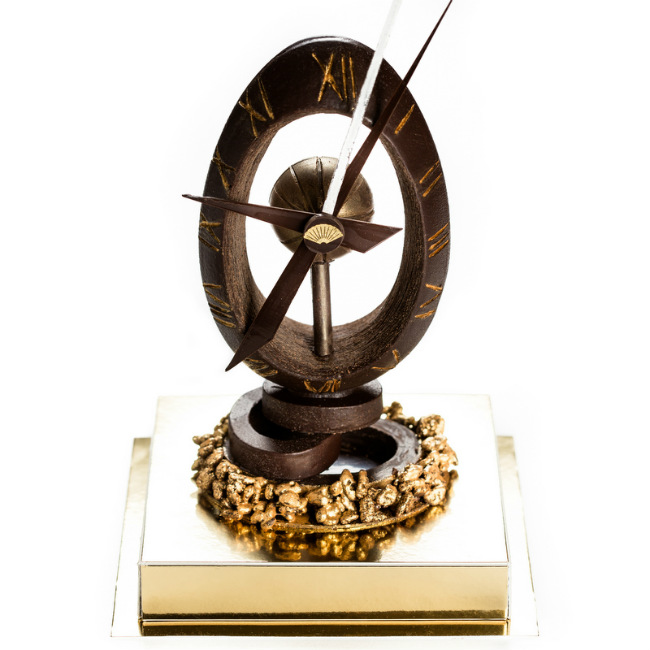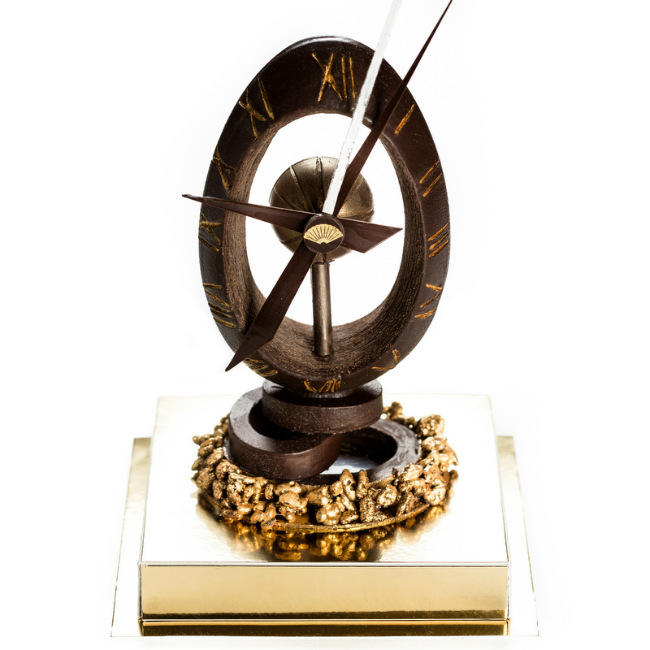 I'd say it's time to call it a marathon in chocolate. I'm sure you have enough chocolate here to keep you going until next Easter. Happy Easter from Paris!