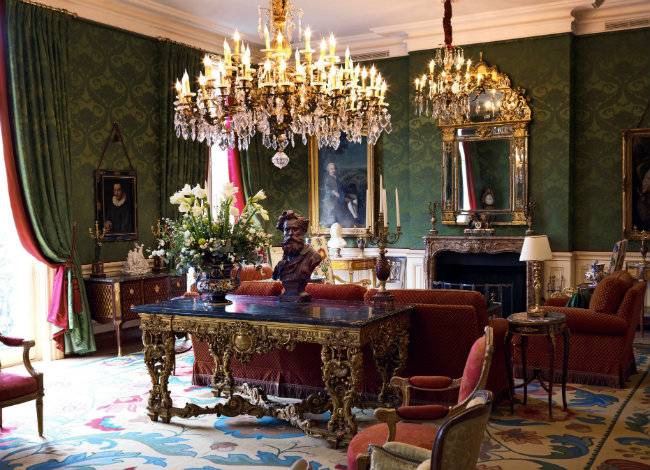 Prepare to be amazed at Le Clarence – Hôtel Dillon
Le Clarence brings a little piece of Bordeaux to Paris. The magnificent restaurant– housed in a 19th century mansion in the Golden Triangle between Avenues Montaigne, Champs-Elysées and George V– recently opened following three years of transformations by architect François Chatillon.
Domaine Clarence Dillon SAS is a French company (founded in 1935) that owns three Bordeaux wine estates: Château Haut-Brion, La Mission Haut-Brion, La Tour Haut-Brion, as well as the white wine-producing Laville Haut-Brion and Quintus, which come together under the heading of Domaine Clarence Dillon. As President of the company, Prince Robert of Luxembourg acquired the property by "vente à la bougie"– a form of auction unique to France in use since the 15th century. Because he loved the wine so much, Clarence Dillon, the Prince's great-grandfather, a Texan banker, acquired Haut-Brion in 1935 for 2,300,000 francs.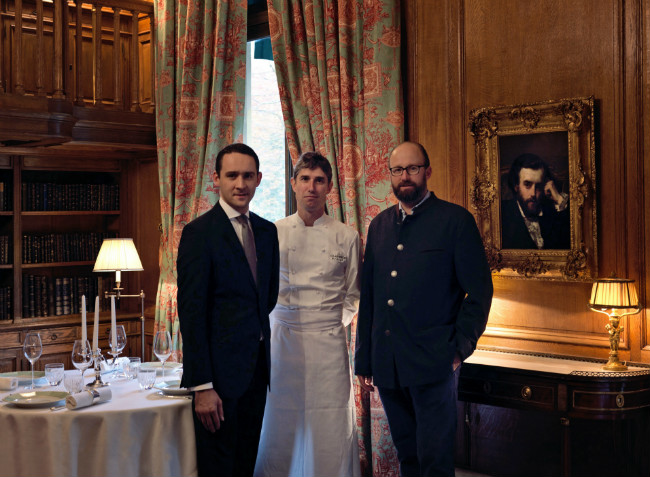 Take the lift, or the magnificent staircase, to the first floor restaurant divided into three traditional but very differently decorated rooms and named in homage of the former owners of Haut-Brion: Lestonac (which can be privatized), Pontac and Tallyrand.
There, you'll meet Antoine Petrus, MOF (Meilleur Ouvrier de France) the young man (31) with the golden palate. (Past stints include Ferran Adria's El Bulli, Lasserre and Hôtel de Crillon, Paris.) There's no doubt he is proud to offer one of the most exceptional wine books in the world.
Wearing the whites in the state-of-the-art steel and glass kitchens, overlooking a pretty interior courtyard, is Christophe Pelé who won two Michelin stars at his bistro Le Bigarrade (Paris), and who has recently been in Hong Kong and London. "The menu changes daily, sometimes twice a day according to deliveries. I like my food to tell a story; today I have some plump crevettes and will cook them in various ways throughout lunch until I have used them all." Does he have a signature dish? "No way! Life's too short and exciting," he smiles.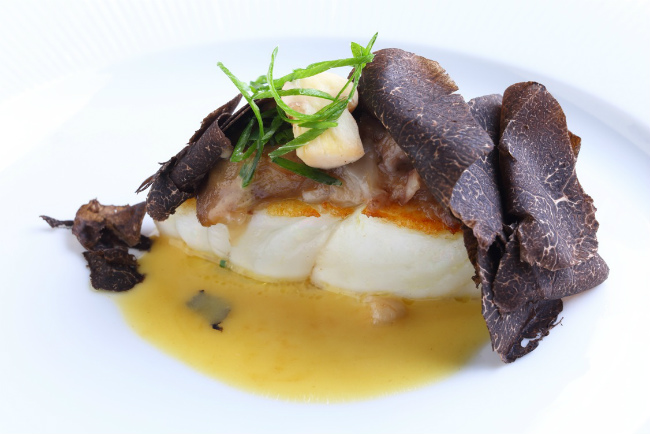 Stand-outs were warm truffle-studded brioches to spread with Ponclet Farm butter. The fabulous wines (La Clarté de Haut Brion 2009, Chapelle Mission Haut Brion 2007, Clarendelle aux Plantiers d'Haut Brion 2005) matched delicate St. Jacques scallops; Monkfish, truffles and beurre blanc; the main of tender Bresse chicken, shrimp, chicken jus, a suggestion of cuttlefish as well as cheese by Monsieur Anthony, and delicate desserts. The service is impeccable.
"Antoine Petrus- Christophe Pelé: what a remarkable team," says France's top food critic Gilles Pudlowski.
Le Clarence – Hôtel Dillon, 31 Avenue Franklin D. Roosevelt, 8th. Tel: + 33 (0)1 82 82 10 10. Lunch 90€ Menu, Le Clarence 190€, Menu Inspiration 320€. Closed Sunday & Monday.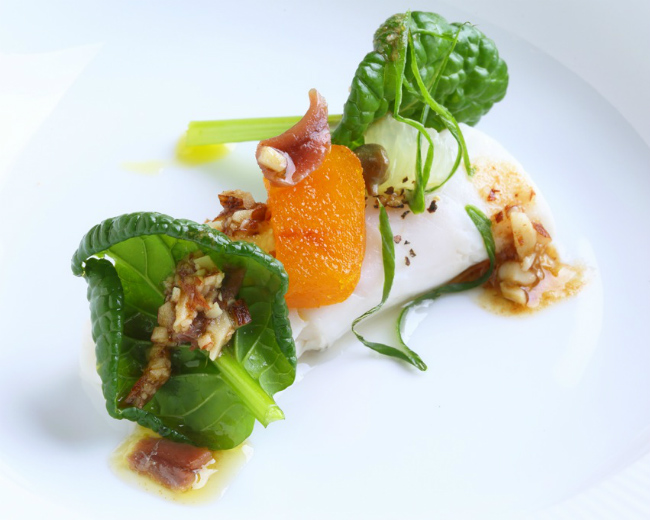 La Régalade moves house 
Bruno Doucet's neo-bistros punctuate Paris (the 14th, the 9th and the 8th) like oases in the desert. I'm not saying that Paris is short of incredible eateries but Doucet's great value, plus the "products, seasoning and cooking" concept, is definitely on the foodie frontline, well worth your attention.
He recently moved house to a larger space on rue St. Honoré where there's a mezzanine table for complete privacy, a private dining room with table d'hôte, a chic bar and warm, friendly service.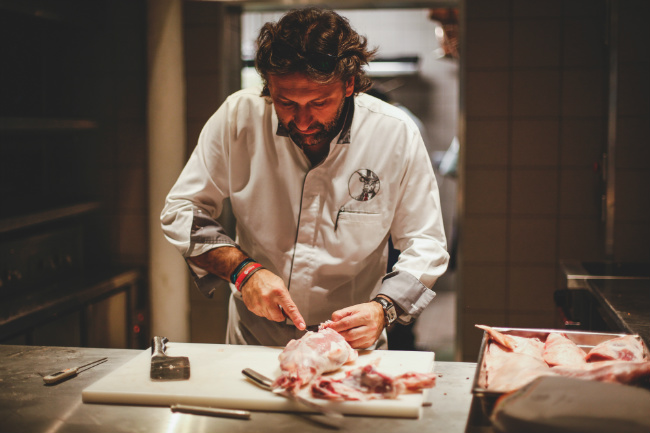 Doucet's 39€ three-course lunch and dinner is excellent value. Don't worry if your date's a little late; order a Lillet "Jean de Lillet" white or red (10€), sit back and enjoy the signature freebie house terrine, served with tiny cornichons and delicious bread from the Boulangerie Gosselin opposite.
This is good, soothing, trencherman cuisine in the company of a zippy clientele. From the blackboard of daily specials begin with perfect free-range scrambled eggs and truffles, then continue with roast pigeon (+12€ supplement) or Côte de Boeuf for 2 (supplement 14€) with potato purée or roasted buttery truffled scallops (tis the season) in their shells. Wines by the glass from 6€.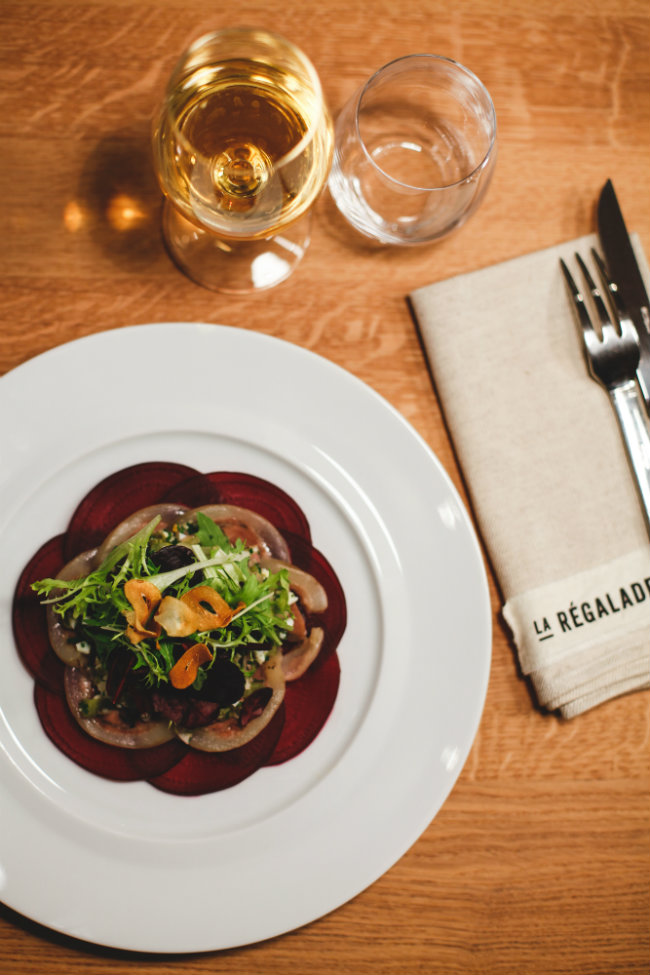 On the menu, there are 5 starters (12€), mains (25€) and desserts (10€) according to the market. Examples include pumpkin soup with Stilton, Salmon rolled in lard, creamed spinach, frothy verjus. You'll find cheese from Mme Dubois. The Grand Marnier Soufflé dessert is excellent, but a little too sweet, best cut with a glass of Grand Marnier (+8€). Excellent coffee and warm madeleines will leave you booking your return visit very soon.
La Régalade, 106 rue Saint Honoré, 1st. Metro: Louvre-Rivoli. Menu Carte 39€. Tel: +33 (0)1 42 21 92 40. Open every day.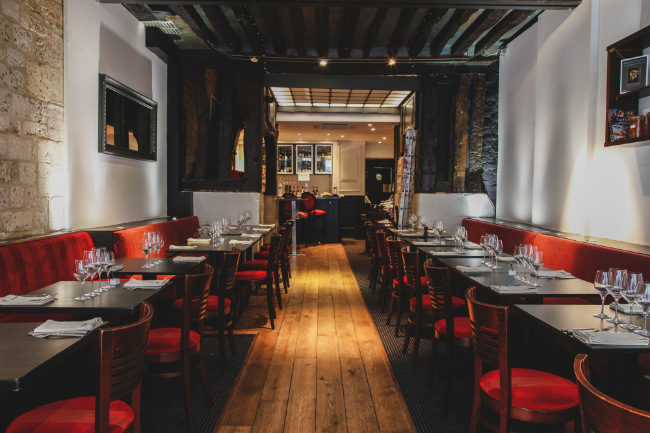 Another recommendation
SALT by English talent Daniel Morgan showcasing mouthwatering dishes influenced by the globetrotter chef's world travels. 6 rue Rochebrune, 11th. Tel: +33 (0)1 73 71 56 98
A Permanent Resto from Le Camion Qui Fume
In addition to the fabulous Food Trucks, Le Camion Qui Fume has opened a restaurant at 168 rue Montmartre in the 2nd. Open every day. Tel: +33 (0)1 84 16 33 75.