The Return of La Tour d'Argent and Summer Restaurant Buzz
"To eat is a necessity, but to eat intelligently is an art."
— Francois de Rochefoucauld (1613-1680)
What could be better than eating on a terrasse when the weather's nice? Not only does summer bring wonderful weather to Paris, it also ushers in a flurry of restaurant openings and reopenings. Here's the latest food news, including the highly anticipated return of the legendary Tour d'Argent.
Ever since the legendary restaurant closed on April 30th, 2022 for renovations, we've been waiting with bated breath for news. Now André Terrail proudly announces the reopening of La Tour d'Argent on Friday June 30th. Because, "everything has to change so that nothing changes", he said. The goal: "To bring La Tour d'Argent, the most famous restaurant in the world (created 1582), into the 21st century."
Architect Franklin Azzi completely redesigned the sixth-floor restaurant, with  panoramic Seine views, keeping the iconic blue color, giving it a ceiling with kinetic effects. Luxuriously thick carpet, created by contemporary artist Margaux Lavevre, reinterprets and reflects the movement of the Seine.
The iconic map of Paris is reinvented by Antoine Carbonne who, through this painting in shimmering colors, recalls the history of the city of Paris and La Tour.
View this post on Instagram
A bar, Les Maillets d'Argent, a tribute to the polo loving late Claude Terrail, has been created on the ground floor, serving cocktails, lunch and dinner. And up on the roof, the seventh floor, Le Toit de la Tour brings the skyline of Paris to life. 
A spot to dine privately? Augusta's Apartment, on the fifth floor, dedicated to André Terrail's grandmother, will be the ultimate TDA experience. POA!
An exciting new story is about to begin for this incredible maison. From his newly decorated kitchen, Chef Yannick Franquès will send out his mouthwatering classic cuisine revised and corrected for 2023. Match with a choice of 300,000 wines from the cellars. See you there!
15-17 Quai de la Tournelle, 5th
Metro: Maubart-Mutualité
Tel: +33 (0)1 43 54 23 31
Open Tuesday-Saturday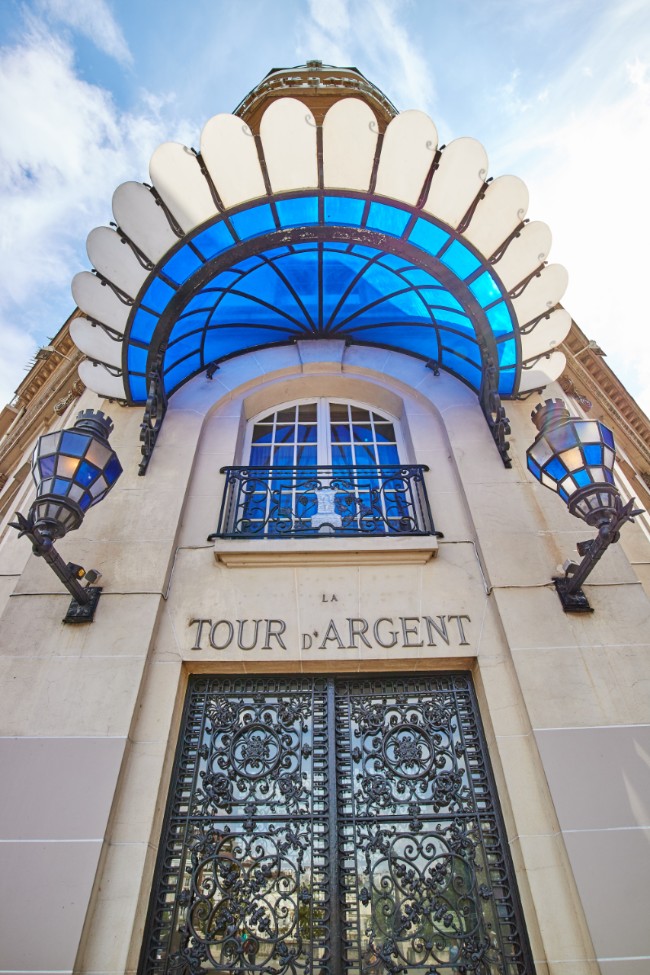 The quirky name that chef Maxime Bouttier chose for his first Paris address, "evokes, in Greek, the power of what cannot be seen, earthy fragrance," he explains.
Originally from Le Mans, in the Sarthe region, Bouttier discovered his love of all things culinary aged 8 and, by the time he was 14, earned a BEP (Brévet d'Etudes Professionelles) in cooking, pastry and restaurant service.
View this post on Instagram
Valuable experience followed in Michelin star establishments: Le Beaulieu*, Le Mans, La Maison d'à Côté** with Christophe Hay, Le Taillevent, London, Le Pressoir d'Argent** at Le Grand Hôtel de Bordeaux, L'Atelier de Jean Luc Rabanel** Arles and, in Paris, at Mensae as head chef, with Thibaut Sombardier. Geosmine is on rue de la Folie Méricourt, near the Canal Saint Martin.
Discover an exciting contemporary concept by a dedicated young talent, really worth your attention.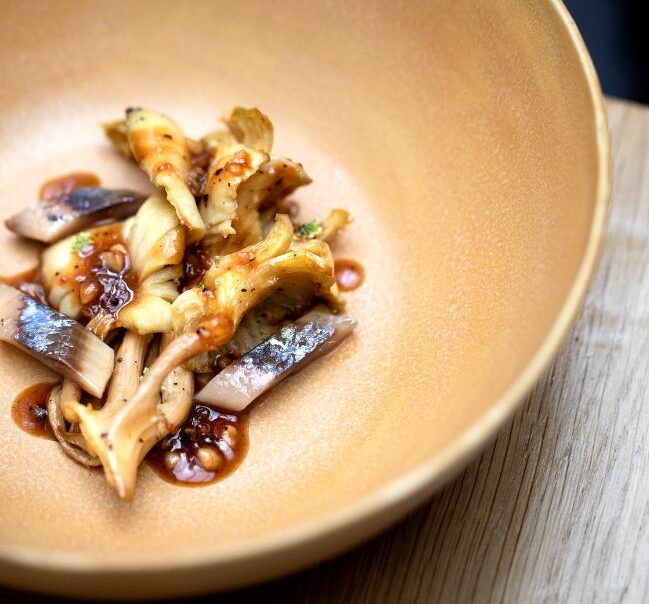 What about the food? To begin, a nod to Le Mans, with cromesquis of hot rillettes, served on thistles, dipped in lard, accompanied by puff pastries with Mayenne butter, black shallots and fish roe bottarga. Oyster mushrooms, from the Loire Valley, roasted whole with XO sauce, topped with marrow and sardines. The chef does not hesitate to amaze with his current signature dish: cow udder, smoked cream with hay and Aquitaine Sturia caviar! The bread's by Graine and desserts are divine.
Wines are in harmony with chef's exciting cuisine, "which evolved during my culinary experiences and encounters." The wine list created in tandem with sommelier Vincent Glaymann, travels between France, Greece, Spain, Austria, Germany and Italy for the 90% natural and or organic/biodynamic wines.
71, rue de la Folie Méricourt, 11th
Tel: +33 09 78 80 48 59
Metro: Parmentier
Lunch & Dinner from Monday to Thursday
Lunch from €11-€49
8 course Dinner €109 with wine pairings +€69
11 course Dinner €139 + €119 wine pairings.
View this post on Instagram
Talented, charming, Normandy-born chef Fréderic Vardon's beautiful restaurant is located in the heart of the golden triangle, on the sixth floor of an imposing Haussmann building, overlooking the classic Parisian rooftops of Avenue George V.
Handsome shiny sliding windows look out onto a sublime suspended garden. The designer Raphael Navot, designer of the year 2023, created this unique setting to resemble a ship's bow with, at its summit, a floating century-old olive tree. The perfect summer address, with exquisite food and cocktails such as L'Ultra Violet (€19) or Kiss-Me (€11)m after a hard day's retail therapy. Admire the buzzing open kitchens and, in the distance, the Eiffel Tower!
39 Avenue George V, 8th
Entrance – 17, rue Quentin Bauchart
Metro: George V
Tel: +33 01 56 62 39 05
Email: [email protected]
Lunch from €49 + wine Dinner from €95
Closed Saturday-Sunday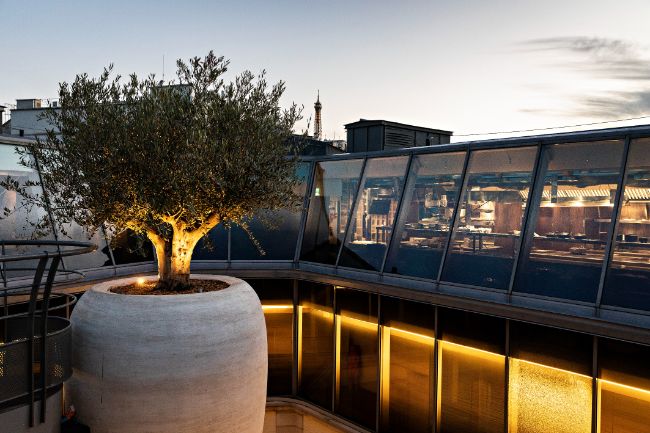 "Everything's going up, but not the prices at Bouillons Chartier," promise the delightful management at BC, now part of the impressive Groupe-Joulie. 
So see you there for the legendary egg mayo @ €2; fillet of saithe (cod) with shellfish sauce (€11); Aveyron sausage, served with creamy mashed potatoes, toujours €9. And the signature chou chantilly is still €3.80. With a bottle of Buzet – €10:
"With our menus, Bouillons Chartier remain faithful to the founders' (1896) principles, the Chartier Brothers, Fréderic and Camille. Open 365 days a year serving traditional French cuisine," they explain.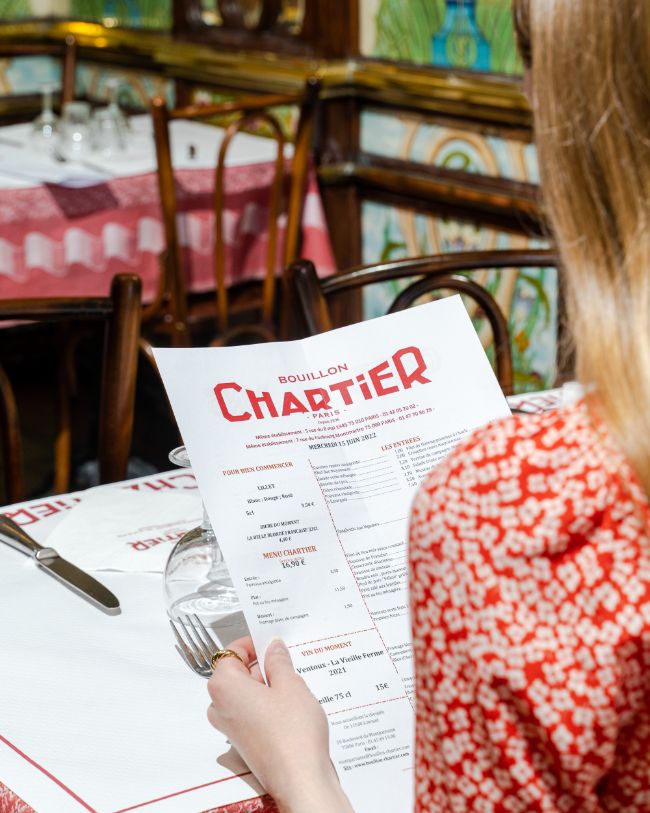 You're served by immaculate staff wearing traditional rondin, black waistcoats with multiple pockets and long white starched aprons. Your bill's written directly on the paper tablecloth. Pure theater.
Bouillon Chartier Gare de l'Est: 5 rue du 8 Mai 1945, 10th
Bouillon Chartier Grands Boulevards: 7 rue du Faubourg Montmartre, 9th
Bouillon Chartier Montparnasse: 59 boulevard du Montparnasse, 6th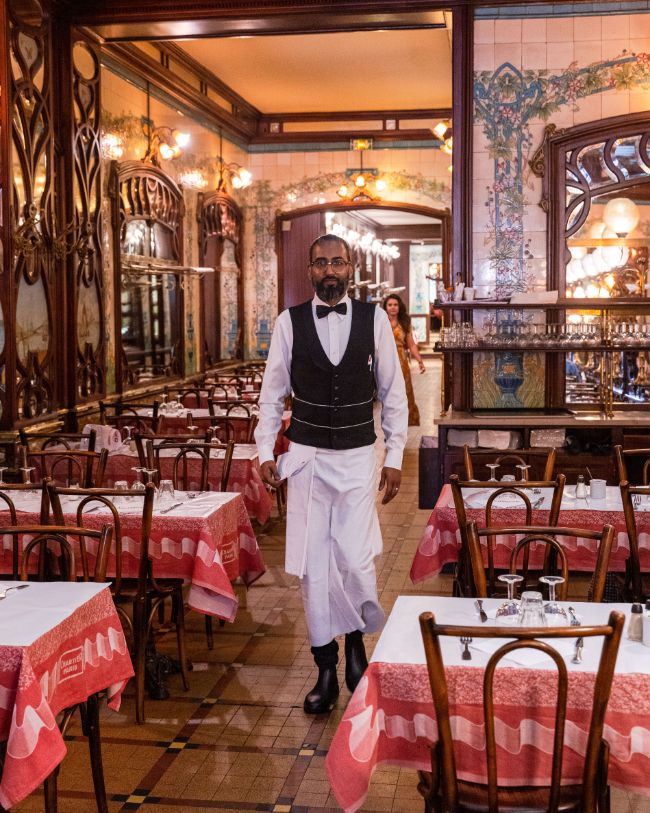 Have you noticed the intriguing atmosphere when you exit the Garibaldi metro in Saint-Ouen to walk to Les Puces? So much to see, discover, enjoy. So many exotic, eclectic, eateries.
Next time try HaSalon, the perfect culinary match to your puces purchases. Street food with attitude. Here's Tel Aviv and its festive vibes transported to our favorite flea market.
You'll adore self-taught Israeli chef Eyal Shani's poetic approach to raw, fresh, pure and local ingredients. His talent is deconstructing the essence and spirit of national cuisine, which began in 1989 with Oceanus, his first seafood restaurant in his native Jerusalem.
Shani now heads 40 restaurants globally (including Miznon in the Marais) and has built a solid reputation following his participation as a Masterchef (Israel) judge. The products of his region: olive oil, tahini, fresh & seasonal vegetables, and "the precious tomato" which he holds in high esteem, are the components of his unique and instinctive culinary language. "A tomato is sweet and sour at the same time, and very versatile. Enjoy it raw, stewed, or grilled. stuff it, squeeze the juice out, or just eat the inside. Make a sauce, sashimi or a steak. Give me a tomato, and I'll interpret 50 dishes or more", he promises.
With his partner, Shahar Segal, their addresses are buzzing in London, Vienna, Paris, Cannes, Melbourne, Singapore, London, New York, Boston.
106 rue de Rosiers, 93400 Saint Ouen
Tel: +33 01 84 21 04 30
Metro: Saint-Ouen
Thursday, Friday 7 pm – 2 am Saturday 12 noon – 5 pm, 7 pm – 2 am Sunday 12 noon – 6 pm
Who knew?
Tran Anh Hung's delicious film The Pot-Au-Feu takes inspiration from Marcel Rouff's 1924 classic novel The Life and Passion of Dodin-Bouffant, Gourmet, winning the Prix Mise en Scene/Best Director at this year's Cannes Film Festival. The film revives the story of a passionate gastronome who collaborates with his favorite servant, concocting incredible meals – to make sure she doesn't leave!  Wow!
Love is linked to cooking, bravo to Tran Anh Hung who made a name for himself with The Scent of Green Papaya (1993).
Pot-Au Feu stars Juliette Binoche (Eugenie) and Benoît Magimel (Dodin Bouffant) and, notable, among the extras, a certain Pierre Gagnaire, passionate about cooking as much as cinema – and vice versa – who, as culinary advisor supervised and revisited all the recipes used in the film.
"Tran Anh Hung dined at rue Balzac a few years back," recalls Pierre Gagnaire. "That night there was pot-au-feu on the menu and he asked me if I'd share my input for a film he was in the process of working on. I said yes, without hesitation of course!" The rest as they say….  Chapeau PG!
In cinemas November 2023
Lead photo credit : Coffee with croissants against Eiffel Tower in Paris, France. Photo Contributor: Tomas Marek on Shutterstock
More in Paris food, Paris restaurant news
---
---