Royal Monceau Terrace & La Petite Cour
Le Royal Monceau
– Raffles Paris With a Michelin star tucked under his toque talented Laurent André chef at La Cuisine, Raffles, Royal Monceau, launches new ideas for Spring. The Philippe Starck designed restaurant moves out onto the terrace in warm weather so you're away from Paris without going anywhere. You want to eat light? The Bento Box is for you, and, don't worry if you've forgotten the Panama or the shades, the Sun-Butler will bring a selection, should you want to leave with them, no problem they are from the in-house concept store, "Le Royal Eclaireur". The choice is yours, Bento, if you're rushed or menus by La Cuisine, or Carpaccio Italiano. Starters include: Asperges vertes du Vaucluse, cuites et crues, avec condiments agrumes de chez Bachèz: Gnocchis de pâte à choux à la parisienne, escargots de Bourgogne au beurre persillé, la pâte mi-séchée en sauté gourmand avec poêlée de girolles févettes étuvées et citrons en zeste: Le filet de sole vapeur, and, inspired by chef Nobu Matsuhisa's recent visit to Paris and his 4-hander with chef Andé,the signature pavé de Black Cod mariné avec riz coco condiment citron miso et zestes de cédrat as interpreted by Laurent André. Add Le quasi de veau de Lozère au poêlon avec asperges et morilles cuisinées ensemble, ou le magret de canard cuit à l'orange a glass of Alsace Muscat "K" Domaine Kientzler 2008, sit back and listen to the birdsong, and you're five minutes from the Champs Elysées. OK enough chilling. You want the Pierre Hermé Millefeuilles dessert – make it yourself! Learn how from pâtissier Sebastien Ganot, get down and dirty behind his pastry counter. Choose from 15 flavours, Ananas caramelisé: Strawberries and cream, Vanilla, Chocolate-griottes etc. Can't move another inch: so order a glass of sparkling 5% Poire Granit by
Eric Bordelet
and get the Baba-au-Rum classique, la Gourmandise Constellation : pâte à choux aux éclats d'amandes grillées et de sucre grains, crème pâtissière allégée, marmelade d'orange, fraises, crème de mascarpone à la cardamome, ou les coupes glacées. Lunch over you'll be straight off to reception to…… get a room ! 37 Avenue Hoche 8th T: 01 42 99 98 80 La Terrasse is open 7/7 de 7h00 à minuit. Bento Box 43-60€ Lunch formula M: Charles de Gaulle Etoile
La Petite Cour
, As soon as the warm weather comes head straight to the left-bank La Petite Cour, the terrace with water fountain is magic, looks like it's been there since de Maupassant passed by. The food's modern, by young talent Yannick Tessier. "Actually I wanted to be an optician", he admits. "You know both careers require incredible precision. I use optical tweezers, they are always in my chef's whites, next to my Mont Blanc pen!" Tessier's worked with greats such as Senderens at Lucas Carton, the Poucel brothers at La Maison Blanche and Jardin d'Ampère. "My cooking revisits the classics, I give them a new direction, new colours. I'm a hunter, and I'm not talking small game", he says. "My favourite time of the year is during the hunting season in Sologne". Signature dishes include Smoked egg, bacon and green asparagus topped with a creamy mousse. Small ravioli with Dublin Bay prawns, coriander, turmeric, prawn cream sauce. The exquisite Cône de Tourteau et Guacamole, vieux Balsamic matched with white Viognier (Pays d'Oc) (49€). And, Ashton's favourite main, Smoked beef with thyme, chopped tomatoes and olives matched with the red Chateaux de Lascaux Pic St. Loup. Cheese by Maison de Fromage and the best dessert Macaron Violette, fruit rouge and dreamy, creamy mascarpone ice cream. You'll love it.  More in October when Tessier shleps back the big game – Hemingway style. 8 rue Mabillon, 6th M: Mabillon, T: 01 43 26 52 26 Shut Saturday lunch Lunch formula – 28€ Dinner 37€ Sunday lunch & dinner menu at 49€ includes glass of wine: mineral water: coffee
SUBSCRIBE
ALREADY SUBSCRIBED?
BECOME A BONJOUR PARIS MEMBER

Gain full access to our collection of over 5,000 articles and bring the City of Light into your life. Just 60 USD per year.

Find out why you should become a member here.

Sign in

Fill in your credentials below.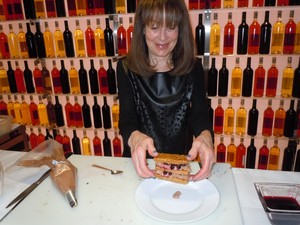 Le Royal Monceau – Raffles Paris
With a Michelin star tucked under his toque talented Laurent André chef at La Cuisine, Raffles, Royal Monceau, launches new ideas for Spring. The Philippe Starck designed restaurant moves out onto the terrace in warm weather so you're away from Paris without going anywhere. You want to eat light? The Bento Box is for you, and, don't worry if you've forgotten the Panama or the shades, the Sun-Butler will bring a selection, should you want to leave with them, no problem they are from the in-house concept store, "Le Royal Eclaireur".
The choice is yours, Bento, if you're rushed or menus by La Cuisine, or Carpaccio Italiano. Starters include: Asperges vertes du Vaucluse, cuites et crues, avec condiments agrumes de chez Bachèz: Gnocchis de pâte à choux à la parisienne, escargots de Bourgogne au beurre persillé, la pâte mi-séchée en sauté gourmand avec poêlée de girolles févettes étuvées et citrons en zeste: Le filet de sole vapeur, and, inspired by chef Nobu Matsuhisa's recent visit to Paris and his 4-hander with chef Andé,the signature pavé de Black Cod mariné avec riz coco condiment citron miso et zestes de cédrat as interpreted by Laurent André. Add Le quasi de veau de Lozère au poêlon avec asperges et morilles cuisinées ensemble, ou le magret de canard cuit à l'orange a glass of Alsace Muscat "K" Domaine Kientzler 2008, sit back and listen to the birdsong, and you're five minutes from the Champs Elysées.
OK enough chilling. You want the Pierre Hermé Millefeuilles dessert – make it yourself! Learn how from pâtissier Sebastien Ganot, get down and dirty behind his pastry counter. Choose from 15 flavours, Ananas caramelisé: Strawberries and cream, Vanilla, Chocolate-griottes etc.
Can't move another inch: so order a glass of sparkling 5% Poire Granit by Eric Bordelet and get the Baba-au-Rum classique, la Gourmandise Constellation : pâte à choux aux éclats d'amandes grillées et de sucre grains, crème pâtissière allégée, marmelade d'orange, fraises, crème de mascarpone à la cardamome, ou les coupes glacées.
Lunch over you'll be straight off to reception to…… get a room !
37 Avenue Hoche 8th
T: 01 42 99 98 80
La Terrasse is open 7/7 de 7h00 à minuit.
Bento Box 43-60€
Lunch formula
M: Charles de Gaulle Etoile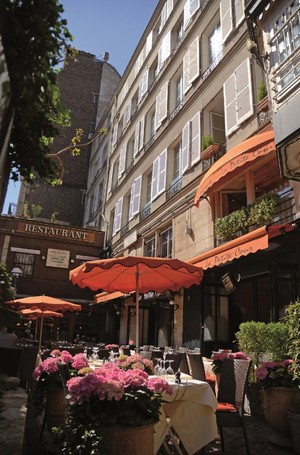 La Petite Cour,
As soon as the warm weather comes head straight to the left-bank La Petite Cour, the terrace with water fountain is magic, looks like it's been there since de Maupassant passed by. The food's modern, by young talent Yannick Tessier. "Actually I wanted to be an optician", he admits. "You know both careers require incredible precision. I use optical tweezers, they are always in my chef's whites, next to my Mont Blanc pen!"
Tessier's worked with greats such as Senderens at Lucas Carton, the Poucel brothers at La Maison Blanche and Jardin d'Ampère. "My cooking revisits the classics, I give them a new direction, new colours. I'm a hunter, and I'm not talking small game", he says. "My favourite time of the year is during the hunting season in Sologne". Signature dishes include Smoked egg, bacon and green asparagus topped with a creamy mousse. Small ravioli with Dublin Bay prawns, coriander, turmeric, prawn cream sauce. The exquisite Cône de Tourteau et Guacamole, vieux Balsamic matched with white Viognier (Pays d'Oc) (49€). And, Ashton's favourite main, Smoked beef with thyme, chopped tomatoes and olives matched with the red Chateaux de Lascaux Pic St. Loup. Cheese by Maison de Fromage and the best dessert Macaron Violette, fruit rouge and dreamy, creamy mascarpone ice cream. You'll love it.  More in October when Tessier shleps back the big game – Hemingway style.
8 rue Mabillon, 6th
M: Mabillon,
T: 01 43 26 52 26
Shut Saturday lunch
Lunch formula – 28€ Dinner 37€
Sunday lunch & dinner menu at 49€ includes
glass of wine: mineral water: coffee
More in Evian, La Petite Cour, Le Royal Monceau, Paris restaurants, Paul Piro, restaurant, Restaurant reviews, Top Chef
---
---