« Hilary Clinton prépare sa candidature à la Maison-Blanche » announces Le Figaro newspaper. No, not Maison Blanche, Paris, bien sûr, but Washington. However, Ms Clinton would adore the two terraces on the roof of La Maison Blanche, avenue Montaigne. With views of the Eiffel Tower, Dôme des Invalides, La Seine, perfect for  summer lunch/ dinner when in town with Bill. Interior décor by Imaad Rahmouni is minimal and contemporary : the two roof- terraces, Le George V, overlooking the hotel and Le Montaigne, overlooks the Avenue "We've had many intense moments here, and a number of marriage proposals. For example, the night Sharon Stone stood behind the bar and played barmaid for her friends! "
 recalls General Manager, Bruno Franck.  Left the Raybans behind ? Don't stress, Bruno has a special box of prototype sunnies to lend you, try them all on anyway. Directeur du Salle, the elegant Christophe Couvert (perfect name, you couldn't make it up) remembers Mick Jagger arriving at the same time as Nicole Kidman, neither had reservations. "We had to magic a table from nowhere as we were completely full that night. We did it, they were happy, and the whole restaurant rocked", he grins. Wearing the whites Hervé Nepple (ex- Pic : Gagnaire : Guy Savoy : Plaza Athénée, Pershing Hall etc). His summer terrace menu has all your favourites, and a few new dishes. « It's a cuisine I evolve to the rhythm of days and nights, switching from business and ladies who lunch, to romantic evenings in the shadow of the twinkling Eiffel Tower. It's magic here », sighs Nepple. Consider the following : Starters of : Asperges vertes et œuf Bio: 
Burrata crémeuse et tomates tricolores au balsamique: Rafraichi de petits pois, omble chevalier fumé maison, fromage blanc aux herbes:  Rouget, piperade sur sablés d'olives Taggiasche et vierge de tomate,  huile d'olive: Foie gras de canard poché aux herbes : Mains include: Grilled wild sea-bass: Couteaux et coques, fenouil aux agrumes: Filet de fera fish from Lac Leman, asperges blanches et févettes au chorizo: Saumon d'Ecosse mi cuit, almond crumble crust, haricots verts : Filet de bœuf Black Angus, croustillant de pommes de terre : Suprême de volaille fermière, polenta blanche, asperges vertes, citron confit de Calabria. Déclinaison d'agneau de l'Aveyron, cromesquis d'ail doux et tomates confites: Noix de veau à la Milanaise, taglioni et fin velouté de champignons. Cheese by Madame Quatrehomme, wines by glass/ bottle/ Magnum/ Balthazar/ Salmanazar/ Methusaleh/ Jeraboam. If you're not Jagger/Kidman/Deneuve look for the excellent Saint Joseph from
Stephane Montez
2011 12€ a glass. Irresistible desserts include: Rhubarb confite with hibiscus flowers, almond biscuit, orange sorbet. MB strawberry cake: Millefeuille léger à la vanilla, gorgeous cheese cake au thé vert matcha and Maison Blanche signature dessert: Biscuit chaud au chocolat « Araguani » whipped cream Bourbon vanilla. Become a member of Club Maison Blanche (it's free) send your details by
email
. And, Ms Clinton, when you're in Paris sign up for Zen Yoga classes on the terrace : Hatha, Vinyasa, Yin Yoga, Yoga detox, Gi Kong Yoga, Care Work Yoga etc. 22€ per session it'll clear your head for the 2016 campaign toward the other White House dear. Reserve on this
site
.
Maison Blanche
, 15 avenue Montaigne, 8th M : Alma-Marceau/Franklin D Roosevelt T : 01 47 23 55 99 Open 7/7 Lunch 48-48€ Dinner Average Spend 69€ Tasting Menu – 110€ Valet Parking (8€)
SUBSCRIBE
ALREADY SUBSCRIBED?
BECOME A BONJOUR PARIS MEMBER

Gain full access to our collection of over 5,000 articles and bring the City of Light into your life. Just 60 USD per year.

Find out why you should become a member here.

Sign in

Fill in your credentials below.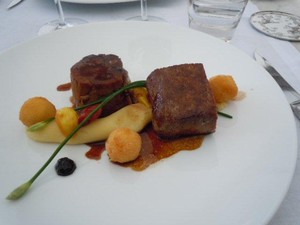 « Hilary Clinton prépare sa candidature à la Maison-Blanche » announces Le Figaro newspaper. No, not Maison Blanche, Paris, bien sûr, but Washington. However, Ms Clinton would adore the two terraces on the roof of La Maison Blanche, avenue Montaigne. With views of the Eiffel Tower, Dôme des Invalides, La Seine, perfect for  summer lunch/ dinner when in town with Bill.
Interior décor by Imaad Rahmouni is minimal and contemporary : the two roof- terraces, Le George V, overlooking the hotel and Le Montaigne, overlooks the Avenue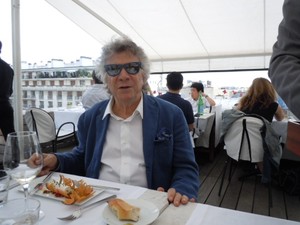 "We've had many intense moments here, and a number of marriage proposals. For example, the night Sharon Stone stood behind the bar and played barmaid for her friends! "
 recalls General Manager, Bruno Franck.  Left the Raybans behind ? Don't stress, Bruno has a special box of prototype sunnies to lend you, try them all on anyway.
Directeur du Salle, the elegant Christophe Couvert (perfect name, you couldn't make it up) remembers Mick Jagger arriving at the same time as Nicole Kidman, neither had reservations. "We had to magic a table from nowhere as we were completely full that night. We did it, they were happy, and the whole restaurant rocked", he grins.
Wearing the whites Hervé Nepple (ex- Pic : Gagnaire : Guy Savoy : Plaza Athénée, Pershing Hall etc). His summer terrace menu has all your favourites, and a few new dishes. « It's a cuisine I evolve to the rhythm of days and nights, switching from business and ladies who lunch, to romantic evenings in the shadow of the twinkling Eiffel Tower. It's magic here », sighs Nepple. Consider the following :
Starters of : Asperges vertes et œuf Bio: 
Burrata crémeuse et tomates tricolores au balsamique: Rafraichi de petits pois, omble chevalier fumé maison, fromage blanc aux herbes:  Rouget, piperade sur sablés d'olives Taggiasche et vierge de tomate,  huile d'olive: Foie gras de canard poché aux herbes :
Mains include: Grilled wild sea-bass: Couteaux et coques, fenouil aux agrumes: Filet de fera fish from Lac Leman, asperges blanches et févettes au chorizo: Saumon d'Ecosse mi cuit, almond crumble crust, haricots verts : Filet de bœuf Black Angus, croustillant de pommes de terre : Suprême de volaille fermière, polenta blanche, asperges vertes, citron confit de Calabria. Déclinaison d'agneau de l'Aveyron, cromesquis d'ail doux et tomates confites: Noix de veau à la Milanaise, taglioni et fin velouté de champignons.
Cheese by Madame Quatrehomme, wines by glass/ bottle/ Magnum/ Balthazar/ Salmanazar/ Methusaleh/ Jeraboam. If you're not Jagger/Kidman/Deneuve look for the excellent Saint Joseph from Stephane Montez 2011 12€ a glass.
Irresistible desserts include: Rhubarb confite with hibiscus flowers, almond biscuit, orange sorbet. MB strawberry cake: Millefeuille léger à la vanilla, gorgeous cheese cake au thé vert matcha and Maison Blanche signature dessert: Biscuit chaud au chocolat « Araguani » whipped cream Bourbon vanilla.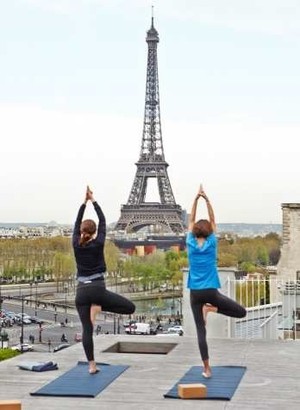 Become a member of Club Maison Blanche (it's free) send your details by email.
And, Ms Clinton, when you're in Paris sign up for Zen Yoga classes on the terrace : Hatha, Vinyasa, Yin Yoga, Yoga detox, Gi Kong Yoga, Care Work Yoga etc. 22€ per session it'll clear your head for the 2016 campaign toward the other White House dear.
Reserve on this site.
Maison Blanche,
15 avenue Montaigne, 8th
M : Alma-Marceau/Franklin D Roosevelt
T : 01 47 23 55 99
Open 7/7
Lunch 48-48€ Dinner Average Spend 69€
Tasting Menu – 110€
Valet Parking (8€)
More in Beatles, Four Seasons, La Maison Blanche, Paris restaurants, Restaurant reviews
---
---