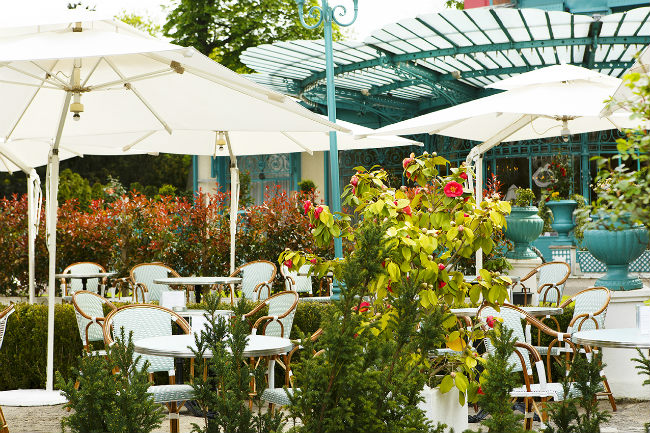 It's always delightful to see the French terrace attitude. The minute a few rays of sunshine appear, so do Parisians, wrapped in chic Burberry scarves and Ray-Ban sunglasses, sipping and nibbling, before/after and during work hours.
Do you have a favorite terrace? Perhaps you prefer to sit and watch the world go by on your favorite square, or relax and listen to the birds twittering and the sound of a distant waterfall? At La Grande Cascade, situated in the Bois de Boulogne, you can have it all.
Before it was gifted to the Ville de Paris by Napoleon III, the beautiful listed villa (designed by Georges-Eugène Haussmann) served as a hunting lodge by the side of a scenic waterfall ("cascade"). For the 1900 Universal Exhibition, it was transformed to a restaurant by none other than Gustave Eiffel and has hardly changed since then. All glass and metal, it evokes a lush, manicured garden for all seasons.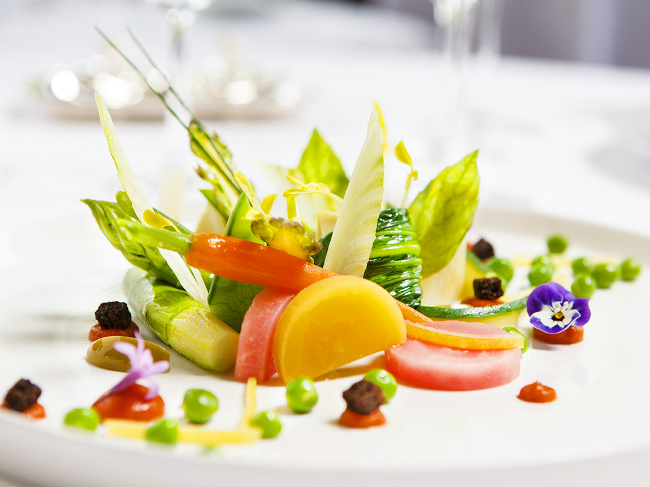 The interior retains an atmosphere between the Belle Epoque and the Roaring Twenties. "Magic by day, magical by night!" say the restaurant's regulars. Like a beautiful woman there are nips and tucks; contemporary sculptures mix with originals and the menus have been revised and corrected for today by chef Fréderic Robert (ex-Lucas Carton, Bernard Pacaud's L'Ambroisie and Vivarois with Claude Peyrot).
Stand-out dishes include Truffle stuffed cannelloni, sprinkles of parmesan, foie gras, celery and port reduction; Deep fried langoustine, a touch of curry, jelly of fish stock and seaweed; La Sole Dugléré; Beef Rossini; and seasonal game. Most of the dishes change every 10 days – small wonder chef Robert doesn't work the room! Neither does Belgian pastry chef Nelson Lechien, but do leave room for his delicate takes on Soufflé Rothschild, Chocolate truffled Mont-Blanc or the lightest Vanilla Millefeuille in town.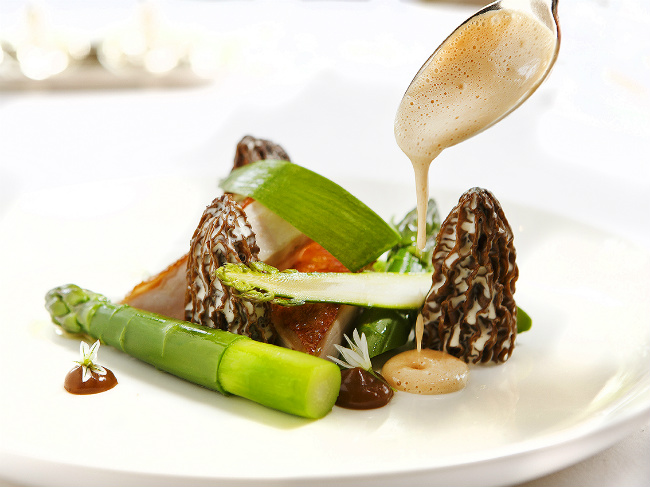 In summer the restaurant moves outside, the beautifully dressed tables are set on the shady terrace, certainly one of the most pleasant of Paris. But, why not create a second terrace for curious passers-by to sit and sip? That's the idea of Grande Cascade owner George Menut (good name for a restaurant owner eh!?). So a discreet, 20-seat "Terrace Apéritive" just launched. Communication is not a strong point at this address so you may only hear about it from a kind friend, or from reading BonjourParis.
So, reserve your table and choose from Menu du Marché lunch & dinner 89€ + wine; Menu Découverte – 149€; Tasting Menu 192€; A La Carte 140-190€. Or check out the new terrace (no reservations) with a sophisticated slate of 6 crostini, foie gras, smoked salmon etc (20€), glass of wine 10€-21€ and Cascade cocktails (18€).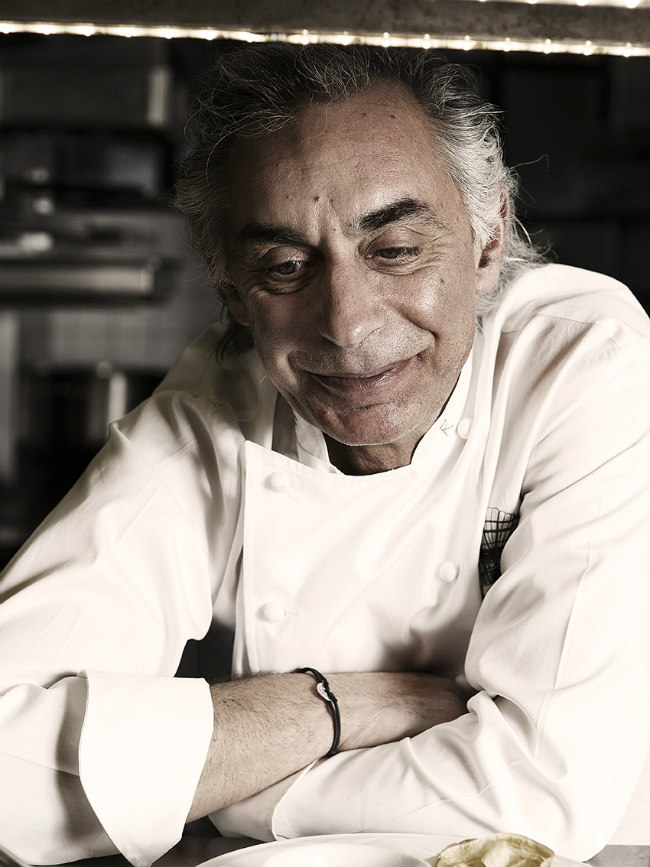 The thick wine menu is a delightful tour de France. Great value is the citrus scented 2013 Chassagne-Montrachet Les Blanchots Dessous, Côtes de Beaune (25€ glass 125€ bottle) or red Margaux Charmes de Kirwan (21€-105€). Chateau Kirwan was one of the few Medoc properties that Thomas Jefferson, the then Ambassador to France and future third President of the United States visited on his Bordeaux wine tasting trip around 1780! If you've backed the winners across the road at Longchamp Race track, Petrus 2001 (5,500€) is not excessive. If you've lost your shirt console yourself with a flute of AR Lenoble "Rose" cuvé Terroirs (21€), the sommeliers Pierre Ouardes and David Desbonnet are super-sympa, the ballet of the salle works like a midsummer night's dream!
La Grande Cascade, Allée de Longchamp, Bois de Boulogne, 75016. Tel: 01 45 27 33 51. Metro: Porte Maillot and then taxi.