Hotel Le Prince Des Galles & Le Marloe
Prince des Galles
To transform the iconic Princes des Galles Hotel, Avenue George V, Starwood Hotels & Resorts commissioned uber-designer Pierre Yves Rochon. There are now 155 superb rooms and 44 incredible suites. Originally built in 1928 the brief for the transformation was to keep the original 20's ambiance, adding a contemporary Art Deco spin. From the airy lobby the theme begins, special lighting effects are by
Maison Delisle
(since 1895)  In the suites and rooms handsome reproduction Tamara de Lempicka paintings and, along the corridors black and white "Golden Triangle" fashion portraits punctuate the walls. The two-story duplex "L'Appartement Parisien", on the eighth and ninth floors, includes a multi-level rooftop 900- square foot terrace. with kitchen, dining room and private lift. All in the best possible taste. Downstairs, check out exotic palm trees, courtyard patio and Les Heures Bar, discreet triumphs by Belgian interior decorator Bruno Borrione who also designed La Scène, the contemporary restaurant with 2011 Top-Chef winner Stéphanie Le-Quellec at the pianos of the "starwars" style open kitchen. Seating only 46 diners, there's an intimate feel, although tables are well spaced. The diners become part of the theatre that is La Scène. It's tranquil, zen, behind the marble that surrounds the kitchen, do they use sign language? Probably. For Act 1, Chef Le Quellec may send out, on shapely white Sylvie Coquet designer dishes, market Fresh vegetables and sea-food inspired by Cours Saleya market, Nice. Pearl Oyster from Joël Dupuche, Cap Ferret, No. 1 simply opened/Matcha green tea/white beans: Dublin Pay Prawn, poached/verbena, smoked avocado/shrimp bouillon or, for the ladies who do, Harvest of Green Vegetables with pistachio based condiment. Restaurant staff are cool and elegant, dressed by Rochas, couldn't be more charming. Sommelier, Philippe Marques, ex-Mandarin Oriental, London has created a great wine card, says he's inspired by the romantic history of the P des G. He'll match glasses to your chosen dishes or, you could try Ghislaine et Jean-Hugues Goisot's Côtes d'Auxerre 2011 (37€) or ripe red Languedoc VDP Côtes Catalannes "Mon P'tit Pithon" 2012 (35€). Act 11 Blue Lobster, from Roscoff. Frothy jus. Small red mullets/bottaga. Act 111 share the Dry Aged (120 days) beef for two, marrowbone, potatoes: Roast "Limousin" suckling veal, jus deglazed, compression of romaine lettuce or, Sweetbreads, girolles, date mousseline. Intermission with Marie Quatrehomme cheese, warm bread, Bordier butter. Conclusion: divine fresh fruit desserts, say, Monsieur Pique's Apricot/coriander/almond biscuit by patissier Yann Couvreur (ex-Le Burgundy). And then, rdv with chef and the equipe to shout bravo! encore! we're returning ASAP. 33 avenue George V 8th M: George V T: 01 53 23 77 77 Restaurant La Scene, Lunch formula Mon-Friday 60€ In 4 Services 125€ Eyes Closed (leave it to chef) 165€ A La Carte Average Spend 160€ Shut Sunday dinner Sunday Brunch 98€ Shut July 28-Aug 18th
Marloe Restaurant
Located behind the Champs Elysées on a quiet street, with terrace attitude, Marloe's what owner Eric Martins calls the "annexe bistronomique" for their (Martins and Boullault) Michelin star
l'Arome
, a baguette's throw away at 3 rue Saint-Philippe-du-Roule. "The concept is, simple seasonal foods such as, Pluma Ibérico de Bellota and charcuteries from Da Rosa, pain Poujauran, Bordier butter. Wild cod: Noix de St. Jacques: Black Angus Beef all simply grilled, with the addition of jus, risotto, mousselines, potatoes and leafy salads", explains Martins. Try the meltingly marvellous signature Croque Monsieur de Thomas Boullault dedicated to his grandfather, who taught him how. Tarama de Tourteau et gressins au romarin: Terrine du Moment: Coeur de saumon fumé impérial, seaweed butter, hot toast. Yum! Add lovely cheeses from
Maison Dubois
(sounds like a New Orleans pole dancing club, but no, it's a first-class fromagerie darling. Laetitia Alleg, the pretty sommelière is absolutely passionate about wine. You'll probably remember her from L'Arome where she was trained by Renaud Laurent. Her favourite Alsace white 2011 Gerwurztraminer Grand Cru Steingrubler A. Mann (79€) will have you tangoing down the Champs Elysées, after lunch/dinner. Or, wines of the moment, by glass, from 6€. Ashton liked the Bourgogne Pinot Noir, Domaine Gros 2011. The two pastry chefs come from The Bristol and Le Royal Monceau. Crème chocolat à la fève de tonka, meringue croquante, gruè de cacao is a winner. As is Sablé pistache-amande, gelée de framboise pépins. We call Marloe "un troquet de quartier/gastro/chic & canaille", says the delightful Martins. Dude, you get the drift. It's cool! 12, rue du Commandant Rivière, 8th M: Saint Philippe du Roule T: 01 53 76 44 44 Average spend 42€ + wine Shut Sat-Sun And: Check out
Hotel Bradford Elysées
just across the street from Le Marloe, a little jewel. Le Prince des Galles, the Art-Deco palace shuttered for 2 years recently reopened, following a costly renovation, and it's the talk of the town. Le Marloe, perhaps named for Phillip M the wisecracking private detective in Raymond Chandler's crime…
SUBSCRIBE
ALREADY SUBSCRIBED?
BECOME A BONJOUR PARIS MEMBER

Gain full access to our collection of over 5,000 articles and bring the City of Light into your life. Just 60 USD per year.

Find out why you should become a member here.

Sign in

Fill in your credentials below.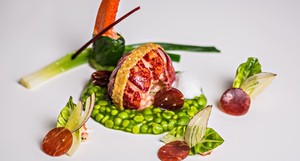 To transform the iconic Princes des Galles Hotel, Avenue George V, Starwood Hotels & Resorts commissioned uber-designer Pierre Yves Rochon. There are now 155 superb rooms and 44 incredible suites. Originally built in 1928 the brief for the transformation was to keep the original 20's ambiance, adding a contemporary Art Deco spin.
From the airy lobby the theme begins, special lighting effects are by Maison Delisle (since 1895)  In the suites and rooms handsome reproduction Tamara de Lempicka paintings and, along the corridors black and white "Golden Triangle" fashion portraits punctuate the walls.
The two-story duplex "L'Appartement Parisien", on the eighth and ninth floors, includes a multi-level rooftop 900- square foot terrace. with kitchen, dining room and private lift. All in the best possible taste.
Downstairs, check out exotic palm trees, courtyard patio and Les Heures Bar, discreet triumphs by Belgian interior decorator Bruno Borrione who also designed La Scène, the contemporary restaurant with 2011 Top-Chef winner Stéphanie Le-Quellec at the pianos of the "starwars" style open kitchen.
Seating only 46 diners, there's an intimate feel, although tables are well spaced. The diners become part of the theatre that is La Scène. It's tranquil, zen, behind the marble that surrounds the kitchen, do they use sign language? Probably.
For Act 1, Chef Le Quellec may send out, on shapely white Sylvie Coquet designer dishes, market Fresh vegetables and sea-food inspired by Cours Saleya market, Nice. Pearl Oyster from Joël Dupuche, Cap Ferret, No. 1 simply opened/Matcha green tea/white beans: Dublin Pay Prawn, poached/verbena, smoked avocado/shrimp bouillon or, for the ladies who do, Harvest of Green Vegetables with pistachio based condiment.
Restaurant staff are cool and elegant, dressed by Rochas, couldn't be more charming. Sommelier, Philippe Marques, ex-Mandarin Oriental, London has created a great wine card, says he's inspired by the romantic history of the P des G. He'll match glasses to your chosen dishes or, you could try Ghislaine et Jean-Hugues Goisot's Côtes d'Auxerre 2011 (37€) or ripe red Languedoc VDP Côtes Catalannes "Mon P'tit Pithon" 2012 (35€).
Act 11 Blue Lobster, from Roscoff. Frothy jus. Small red mullets/bottaga. Act 111 share the Dry Aged (120 days) beef for two, marrowbone, potatoes: Roast "Limousin" suckling veal, jus deglazed, compression of romaine lettuce or, Sweetbreads, girolles, date mousseline.
Intermission with Marie Quatrehomme cheese, warm bread, Bordier butter.
Conclusion: divine fresh fruit desserts, say, Monsieur Pique's Apricot/coriander/almond biscuit by patissier Yann Couvreur (ex-Le Burgundy). And then, rdv with chef and the equipe to shout bravo! encore! we're returning ASAP.
33 avenue George V 8th
M: George V
T: 01 53 23 77 77
Restaurant La Scene,
Lunch formula Mon-Friday 60€
In 4 Services 125€
Eyes Closed (leave it to chef) 165€
A La Carte Average Spend 160€
Shut Sunday dinner
Sunday Brunch 98€
Shut July 28-Aug 18th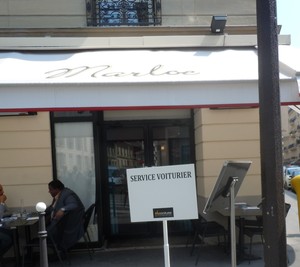 Located behind the Champs Elysées on a quiet street, with terrace attitude, Marloe's what owner Eric Martins calls the "annexe bistronomique" for their (Martins and Boullault) Michelin star l'Arome, a baguette's throw away at 3 rue Saint-Philippe-du-Roule.
"The concept is, simple seasonal foods such as, Pluma Ibérico de Bellota and charcuteries from Da Rosa, pain Poujauran, Bordier butter. Wild cod: Noix de St. Jacques: Black Angus Beef all simply grilled, with the addition of jus, risotto, mousselines, potatoes and leafy salads", explains Martins.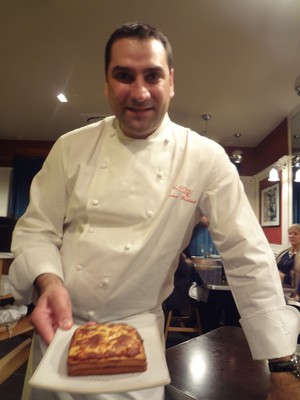 Try the meltingly marvellous signature Croque Monsieur de Thomas Boullault dedicated to his grandfather, who taught him how. Tarama de Tourteau et gressins au romarin: Terrine du Moment: Coeur de saumon fumé impérial, seaweed butter, hot toast. Yum!
Add lovely cheeses from Maison Dubois (sounds like a New Orleans pole dancing club, but no, it's a first-class fromagerie darling.
Laetitia Alleg, the pretty sommelière is absolutely passionate about wine. You'll probably remember her from L'Arome where she was trained by Renaud Laurent. Her favourite Alsace white 2011 Gerwurztraminer Grand Cru Steingrubler A. Mann (79€) will have you tangoing down the Champs Elysées, after lunch/dinner. Or, wines of the moment, by glass, from 6€. Ashton liked the Bourgogne Pinot Noir, Domaine Gros 2011.
The two pastry chefs come from The Bristol and Le Royal Monceau. Crème chocolat à la fève de tonka, meringue croquante, gruè de cacao is a winner. As is Sablé pistache-amande, gelée de framboise pépins.
We call Marloe "un troquet de quartier/gastro/chic & canaille", says the delightful Martins. Dude, you get the drift. It's cool!
12, rue du Commandant Rivière, 8th
M: Saint Philippe du Roule
T: 01 53 76 44 44
Average spend 42€ + wine
Shut Sat-Sun
And: Check out Hotel Bradford Elysées just across the street from Le Marloe, a little jewel.
More in Marloe Restaurant, Paris restaurants, Prince Des Galles, restaurant, Restaurant reviews
---
---