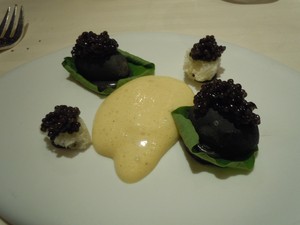 Guy Savoy
The mission statement at Guy Savoy is "transform with joy products dripping with history".  A passionate man, he can't walk past an art gallery without popping in to chat to the owner, and add to his collection which he shares with his customers.
"It's the objects who choose the collector", said Savoy one day last week, in the contemporary setting of rue Troyon, décor by Savoy's friend Jean-Michel Wilmotte. The chef's waiting impatiently to transfer to the magnificent left-bank setting of Musée de la Monnaie where he plans a brasserie and the evolution of the 3-star (since 2002) rue Troyon restaurant. "Tomorrow is always more interesting than yesterday", thinks Savoy.
Burgundy born Savoy has never stopped questioning the kitchen since his early days in Bourgoin-Jallieu, near Lyon, where his mother's restaurant began as a bar became a destination. So, hardly surprising he was part of a band of super-chefs who created "La Nouvelle Cuisine".
To-day, as well as the rue Troyon flagship, Savoy has the bistrots Chiberta, Les Bouquinistes and L'Atelier Mâitre Albert, Paris, his eponymous addy in Caesar's Palace, Las Vegas, as well as Marina Bay Sands, Singapore.
In his state-of-the-art Paris kitchen Savoy works with his team researching, evolving. "Creating a dish means a sense of precision, a play with flavours, respecting the seasons", he says. "Each ingredient attains perfection in its' textures, cooking method and flavour, this is transmutation, visible magic, the magic that's kept me passionate all these years", he grins. "I want this joy, this source of creativity to come alive in front of my "pianos" and come to maturation on the palate of each guest".
Foir gras sliders begin an epic adventure that should take in the signature Soupe d'artichaut (if Savoy could be a vegetable it would be his adorable artichoke) served with warm flaky brioche spiked with mushrooms, spread with melting truffle butter. Then Oysters, Oysters, and yet more oysters. The shells lined with oyster purée, a touch of cream, a strip of sorrel, a twist of pepper, dash of lemon. Saint-Pierre is roasted whole, paired with oursins and crosnes, filleted at table.
Perfect with Châteauneuf-Du-Pape 2008, Domaine de Beaurenard. In season there's Foie gras, palombe, colvert et chou en marmite lutée, jus. Cheese from Madame Quatrehomme and warm bread maison. Desserts go on for ever, millefeuille, agrumes, boule noir, a trolley of sweets, chocolates, almonds, warm madeleines. A sweet Moscato Di Siracusa 2009, Domaine Pupillo.  Ashton looks at his Hublot, "its' 4pm we arrived at noon", he smiles.
Restaurant Guy Savoy,
18 rue Troyon 17th
T: 01 43 80 40 61
M: Charles de Gaulle Etoile
Shut Sat lunch/Sunday/Monday
Check out 110€ lunch at
Alain Ducasse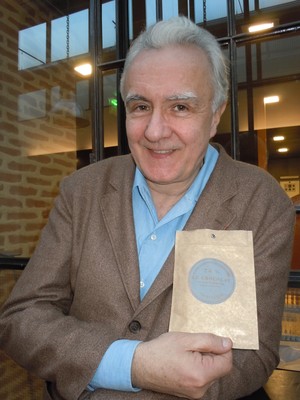 It took Alain Ducasse three years to find his "Charlie and the Chocolate Factory" location on hip and happening rue de la Roquette, near the Bastille. This idea has been in his head for many years, since the beginning of his apprenticeship when he met Gaston Lenôtre and Michel Chaudun. "I was on the brink of becoming a pâtissier", he recalls. "When I was at Alain Chapel, Mionnay, I spent my free time helping artisan-chocolatier Maurice Bernachon in Lyon". It was always the flexibiliy and sensuality of the product that attracted me".
However, Ducasse resisted the call of the chocolate, went on the become a mondial culinary reference but always wanted to supply his restaurants with his own roasted beans, properly matured and sourced from the finest suppliers, to make desserts.
In NYC he met Nicolas Berger, a young French chocolate maker who had exactly the same concepts as Ducasse. Berger ex-Hevin, Peltier, Payard, Ladurée went to work with Ducasse at the Essex House, NYC then to the Plaza Athenée, then, for four years, training Ducasse equipes throughout the world. After 12 glorious years the duo decided to go for it and create a Chocolate Factory in the heart of Paris. Not an easy ask as machinery is rare and hard to find. But they did it and the result is a neo-traditional marvel. Old machines, new machines, bags of beans in hessian sacks from Madagascar, Peru, New Guinea (Ducasse's favourite) a team of six making the best chocolate bars and bonbons you'll ever taste. "I invite you into my new chocolate constellation", says Ducasse. Prepare to be amazed.
Le Chocolat,
Manufacture à Paris,
T: 01 48 05 82 86
40 rue de la Roquette 11th
Chocolate Bars from 6€
M: Bastille
La Petite Maison de Nicole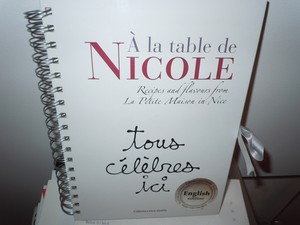 Dinner at Fouquet's takes on a new aspect with the Paris opening of La Petite Maison de Nicole, Nicole Rubi's world famous bistro on Cours Saleya, Nice. LPMDN launched as an hommage to the friendship between Nicole Rubi and Dominique Desseigne, chairman of Lucien Barrière Hôtels & Casinos, to give his Paris customers a taste of Provenҫe.
How cute. Every evening the gallery at Fouquet's restaurant takes on the Nice restaurant's colours and flavours. The decor changes thanks to a neat theatrical swishing of white drapes and change of tableware. Citrons de Menton and olives add to the Nice in Paris theme, paintings of slebs by Dutch artist Hayo Sol punctuate the walls while herb and olive breads come warm, in brown paper bags, from Bread & Roses and waiters wear shirts with "Tous Célebres Ici" on the back (everyone's famous here).
Decor's by Jacqueline Morabito, check out the chandeliers. It's not kitsch, it has class, it would have to if you've got bookings from the likes of Christophe Lambert, Sophie Marceau, the Beckhams, Elton John and Ashton, darling.
La Petite Maison de Nicole bases its sun-drenched Mediterranean menu on Provenҫal recipes, interpreted by MOF Jean-Yves Leuranguer and his team. Claude Ducrozet, the hotel's pastry chef designs desserts including a wicked tiramisu with white chocolate mousse: Le chouchou de Lucien. Drink Provenҫe red, white and rosé Château Rasque.
"In Nice, Nicole contributes to the Mediterranean culinary adventure, now she'll do the same in Paris", says author and restaurant guide writer Jacques Gantié.
46 avenue George V 8th
T: 01 40 69 60 88
Terrace
Dinner only – Average Spend 80€
Dégustation de Nicole 65€
Order A La Table de Nicole
Recipes and flavours from La Petite Maison, Nice
Bistro Urbain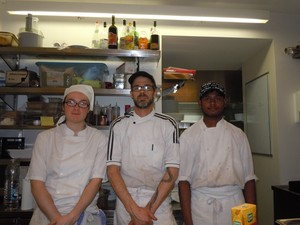 There's chalk for carving graffiti in the restroom at Bistro Urbain, This new canteen created by a passionate band of friends, ex- Les Banquettes, in the quartier d'Aligre, changes the menu daily according to the season and their suppliers, Terroir d'Avenir, rue de Nil (next door to Frenchie).
From the tiny open kitchen the other day Californian chef William Ransonne, tats, baseball cap, face furniture (beard) sent out starters of carrot, leek, courgette and herb soup/Saumon, roasted leeks and feta/Mains of Poulet faҫon BBQ, riz basmati au poivrons et mais. Roasted black cod, aubergine, miso coulis de cresson. Faux filet, pommes de terre. Desserts of Crème brulée aux feves Tonka/Tulipe à la crème diplomate pommes et poires or Vieux Cantal cheese. Interesting wines, which you can taste propped up at the zinc bar, red Pic Saint Loup by glass 5.50€ carafe 19€ or bottle 29€. The atmosphere's young, fun, a clubby style bistro with a buzz.
103 rue du Faubourg Saint Denis 10th
T: 01 42 46 32 49
Metro: Gare de l'Est/Gare du Nord
Shut Sunday
Lunch 14.50-19€ Dinner 25-30€
Main only + glass of wine or coffee 12€
Coming soon – Sunday Brunch