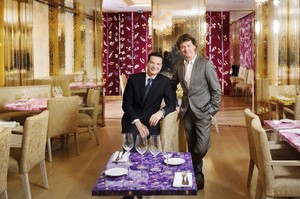 Shuttered for about a year, the LVMH owned Maison Guerlain recently re-opened after a major marble and onyx facelift orchestrated by American architect Peter Marino.
There are now two entrances to access the Temple of Beauty: the original boutique on the mezzanine with Salon des Parfums, the "Exclusive Collection of 68" and the Bespoke Workshop to order your private, personal perfume, play with the make-up, and behave like a lady of leisure with nothing better to do all day! A bespoke fragrance consultation can be arranged for $56,800, according to The Wall Street Journal!
Feeling a little hungry after all this excitement? At the rear of the new extension take the wide marble staircase to the basement (there is a lift) and discover: " The 68″ restaurant by Grand Vefour super- chef Guy Martin in collaboration with Guerlain's in-house "nose" Thierry Wasser.
The rose, vanilla, tonka bean inspired space includes a pâtisserie, showcases Guerlain teas, Habit Rouge: Petit Robe Noire etc: blended to match the legendary perfumes, own brand honey from Guerlain's hives in the Yvelines etc. Plus, discover the latest fragrance "68" Champs Elysées.
Open for French breakfast, delicious lunches, say: Cabillaud en petite robe noire réglisée, panais fondants. Foie gras `a la vanilla de Madagascar en feuilleté… Mont Rose aux marrons dessert. Afternoon tea, and super suppers. Great after the cinema, n'est ce pas?
Upstairs, the orchid inspired Institute Spa is designed as a super-luxe private apartment. Book every kind of body and face treatment. It's a must-visit destination on the Golden Triangle. Add to the speed-dial 01 45 62 11 21
Guerlain
68, Champs-Elysées, 8th
M: George V
Ouvert tous les jours de 10h à 20h
Restaurant le " 68" by Guy Martin
Ouvert du lundi au dimanche de 10h à 23h
Institut de Beauté
Lundi, mardi, mercredi et samedi : 9h-19
hJeudi et vendredi : 9h-20h
La Grande Epicerie is even more grand.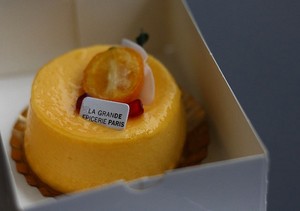 Check it out, but get there early, 8000 people pass thru daily! After a year of travaux, it's unique. 10,000 products: 100 different mineral waters and a 3,000 bottle wine cellar to make you weep with joy. Watch the pâtissiers and boulangers kneading and piping as you pass on rue de Sevres.
See you there.
Les Galettes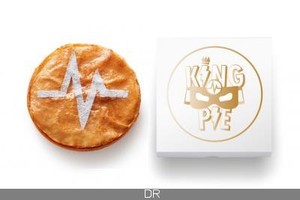 La Fête des Rois, a sweet celebration of 12th night, showcases the French family tradition of serving a delicious frangipane filled tart, "Le Galette des Rois', or "Gateau des Rois" in the South of France, on, or around the 6th January, (the first Sunday of each New Year) and dates back to the 14th century.
The "fève", originally a bean but now more of a bling-bling trinket, is baked inside the cake, the cake shared around the table.
Whoever finds the "fève" is crowned King or Queen for the day/night. That same person also selects someone to be their king or queen. During the French Revolution, it became "Le Gâteau de l'Égalité", the moniker, 'King' being a little out of fashion!
According to tradition, the galette is cut into as many pieces as there are people present, plus 1 extra.
The extra slice is called either, the "part du Bon Dieu" : the "part de la Vierge" or "part du pauvre", offered to the first poor person who pops in! (I know, I know!)
The selection is awesome this year. Brilliant interpretations from Pierre Hermé, Eric Kayser, Yann Couvreur at Le Prince Des Galles, Lenôtre, the Arnauds Larher & Delmontel, Hugo and Victor, Dominique Saibron, Fauchon, Cyril Lignac, Angelina, Jean-Paul Hevin & Co., so pick n' mix until the end of the month.