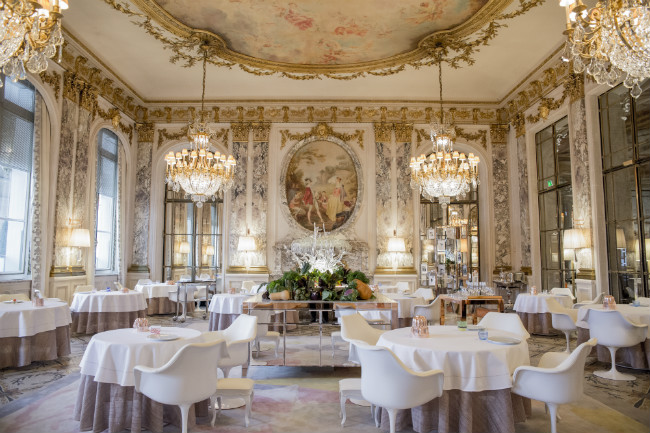 "There are ghosts and mysteries here, I feel their presence and they must be respected," said Philippe Starck one day this week as the press were invited to Salvador Dali's favorite address to admire the nips and tucks Starck and his daughter – the artist and plasticien Ara Starck – have given to the Paris Palace.
The powers that be at Le Meurice (opened in 1835) decided to give carte blanche to Monsieur Starck and Ara. "A bold idea," laughed Starck. "Evolution is an obligation, even the famous sac Hermès evolves. My vision for Le Meurice is rock n'roll with respect!"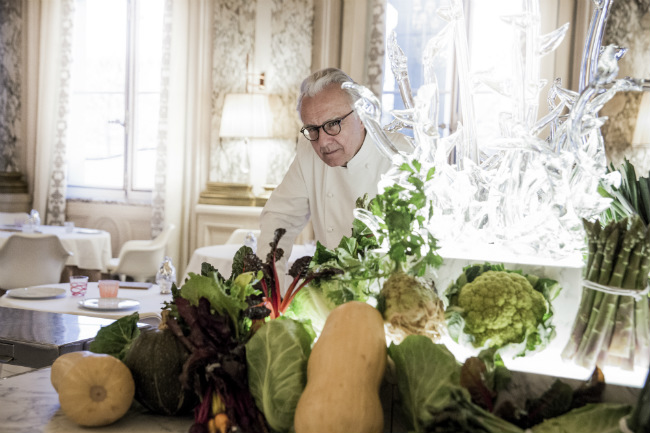 Le Meurice restaurants are headed by Alain Ducasse who recently asked the excellent chef Jocelyn Herland to cross the channel from the Dorchester, London, where he won 3-Michelin stars, and to take over as Executive chef.
"The meal is a story, the table the stage," said Monsieur Ducasse.
Born in the Auvergne region, chef Herland formerly worked with Alain Ducasse in Paris. "Having had no working experience outside France, carrying the Ducasse brand in London was definitely a big challenge", he said. "I am excited to be back here with my family", he reflects. "In the Dali we will be serving a Mediterranean style cuisine of the sun, with accents on sharing plates, and in the gastronomic restaurant there is a more formal style of lunch and dinner to showcase the beautiful room, with fabulous breads and pastries by Cédric Grolet", says chef Herland.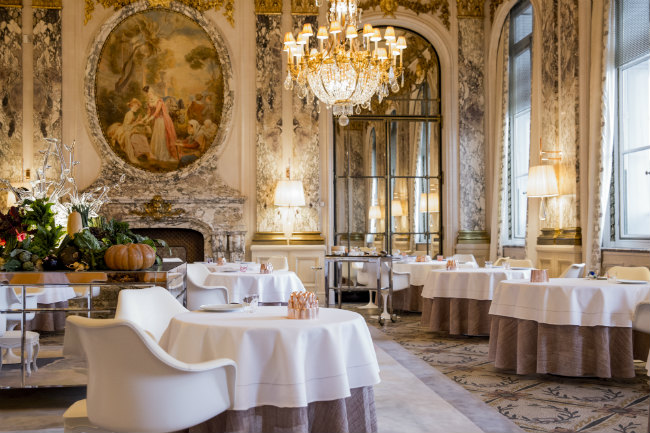 The sumptuous dining room, inspired by the Salon de la Paix at the Château de Versailles and overlooking the Tuileries Gardens, now showcases the bounty of the market with a huge central table laden with fresh vegetables (Lunch & dinner from 85€-380€ + wine)– "the Queen of the meal", explained Ducasse. There's a high chef's table, seating 8, and some interesting "conversation stopper" contemporary glass sculptures by Aristide Najean as well as a screen that looks like a roaring white fire – but which isn't – pure Starck.
Ara Starck's take involved spending afternoons in the lobby observing, watching the dynamics of people coming and going, getting engaged, meeting for business, having drinks in Le Bar 228 (also part of the €1.8 million renovations). "Then I realized what was needed for the Dali space", said Ara of the dramatic surrealistic canvas ceiling mural she created in 2007 to which she has added and enlarged. "Have no fear of perfection – you'll never reach it!" said Salvador Dali.
Le Meurice, 228, rue de Rivoli, 1st. Tel: 01 44 58 10 10