Sébastien Bras, head chef of Bras Le Suquet, the unique three-star restaurant/hotel, based on sustainable development, terroir, and fresh herbs – located "above the clouds" in Laguiole (the Aveyron region) – is asking the suits at Michelin for his family address to be deleted from the Guide as of 2018.
In a statement to AFP on September 20th, the son of Michel Bras, founder of the restaurant – one of the 27 *** star restaurants in Michelin France – explains that he made this decision "in agreement with all his family". Le Suquet acquired its third star in 1999.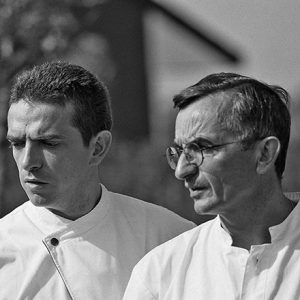 Sébastien Bras, who has helmed the restaurant for ten years, says he wants to "open a new chapter of his professional life without the recognition of the red guide." Age 46, his ultimate goal now – with his faithful brigade and his wife Veronique – is to pursue his quest for culinary excellence.
He sites the pleasure and also the enormous pressure that inevitably results from the distinction of the *** stars that was awarded in 1999.
"This is the first time a chef has asked us not to be included in the guide, we take note and respect chef Bras' request," said Claire Dorland-Clauzel – executive vice president of Michelin's brands and external relations – adding that the withdrawal would not be "automatic".
"Michelin guides are not published for restaurateurs, but for customers, its independence also lies in the award of distinctions," insisted Ms Dorland-Clauzel. "The teams will consider the request; we have to think carefully what we will do," she said.
Not exactly precise Ms D-C is it ?  Before Sébastien Bras, other chefs gave up the race to the stars. In 2003 *** chef Bernard Loiseau committed suicide when newspaper reports hinted that his restaurant might lose its 3-star status. In 2005, chef Alain Senderens, at Lucas Carton, gave up his *** stars, claiming he had changed his concept. In 2006, Antoine Westermann did the same and, in 2008, Olivier Roellinger closed his *** Cancale restaurant.
Speaking of the "great pressure" – linked to the three stars – mentioned by Sébastien Bras – Mrs. Dorland-Clauzel said, "excellence involves hard work and rigor, this is undeniable, but cooking is not the only domain concerned, it is also true for top sportsmen/women," she reasons. "If asked, we usually advise chefs – do not work for the Michelin guide – work for the customer".