Oeuf Mayo, Brasserie Thoumieux, Poilane Brunch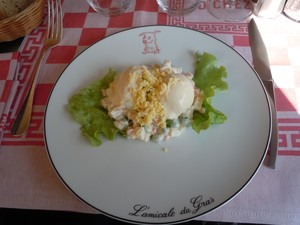 Vladimir Putin, Bill Clinton, Jacques and Bernadette Chirac adore D'Chez Eux owned, since 2008, by Laurent & Catherine Brenta, who also have L'Evasion.  True inn-keepers, they head an association called "L'Amicale du Gras" (We Love Fat!). Members include Alain Ducasse, Joel Robuchon, Pierre Hermé.
They meet annually at Le Grand Rex to judge the Hénaff Pork Paté competition with Loic Hénaff.  "The Fat Friendship awakens the mind and body to the importance and taste-packing power of perfectly cooked fat and other pork delicacies", say the Brentas. "Without fat there's no taste", adds founding member FeGH (Frederique Grasser Hermé).
This week D'Chez Eux was elected "Meilleur Oeuf Mayo", Paris, by Claude Lebey founder of L'Association de Sauvegarde de L'Oeuf Mayo (ASOM). Previous winners have been Flottes, Ghislaine Arabian's Les Petites Sorcières and the Brenta's other addy L'Evasion.
"A remarkably sensual interpretation of oeuf mayonnaise mimosa", declared Pierre Hermé in the absence of Monsieur Lebey. Points are awarded for presentation of the OM. The accompanying macedoine of vegetables, quality of the oeuf which should weigh 75 grammes, texture of the mayo and rapport qualitè-prix. D'Chez Eux it's 9€ chez Le Voltaire, 27 Quai Voltaire, it's still 0,90€! Go figure.
BUZZ suggested to PH that he make a macaron Oeuf Mayo. "I think not", he grimaced. "It wouldn't work!". Bet it would!
Auberge D'Chez Eux,
2 avenue Lowendal 7th
T: 01 47 95 52 55
M: Ecole Militaire/Saint Francois-Xavier
Brasserie Thoumieux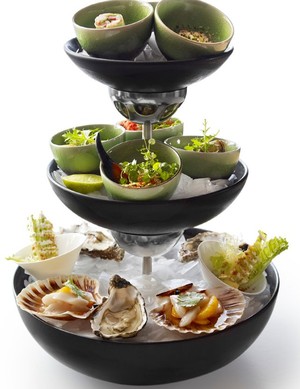 Since he took over this elegant brasserie, in 2009, superchef Jean-Franҫois Piège has revised and corrected the concept, necessary after 90 years n'est ce pas? It's now the best in town, stay in the romantic rooms of the India Madhavi decorated Hôtel Thoumieux next door. Taste/take home a little bit of Thoumieux from the about to open pâtisserie en face. You want haute couture? Eat upstairs in Piège's dining room. Downstairs, since March 1st, order "Le Grand Plateau" a re-interpretation of the classic brasserie seafood platter. "According to the seasons products/dishes include: Saint Jacques marinées sauce tozazu, agrumes and coriander. Pommes de terre de Noirmoutier and bulots (whelks).Crab, avocado and piment doux condiment: Lobster "Spring" roll César: Gillardeau oysters with shallot granité etc", JFP explains. Irréstible on the artisan designed Piège style plateau. To be taken without moderation 70€ for two. "There's nothing like a few oysters to get your mo-jo working", says Piége. Ashton agrees.
79, rue Saint-Dominique 7th
M: Ecole Militaire
Valet Parking
Open 7/7 from 12-12 midnight
T: 01 47 05 49 75
Brunch at Poilane – Tartine central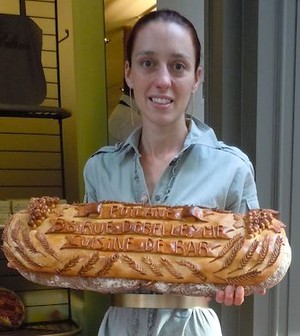 "Since bakeries cannot open 7 days a week, we'll also be selling bread and biscuits so people can have a Happy Sunday", says CEO Apollonia Poilane. Freshly squeezed juices match sweet and savoury tartines (open sandwiches) with a variety of toppings from creamy chicken caesar (with or without anchovies) Saint-Marcellin cheese, cured ham and marjoram. Add small leaf salads or soup of the day. Eggs with soldiers for dipping. Granola and Yogurt, teas and infusions. Great atmosphere for making NBF's.
Cuisine de Bar,
8 rue du Cherche- Midi, 6th
M: Duroc
T: 01 45 48 45 69
Average spend 15€
Sunday from 10-30 -16.30
Leave a reply
Your email address will not be published. Required fields are marked *