You're better off at Astier :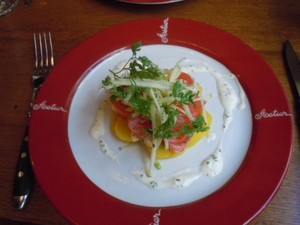 Astier, zinc bar, red gingham tablecloths, cheery wait staff, delicious food and wines chosen by le patron, Frederic Hubig-Schall. By the glass from 6.50€ or, drinking well at the moment, say, Red Burgundy Côte de Nuits Pinot Noir from Mangeard-Mugneret 2011 (35€) White Burgundy Aligoté Domaine Geantet-Panisot 2012 (39€).
While you check the blackboard for daily specials, if you love herring, taste  Harengs Fumée, brought to table in a glazed earthenware Le Creuset style pot, then perhaps : Marinated salmon gravlax, Belles de Fontenay potatoes, Granny Smiths : Soup of the Day : Côte de Bœuf, Autumn vegetables : Roast porcelet Ibérique, jus, legumes.
Trencherman portions from the kitchen led by Cyril Boulet (ex- Troisgros, Robuchon, Meneau). Breadbasket by Eric Kayser, leave room for the signature cheeseboard with 15 perfectly ripe to taste ! Affineur is Maître Anthès. Desserts include Terrine of Agrumes au cumbawa, orange granité, perfect pear tart, vanilla ice cream, or giant rum soaked Baba Chantilly.
This is contemporary bistro fare at its' best, read, the Paris of Piaf, a little square, shaded with 100 year platane trees why not book for New Years
Eve ? From 89-98€ + boissons : [email protected]
What's cooking chez Astier December 31st ?
« En guise d'introduction » Foie gras de canard et Colvert en feuille de chou vert, salsifis et noisettes torréfiées : « Pour debuter » Fat Brittany  langoustines, poélées, poireaux fondants au citron caviar, jus de carapace : Followed by : Roast John Dory, wild mushroom ravioli : jus/spuma citronelle : And also : Suprême de poularde de Bresse poché, the cuisse stuffed with truffles and celery : And finally : Fromage Mont d'Or, scooped with a spoon, a few leaves : And, to wind up the evening : Chocolate/praline millefeuille, chestnut cream, clémentine jus.
For wines, decide with Frederic HS. He'll have a few surprises, don't forget he originally bought Astier to get his hands on the wine cellar !
And, scoop ! Watch for new opening on rue Mandar, 2nd. Stay tuned….
Astier,
44 rue Jean-Pierre Timbaud, 11th
T : 01 43 57 16 35
M : Parmentier/Oberkampf
Open 7/7 Lunch & Dinner
Note : Shut Dinner 24 December & all day 25th
Open 31st December, see above
Belhara Bistro :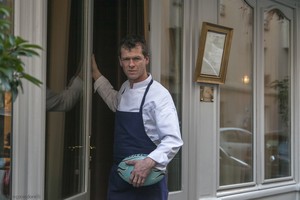 It can't be easy taking over an address where Curnonsky, Prince of Gastronomy, once kept his rond de serviette. Thierry Dufroux never doubted he'd make a success of the former Léo le Lion, launched, patriotically, on 4th July 2013.
Why Belhara ?  For the reef and the 2km « big wave »  extreme surf mavens ride in Saint Jean de Luz, South-West France, during November/December.
So, you get the picture, cuisine of the south-west, revised and corrected for left-bank locals who have flocked to Belhara since it opened. Dufroux honed his craft with the best : Loiseau, Guérard, Ducasse are on his CV, you may remember him at Bistro Volnay, Paris.
The Belhara space, on the next road to buzzing market street rue Cler, has well stocked zinc bar, retro « sewing machine » tables, a Bayonne flag flutters, a « Berkel » slices and, on the wall, Dufroux's certificate dubbing him Knight of the Confrerie de Jambon de Bayonne
« The Basque country, from where I come, has rich culinary tradition and, since 1464, the Foire au jambon de Bayonne or Ham Fair celebrates this remarkable food", explains chef Dufroux.
Belhara's blackboard is chalked with daily changing market driven suggestions, to-day Scottish grouse, perfectly cooked with chestnuts, matched with red Margaux Labastide Dauzac, Château Dauzac 2009 (60€).
Starters may include fricassée of mushrooms, cèpes, girolles on a bed of slow-cooked sweet onions, topped with chopped nuts, mopped with bread from Monsieur Poujauran. Or, Foie Gras de canard de Landes, chutney, dried fruits: Planche de charcuterie, champignons and Vieux Ossau-Iraty cheese: Soup (pumpkin to-day).  Mains include whatever the hunter brings, a bon epaule de lièvre, purée de celery: Coeur de ris de veau: Onglet de boeuf: Sea-Bass, weather permitting.
Cheese from Marie-Ann Cantin and creamy Riz au Lait "Grand-Mère": Baba au Rhum: Chocolate soufflé.
Dutroux says: "I was very happy in the restaurants of others, but obsessed with creating my own bistro. I have an exceptional team, including Monsieur Frédéric (with Monsieur Laurent) who has been here for 25 years. It's a new adventure, and I'm enjoying every minute". On the next table an elegant gentleman, with Legion d'Honneur lapel, nods in agreement; as would Curnonsky.
Belhara,
Chateaux & Hotels Collection,
23 rue Duvivier, 7th
M : Ecole Militaire/La Tour Maubourg,
T : 01 45 51 41 77
Lunch/Dinner at the bar Leave it to Thierry 35€
Lunch 22-30€ Dinner 35-50€
Tasting Menu (6 dishes) 52€
Shut Sun-Mon
Le Grand Vefour is 230 years old !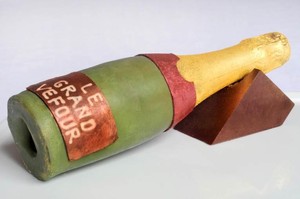 Wearing the whites at Le Grand Véfour since 1991, Guy Martin liked the place so much that, in 2011, he bought it ! In this magical setting, under the arcades of Palais Royal, chef Martin is never short of inspiration. « For Christmas and our anniversary we have created a champagne bûche », he explains. The ingredients include quince, mandarin, kaki and Ruinart Rosé champagne.
Cheers !
Order (58€) 5 days ahead from :
Le Grand Véfour,
17 rue de Beaujolais, 1st
T : 01 42 96 56 27
By e-mail
Connaissez-vous Les Airelles, Courchevel 1850 ?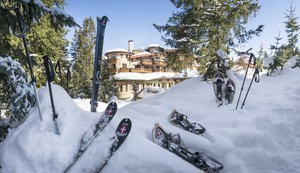 Cherry on the gateau at this palace ski hotel and spa where Pierre Gagnaire is chef; book the top floor Private Apartment and there's an orange sac Hermès "Victoria", with your initials, waiting. If you're in the suite Lys Martagon, an initialized sac Etrivière is yours.
Bon ski !