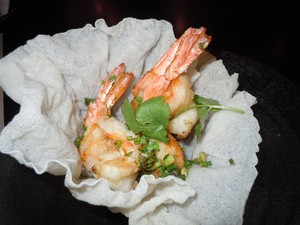 Returning to Paris, after many years spent in the east, Christophe Daine searched for a restaurant serving dishes that evoked his memories of China, Taiwan and Hong Kong. Impossible!
So, although Daine is not a chef or restaurateur, he decided to launch his own address, to at least be able to eat the way he wanted. Tao Kan (named for the mythical Chinese hero) will reinvent the codes, create something completely different, while remaining faithful to its' oriental origins.
Bright, calm, contemporary décor, for the three rooms, is by architects Hélene and Olivier Lempereur.
Chef Tien-Dat Au (ex-chez Madame Ly) took up the challenge fielded by Daine. He works with his team in an open glass and steel kitchen, in itself a rarity for Chinese restaurants, producing and interpreting délices reflecting Canton, Shanghai, passing by Taipei.
The menu includes feather light Dim Sum maison using seasonal vegetables. Chef's proud of his crispy salmon and shrimp Spring Rolls. There's salade d'algues Wakame Hai Cao Sha or Potage poulet vermicelles Fen Si Tang. Poulet crispy Ju Li Ji or Pavé de Saumon vapeur Zheng Yu Riz sauté aux légumes Su Chao Fan or Nouilles sautées au soja Chao Miang.
For dessert look no further than Perles de Coco or Crėpes thé vert, chocolat chaud, or fresh fruits.  Haine intends to bring in young patissiers to create appropriate desserts in keeping with the Tao Kan concept. If you're looking for a voyage of discovery – you're there.
Tao-Kan
8 rue de Sabot 6th
T: 01 42 84 18 36
Metro: Saint-Germain des Pres,
Menus from 22-37€
Shut Sunday
Valet Parking
Twenty Peas
Working in London young chef Claire Menini found a twenty pence coin while walking in Hyde Park."Twenty P" as the english call it soon became 20 PEAS and Claire's future cantine had a name.  Soon after an atmospheric space became available in the Quartier Malesherbes and Claire's idea of a "cantine chic et pas cher" began to take shape.
"I wanted 20 Peas to look like an English tea-room and for everything to be under glass. I work with a chef and chef pâtissier to create delicious healthy dishes that people of this quartier want to eat, in a friendly atmosphere, or order for the office or take home", Claire explains.
Dishes, change daily, there's always a soup brimming with herbs which can be followed with the meat or fish dish of the day. Scones, both sweet and savoury, are served as a side. But watch out, portions are trencherman size! Pommes de terre grenaille rôties au thym, citron et sauge. Roasted aubergines, chopped tomatoes, feta napped with fresh basil and pecan roasted sweet potatoes are signatures. To follow cheese and a glass of Anjou rouge (4.50 a glass) or cheesecake, chocolate cake, cookies and crumbles.
Will there be more 20 Peas? "Certainly, I hope so", grins Claire. "Very soon!"
TWENTY PEAS
Table d'Amis
59 rue des Mathurins, 8th
M: Augustin
T: 01 42 66 26 13
Average spend 13-14€
Open Mon-Fri 8.30-20.30
2013 Lebey launches at Lasserre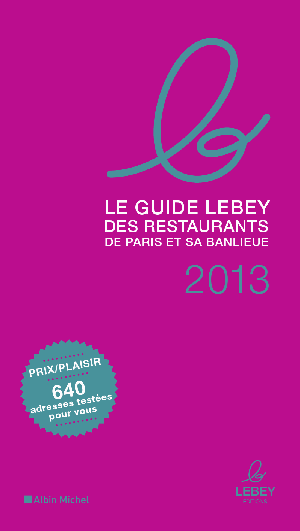 The 27th edition of Le Guide Lebey launched this week at Restaurant Lasserre. At 90 years of age Claude Lebey is the doyen of restaurant critics, founder of Guide Lebey, and chairperson of the prestigious Association de sauvegarde de l'œuf mayo (ASOM).
Lebey chronicles what he's tasted, hates wasting time at table, is thin as a rail. Says the secret is to: "just taste and smell, I eat very little".
Monsieur Lebey remembers Lasserre's history well, as a young pilot in WW11 he looked forward to getting something decent to eat, chez René Lasserre. To celebrate the 70 years there's a special anniversary menu "hommage to all the grands chefs that have helped make Lasserre a heavenly experience, especially when the roof opens and you look up, yeah!
The menu:
– Caviar et laitue en délicate royale
2010 Christophe Moret
– Macaroni à la truffe noire et foie gras de canard
2001 Jean-Louis Nomicos
– Dos de bar, légumes vivement sautés, vinaigre thaï
2012 Christophe Moret
– Lièvre à la royale, salade de mâche
1980 Bernard Joinville – 1999 Michel Roth – 2002 Jean-Louis Nomicos
– Comté de grande réserve (pain toasté avec beurre et noix – madère sec)
– Coco-pamplemousse
2012 Claire Heitzler
– Timbale Elysée Lasserre
1956 Auguste Perrot
– Café et mignardises – wines by Antoine Petrus
195 € par personne, hors boisson.
Lasserre, (2 Eiffel Towers and a heart in Lebey)
17 avenue Franklin-Roosevelt, 8
M: Champs-Elysées-Clemenceau,
Shut Tues-Wed-Sat lunch & Sun-Mon
T: 01 43 59 02 13
2013 pink guide gives awards for best savoury dishes to Jean Franҫois Piège for Calmars sauvage à la carbonara. Claude Colliot for Filets de Maquereaux à la plancha and Alain Solivères of Taillevent for his Mousseline de pomme de terre ratte, oeuf de poule et truffe noir.
We love Lebey.
Le Guide Lebey des Restaurants
De Paris et sa Banlieue 2013
Albin Michel
Price: 15.90€
In kiosques and on
Need to know:
MICHELIN Guide Tokyo Yokohama Shonan 2013
15 restaurants with three stars,
58 with two stars (plus 1 ryokan)
And 214 with one star (including 1 ryokan)
The Guide includes a total of 350 establishments of which 286 are restaurants, 52 hotels and 12 ryokans.
From the one-star Bird Court, to Bulgari via Ducasse's Beige a stimulating and exciting selection of incredible addys.
The sixth edition of the guide to the Kanto region adds 22 new restaurants, showing that, year after year, the quality of Japanese cooking continues to surprise. 15 restaurants have three stars, with the shuttering Araki out of the running and Hamadaya demoted to 2-stars.
6 new Tokyo restaurants win two-stars. Among the new one-stars 14 are located in Tokyo, 1 in Yokohama and 1 in Shonan.
This year's selection of restaurants features a wide array of cooking styles, ranging from Japanese (10 restaurants and 1 ryokan), Japanese Sushi (2 restaurants), Japanese Soba (1 restaurant), Japanese Tempura (1 restaurant), Japanese Yakitori (1 restaurant), Steakhouse (1 restaurant), Chinese (1 restaurant) to French contemporary (3 restaurants). Addi, 1 Japanese Fugu restaurant joins the selection of Yokohama for the first time.
Shangri La Būche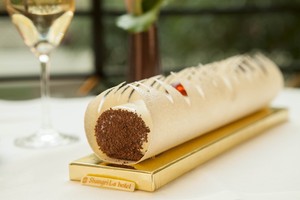 Shangri-La Hotel, Paris, has a giant Advent calendar, replica of the hotel's façade, on the console in the atrium near the Christmas tree. Behind each of the 24 windows there's a gift to be won, including two sets of Château Baccarat glasses, a complimentary Christmas Teatime or a complimentary night's stay.
Daily, from 1 December 2012 to Christmas Eve, five guests, visitors or online fans will be chosen at random and invited to draw from a collection of five keys: only one key unlocks each window, which means that every day of Advent will be Christmas for the lucky participants at Shangri-La.
From 21 to 25 December, the horse-drawn Calèche Impériale, will be stationed by the main entrance, ready to take up to four passengers for a 25-minute tour from the hotel, around the Eiffel Tower and back. Inside the carriage, guests will find a faux fur rug and hot chocolate. The service is available every half-hour from 4 to 7 p.m. and is for the exclusive use of hotel guests.
Throughout December, guests will have the opportunity to buy gifts from Baccarat in the in-house pop-up store. A reference in French lifestyle for nearly 250 years, Baccarat showcases collections alongside an assortment of other products specially commissioned by the hotel
Baccarat also makes an appearance on the Bûche de Noël, the traditional French Christmas log that the hotel's head pastry chef, François Perret, reinterprets each year. Nestled inside a white satin box is a chocolate cake set on a chocolate biscuit crust, it's covered in white icing with a touch of cognac, topped with a delicate sugar lace motif and a mahogany crystal from Baccarat's Médicis collection – a festive souvenir.
Available for takeaway only from 15 to 25 December 2012, the limited edition Bûche de Noël serves six and costs €95.
From 15 to 25 December 2012, Christmas Teatime buzzes at La Bauhinia and in the lounges. Seasonal goodies by Chef Perret includes hot chocolate, gingerbread, cinnamon Christmas cookies, chestnut tartelettes and Black Forest cupcakes. Christmas Teatime is €45 per person, €80 for two adults and €20 per child. Yum!
10 Avenue d'Iena, 16th
T: 01 53 67 19 98

Subscribe for
FREE

weekly newsletters.
BonjourParis has been a leading France travel and French lifestyle site since 1995.
Readers' Favorites: Top 100 Books, imports & more at our Amazon store
We update our daily selections, including the newest available with an Amazon.com pre-release discount of 30% or more. Find them by starting here at the back of the Travel section, then work backwards page by page in sections that interest you.
Current favorites, including bestselling Roger&Gallet unisex fragrance Extra Vieielle Jean-Marie Farina….please click on an image for details.
Click on this banner to link to Amazon.com & your purchases support our site….merci!