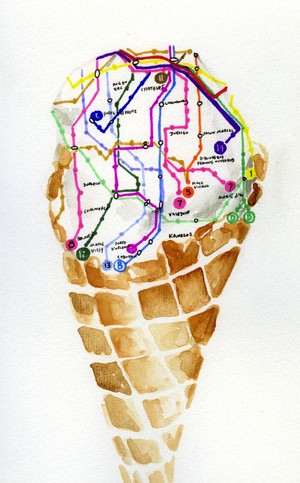 As Paris begins to clear out for the summer, the City of Light transforms into a metropolitan ghost town until September. Even the beloved brains behind Berthillon are closing their doors for the summer. Since 1954, the celebrated ice cream has turned l'Île Saint-Louis into an ice cream destination for locals and tourists alike, all in search of their intensely-flavored classic flavors like deep, dark chocolate, agenaise (prunes) and praliné aux pignons (candied pine nuts).  Although die-hard fans can stock up on Berthillon's frozen confections by the ½ and ¾ liter at a handful of chocolate shops about town, frozen treats are not just limited to the l'Île Saint-Louis.  As Paris finally begins to heat up, here is a guide to cooling down with a little glace along the way.
Just across the river from Berthillon, between Metro Saint Paul and Hotel de Ville in the heart of the Marais, lies the answer not only to an exceptional cup of coffee, but also extraordinary artisanal Italian gelato at Pozetto (39 Rue du Roi de Sicile 75004 Paris). In respect for a highest-quality product, Pozetto limits production to 12 perfected flavors, including the desceptively nutty nicciola piemonte, using hazelnuts direct from Turin, and a curious panna cotta parfum.  Using traditional Italy techniques and machinery, along with best-quality French milk and seasonal fruits, Pozetto has the creamiest, freshest-tasting gelato around. Although equally enjoyable on foot, their fine gelato and sorbet can be enjoyed sur place along with a fantastic cup of Italian espresso. One of the perks of being both an ice cream emporium and a café, is the caffe con panna. An expresso served alongside a silver-stemmed dish of the whipped creme and a few Italian chocolate eggs, is perfect for any gourmande looking for an afternoon pick-me-up.
Although take-away gelato has dominated the Parisian ice cream circuit, there is still a true French ice cream parlor in the residential 12e, just a few steps away from the lion fountain on the Place Daumesnil. Although Raimo (63 Boulevard de Reuilly 75012 Paris) hosts a restaurant and a salon de thé, they become both an afterthought and a showcase for their fine frozen creations. With sorbet flavors like litchi and lemon basil, Raimo's invention is not limited to just its flavors by the scoop. Chez Raimo has a complete menu of sculptural ice cream sundaes, vacherins, and frozen delicacies with an opulent, old-school French touch. How about a praline ice cream and meringue sundae topped with chocolate sauce, whipped creme, and toasted almonds ? Or for more exotic tastes, coconut-mango ice cream with pineapple, sprinkled with passion fruit and topped with whipped cream and orange-caramel sauce. Although Raimo is certainly worth a trip to the 12e, thankfully the house has recently opened locations in the 4e (17 rue des Archives 75004 Paris) and the 5e (65, boulevard Saint-Germain 75005 Paris).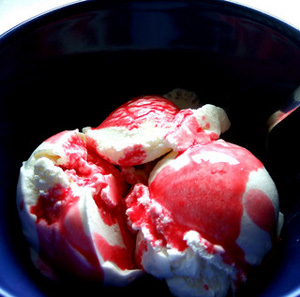 For those who cannot kick a frozen yogurt habit in a city of culinary temptation, It Mylk is Paris' go-to spot for customizable fat-free yogurt and milkshakes. Whether catching a post-movie treat in the 6e (15 Rue de l'Ancienne Comédie 75006 Paris) or refueling at the feet of Montmartre (1 place suzanne valadon 75018 paris), It Mylk is a lighter option for treat-seekers on a stuffy August afternoon.
Until the heat breaks on August 22nd, Pierre Hermé has added a line of ice cream and frozen desserts to its tempting boutique bakeries. Evoking the same gastronomie-forward parfums as their unrivaled macarons, Pierre Hermé has reinvented the perfect portable summertime pastime, the ice cream sandwich. In the Miss Gla'Gla Milena (6 euros), fresh mint ice cream and fruit rouge sorbet are sandwiched between two crispy Hermé macaron biscuits. Along with a pistachio and strawberry Montabello, the Miss Gla'Gla collection comes in the greatest hit flavors of Pierre Hermé's notorious macarons, including the salty infiniment caramel and the floral and fruity Ispahan. Find the frozen collection at 72 rue Bonaparte 75006 Paris.
Direct from Turino, Italy, Grom (81 Rue de Seine 75006 Paris) is an Italian gelato powerhouse that has a frozen treat for any persuasion. Their gelato, seasonal sorbets and granitas are made with the sweetest fruit direct from Sicily, Colombian chocolate chips, and Venezualan « ocumare » chocolate. For the sensitive eater, Grom is well-prepared to find the right treat for any food intolerance. Made from fresh Italian yogurt, their rich, Grom's tangy yogurt gelato is surprisingly irresistable married with either pistacchio or one of their several chocolate varieties.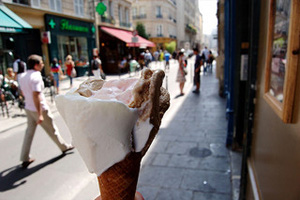 For every ice cream shop in Paris, two ubiquitous Amorino have popped up along the way.  Although Amorino has dominated the ice cream landscape, their concept is still irrefutably charming. Using the finest-quality ingredients to craft their intensly-flavored product, at the will of the eater, their gelato and sorbets are sculpted into a flower with the flavors of choice. For the ice cream eater with commitment issues, Amorino is a perfect laboratory for experimentation.  How about speculoos, banana, and dolce de leche ? Or lemon and salted caramel ? Why not all the above ? For an irresistibly Italian take on the ice cream sandwich, look no further than the focacinna, an Italian brioche served either hot or cold enveloping the gelato flavor of choice.
Even if the Berthillon gang is sunning themselves on the Cote d'Azur this time of year, the Capital still has the delicious frozen goodies to cool off the Parisian « Left Behind ». Now if only the boulangeries were open…
Jessie Kanelos is a recent American transplant to Paris. In addition to a background in costume for stage and film, having been thrown into the world's capital of gastronomy, she has recently crossed over to food styling.  She writes a Parisian expat food blog to document her adventures, observations, and recipes, which can be found at: thefrancofly.wordpress.com.  Jessie is also a talented illustrator whose work appears in this article.
photo 1 by Isabelle Palatin [CC-BY-SA-2.0], via Flickr
photo 2 by Cameron Parkins [CC BY 2.0], via Flickr

Subscribe for
FREE

weekly newsletters.
BonjourParis has been a leading France travel and French lifestyle site since 1995.
Readers' Favorites: Top 100 Books, imports & more at our Amazon store
We update our daily selections, including the newest available with an Amazon.com pre-release discount of 30% or more. Find them by starting here at the back of the Travel section, then work backwards page by page in sections that interest you.
Current favorites, including bestselling Roger&Gallet unisex fragrance Extra Vieielle Jean-Marie Farina….please click on an image for details.
Click on this banner to link to Amazon.com & your purchases support our site….merci!